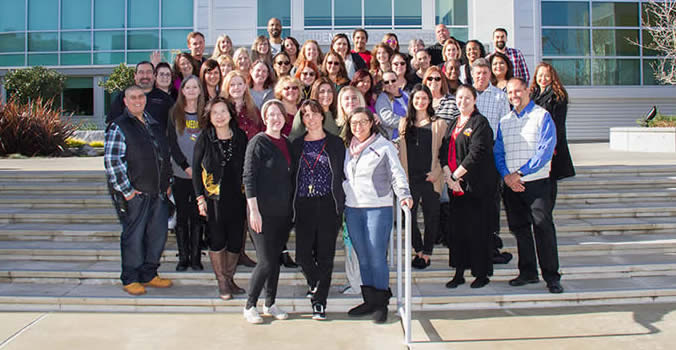 The Classified Senate of Los Medanos College is desirous and ready to participate fully in the Shared Governance of the College and the District in accordance to the College Shared Governance Model and the mandates of AB 1725. The full realization and actualization of the personal, philosophical and education goals of the Staff and the Institution require the formation of a Classified Senate as an organizational and coordinating structure. (Established December 16, 1991)
Classified Senate's purpose is to "provide the classified staff with a formal representative voice in determining the institutional policies, procedures, and regulations." Currently, the Senate through the governance structure, provides the president of the college, chancellor, and board of trustees with recommendations and views on matters affecting the conduct, welfare, and growth of the college. The Senate also promotes communication and mutual understanding among the classified staff, students, faculty, and administrators.
Meeting Schedule 2018-19
Meetings are held in CC3-361 from 3:00pm to 4:30pm.
September 10 & 24
October 8 & 22
November 5 & 19
December 3
February 4, 11 & 25
March 11 & 25
April 15 & 29
May 13
The California Community Colleges Classified Senate (4CS) has awarded the Los Medanos College Classified Senate with the 2014 Model Classified Senate Award. The recognition was made at the recent 4CS Classified Leadership Institute. The Model Classified Senate Award acknowledges Classified Senate organizations that "exercise their role in shared governance with autonomy and professionalism".
A "Model Classified Senate" is one that:
Is a participatory governance body elected by its constituents
Operates professionally under bylaws and/or a constitution approved by its constituency
Has a copy of their current bylaws/constitution on file with 4CS
Is recognized by the college administration as a governance participant
Has an up to date website
Encourages a cooperative working and professional relationship with a collective bargaining agent (if one exists) and considers input or concerns of such groups
Is organized to actively engage in the shared governance process
Communicates routinely with 4CS
Senate President Linda Kohler, Linda Maniscalco and Shondra West were present to accept the award.