NOTE

: Student parking permit will not be required for Summer, HOWEVER, for Fall semester see the information below.

Fall 2021 student parking permits will be free of charge and virtual upon checkout. (No physical permit will be given or mailed. Your license plate will be added to the campus' parking permit database.) You will need to provide your vehicle's license plate number, make, and color. If you will be driving a different vehicle during the Fall semester, you will need to update your vehicle information online BEFORE parking on campus. Failure to obtain a valid virtual parking permit will result in a parking citation.
Parking at the Pittsburg campus
All vehicles parked on the campus whether in a parking lot, dirt lot or perimeter road (Miwok Way and Los Medanos Drive) must have a valid parking permit. Be aware that there are specified student parking areas and faculty/staff parking areas. Students who park in faculty/staff spaces will be ticketed.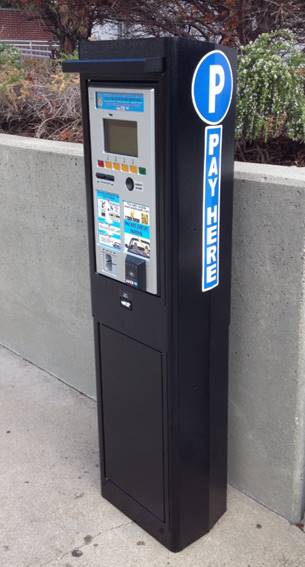 Daily parking permits may be purchased from the black parking permit vending machines for $3.00. These machines are located in Lot A, Lot B, and Lot C and the perimeter road adjacent to the softball fields.
Click map for machine locations

Parking permit machines and individual stall meters accept:
Apple and Google pay.
Visa, MasterCard and American Express.
Coins. Paper bills are not accepted.
There are also detailed instructions on each permit machine with photos on how to purchase a permit as well as where permit should be placed on the dashboard. Contact Police Services if you have questions.
Parking Fees (valid for one semester)
Fall & Spring Parking permit fees are $48 for automobiles and $30 for motorcycles and mopeds. Students who qualify for the Board of Governors Fee Waiver will pay $25 for the automobile parking permit. Fines for parking citations are $40.
Summer Parking permits are $25 for automobiles and $15 for motorcycles or mopeds. Permits can be purchased online through InSite/WebAdvisor.
Purchase Parking Permits Online
Full-term permits can be purchased online through the inSite portal. Login with your student ID, click on "WebAdvisor" in the center of the page and then click on "Academic Services" menu and then "Parking Permit Purchase". Permits will not available for purchase on campus. If you prefer to pay cash for your permit, you can order it on the computer kiosk outside of the Cashier's Office and then pay at the Cashier's window. EOPS students can order their permits at the kiosk located in the EOPS Office.
Upon payment, you will be emailed a 10-day temporary parking permit than can be printed out and used until the permanent parking permit arrives at your home in two to three business days. Your permit is valid at any campus parking lot in the district.
Parking permits are required during the following hours: 7:00 a.m.-11:00 p.m. (Monday-Thursday), and 7:00 a.m.-5:00 p.m. on Friday.
Parking Fee Refunds
Parking fee refunds will be made if the student drops all classes within the first two weeks of instruction for semester-length courses or by 10% of the length of short-term courses. The parking decal must be returned to the Cashier's Office for a refund. The refund check will be mailed to the student according to the same refund processing cycle as enrollment fee refunds. Lost or stolen parking permits are not refundable.
Alternative Forms of Transportation
Buses

LMC is served by frequent Tri Delta Transit buses to Pittsburg/Bay Point BART and local communities. Buses numbered 380, 381, 387,388 and 391 all serve LMC Monday-Friday. Schedules are available at the Student Life Office.
Route 381 is the quickest ride between the Pittsburg campus as downtown Pittsburg.
The Tri Delta Transit web site also offers a "Trip Planner" link where you can enter origin and destination and the web site will provide you with transit options and times. For more information on this, routes, fees, and other information, please visit: www.trideltatransit.com . Or call Tri Delta Transit at: (925) 754-6622.
BART
Tri Delta Transit Buses connect LMC to BART, which services Pittsburg, Concord, Pleasant Hill, Walnut Creek and other cities throughout the Bay Area. For specific Tri Delta Transit buses that service Los Medanos College, please see "Buses", or call Tri Delta Transit at: (925) 754-6622
Carpooling
Carpooling to school is a healthier and faster commute option with 9 miles of High Occupancy Vehicle lanes on Highway 4, between Port Chicago Highway and Railroad Avenue.
Bicycle
Secure bike racks are available at various locations on campus. Bikes can be transported by BART or bus as well. See the above numbers for more information.
The De Anza bike trail intersects the South end of the Los Medanos College campus. The bike trail can be accessed from the West of LMC at Leland, Crestview Drive Railroad Avenue, Harbor Street, Loveridge Road. The bike trail can be accessed from the East of LMC at Somersville Road, Delta Fair Blvd and GentryTown Drive and James Donlon Boulevard. Free trail maps can be obtained by visiting 511 Contra Costa at http://www.511contracosta.org or by calling 925-969-0841.
511 Contra Costa
511 Contra Costa provides commuter services and programs to eligible college students traveling to, through, or from Contra Costa County. Programs are available to students who are willing to carpool or ride transit instead of driving alone to campus. Visit www.511contracosta.org for more information or by calling 925-969-0841.
511 Contra Costa commute programs are provided free of charge to residents, college commuters, and employers in Contra Costa County on a first-come, first-serve basis while funding is available. Funds for these programs are provided by the Bay Area Air Quality Management District's Transportation Fund for Clean Air and the Contra Costa Transportation Authority.