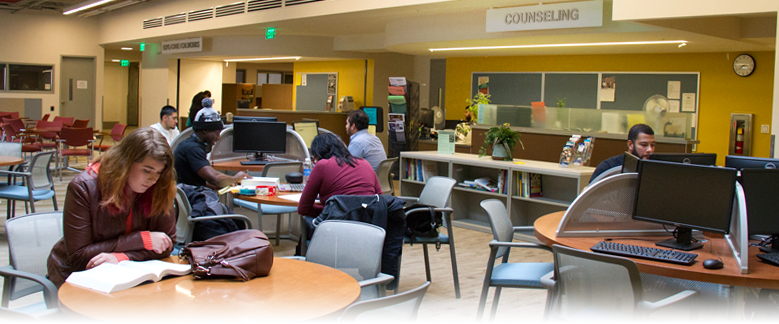 Counseling Services at LMC

Welcome to the Los Medanos College Counseling website! The Counseling Department is here to serve all current and prospective students of LMC. Counselors assist students in planning and executing a plan of study that appropriately reflects the students' interests and motivation. Guidance is provided regarding graduation requirements, transfer options, baccalaureate degrees, career planning, personal decision making and testing. Counselors may also assist you with personal concerns.
This website is intended to provide useful information to help you succeed in your personal and educational endeavors. Since information is constantly changing, students are encouraged to see a counselor at least once a semester.
DROP-IN COUNSELING
ALL STUDENTS MUST HAVE A STUDENT ID#
These hours are subject to change. Please check in with the receptionist.
March 18, Monday
8:30 am - 7:00 pm
March 19, Tuesday
8:30am - 7:00 pm
March 20, Wednesday
8:30 am - 7:00 pm

March 21, Thursday
8:30 am - 7:00 pm
March 22, Friday
8:30 am - 3:00 pm

For Brentwood Center Counseling Hours,
Call: (925) 513-1625.
Important: Student Identification Required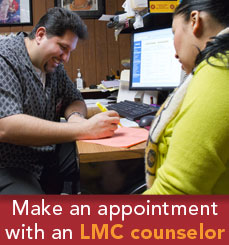 In compliance with the Family Educational Rights and Privacy Act (FERPA), a Federal law that protects the privacy of student education records, all students must present valid, picture identification before meeting with a counselor. Acceptable forms of identification include an LMC ID card, as well as State- and Federal-issued IDs with picture). For more information about FERPA go to www2.ed.gov/policy/gen/guid/fpco/ferpa/.
Individual Counseling Appointments
Students should make counseling appointments for developing and reviewing educational plans, career and personal counseling, and for information that requires accessing your student records. Counseling appointments are generally 30 minutes per session. It is recommended that students make an appointment with a counselor at least once a semester.
Appointments may be made online, in person or by calling the counseling office. Call (925) 473-7449 for Pittsburg Express Counseling hours.
Blue Ribbon Counseling for Veterans
The LMC Counseling Department now offers priority counseling appointments to veterans in 5 business days. Student educational plans are required for all veterans. Appointments must be made in person or by phone.
If you are a member of a Learning Community – Puente, Umoja, Transfer Academy, MESA or Honors – and want to make an appointment with a counselor, you must make your counseling appointment in person or by phone. Veterans who need a VA counseling appointment must also make appointments in person or by phone. If you have transcripts from other colleges that need to be evaluated by the Admission Office, please notify the counseling office at least two weeks before your appointment.
E-Counseling
E-counseling allows a student to submit a question through an online form and receive an answer from a counselor by email. A complete list of services that are available through e-counseling are listed on the e-counseling page. Enter your question on the form at the bottom of the page and a counselor will respond to you by email.