What Makes LMC Special...
Our Mission: Student Learning & Success

Los Medanos College offers award-winning transfer and career-technical programs, stellar support services, and diverse learning opportunities in East Contra Costa County. Our exceptional educators, innovative curriculum, growing degree and certificate offerings, and strong regional partnerships focus squarely on student success. Of the 1,600 two-year institutions across the nation, LMC received consecutive recognitions as a "Top 150 U.S. Community College" by the Aspen Institute (2017 & 2019) and was named one of the "50 Best Community Colleges for 2017" by College Choice.
Our Los Medanos College "family": Students and staff enjoy the friendly atmosphere here – the feeling that we're all here to help one another.
Our faculty: Students rave about their professors and the personal attention they receive.
Our beautiful new facilities: Since 2006, we have increased our classroom space by 50%, with a new library, science building and math building. Our art classroom/lab space was completely remodeled in 2010. The nursing and emergency medical technician classroom and lab space was completed in Summer 2012. A science web lab has been added to our Brentwood Center in Spring 2014. In Spring 2015, we opened our renovated Student Services Center, where our students can access most student services easily in one place.
Our diverse student body: When a variety of ages, ethnicities, and cultural backgrounds converge in the classroom, interesting things happen.
Our small classes: Because the average class size is 35, students get to know their classmates and their instructors.
Our Transfer Programs & Services: Students who plan to transfer to a four-year university get on the right track through Transfer Admission Guarantees, "IGETC," Transfer Academy and other transfer programs.
Fast Facts

Year Founded: 1974, the third of three community colleges in Contra Costa County, serving primarily the East Contra Costa County community.

President: Bob Kratochvil

Location: Los Medanos College's district includes East Contra Costa County; the main campus is located in Pittsburg, approximately 40 miles east of San Francisco and 30 miles east of Berkeley/Oakland. Major highway access is Highway 4, closest major airport, Oakland. The Brentwood Center is located 14 miles southeast of the main campus in Brentwood.

Campus size: Main campus: 120 acres (buildings and grounds); Brentwood Center: 22,000 sq. ft. (buildings only)

Demographics

LMC Fast Facts Demographics

Fingertip Facts

Full-time faculty: 120
Part-time faculty: 264
Full and part-time classified staff: 180 (105 full-time and 75 part-time)
Administrators: 23
Enrollment fee:$46 per unit for California residents; additional $208 per unit for non-residents

More about Los Medanos College

Popular majors: Liberal studies, nursing, engineering, math, English, physical and biological sciences, business, behavioral sciences, fire technology, child development, administration of justice, process technology, electrical and instrumentation technology.

Student Resources: Library; science, math, music study labs; more than 700 computers for student use; career center; free tutoring for current students on many subjects; Honors Scholars program, learning communities and special academic programs including Umoja, Puente, Transfer Academy and MESA.

College activities: Theatrical and musical performances featuring student work, student clubs, art gallery.

Child care: Available for children of students, staff, and community members at the Child Study Center on the main campus in Pittsburg

Athletics: Intercollegiate women's soccer, softball and volleyball; men's football and baseball; and men's and women's basketball

Housing: None on campus; apartments nearby
Accreditation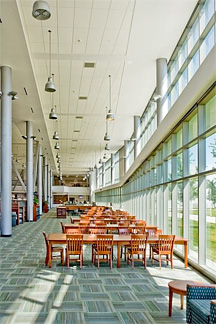 Los Medanos College is accredited by the Accrediting Commission for Community and Junior Colleges of the Western Association of Schools and College ,10 Commercial Blvd. Suite 204 Novato, CA 94949, (415) 506-0234, an institutional accrediting body recognized by the Commission on Recognition of Postsecondary Accreditation and the U.S. Department of Education. Additional information, including filing complaints against member institutions, can be found at www.accjc.org.
Approved by
California State Board of Community Colleges

California Department of Education, Bureau of School Approvals
for the enrollment of veterans and eligible persons under Title 38 of the U.S. Code.

State Board of Registered Nursing

State Board of Vocational Nursing

University of California

California State Colleges and Universities

Commission on Peace Officer Standards and Training

Contra Costa County Emergency Medical Services Office
LMC Accreditation web pages for information on the process