Internships
The Workforce and Economic Development Program is committed to cultivating meaningful internships that support the development of outstanding professionals.
Examples of LMC-developed internships include:
DOW Chemical Company Process Technology (PTEC) Internship.
Pittsburg Chamber of Commerce Graphic Communications Internship.
Pittsburg Police Department Administration of Justice Internship.
San Francisco Public Utilities Commission Electrical Technology (ETEC) Internship.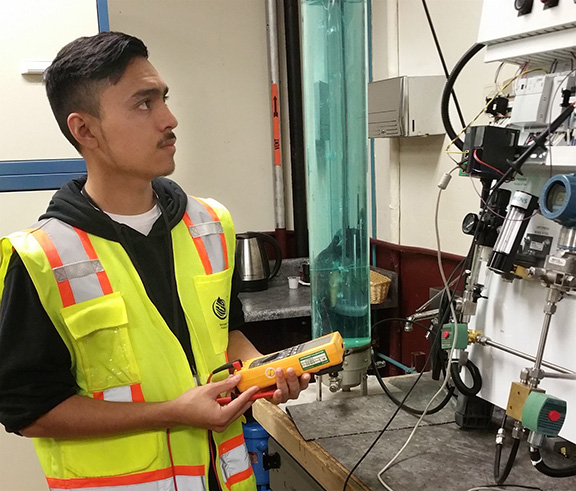 Student Intern checks his work
Internships developed by The Workforce and Economic Development Program are structured and supported by Cooperative Work Experience Education (CWEE). CWEE is a program where student enroll into an internship/work experience class, receive a grade and college units for their work, and have continuous faculty and employer involvement. For more information on CWEE, visit /cwee/
While LMC develops internships with valued employers in the community, there are internships all over! To learn more about finding or developing internships, please select the appropriate link below:
Developing Internships
For Employers:
*To develop an internship submit an LMC Internship Development Request Form or contact:
David Wahl
Workforce Development
Room CO-371
*If your company already has existing job or internship opportunities, visit https://www.collegecentral.com/losmedanos/Employer.cfm
*Download the Los Medanos College Internship Development Guide to learn more about benefits of internships, laws around unpaid internships and examples of successful internships.
For Students and Alumni:
Jobs and internships are posted in College Central Network at https://www.collegecentral.com/losmedanos/ Create an account and take a look today!