The Pittsburg Campus and Brentwood Center are open for in-person services. Hours of Operation for in-person and remote services can be viewed online for various departments and locations.
---
To protect the health and safety of students, employees, and members of the community, effective November 1, 2021, the Contra Costa Community College District (4CD) will require COVID-19 vaccinations for all employees and for all students taking in-person classes or who need to come to campus for any reason (to access tutoring, student services, the Library, etc.). Please see the information and links provided on this page for more details. Further instructions regarding how to upload documentation and/or request eligible exemptions will be available October 1.
---
Tuesday, September 14, 2021
To help all students and employees meet the Contra Costa Community College District's COVID-19 vaccination requirement by November 1, 2021, Los Medanos College (LMC) is teaming up with Contra Costa Health Services to make sure everyone can get a safe, effective COVID-19 vaccine on campus.
LMC is hosting a no-cost COVID-19 vaccination clinic on Thursday, September 23, from 8:30 a.m. to 3:00 p.m. in the Student Union Conference Center on the Pittsburg Campus. Everyone ages 12 and older is welcome, including students, employees, and family members. No appointment is needed – just drop-in!
The Pfizer vaccine requires two doses to be considered fully vaccinated, so individuals getting their first dose on September 23 will be able to attend a follow-up clinic for their second dose at the LMC Pittsburg Campus on October 14. Students and employees who attend both clinics to receive their first and second doses will be fully vaccinated by November 1, 2021.
Anyone under the age of 18 needs permission from a parent/guardian to receive the vaccine, so bring this completed CCHS Consent Form with you or have your parent/guardian accompany you to the clinic.
Getting vaccinated is the most effective way of protecting ourselves, our families, and other students and employees from getting COVID-19. For more details, please visit:
---
Thursday, September 9, 2021
Subject: 4CD/LMC COVID-19 Vaccination Requirement
Dear LMC Student,
On September 8, 2021, the Governing Board of the Contra Costa Community College District (4CD) passed a resolution establishing a COVID-19 vaccination requirement for Los Medanos College (LMC), Diablo Valley College (DVC), and Contra Costa College (CCC). This policy applies to LMC employees and all students who meet one or more of the following criteria:
are currently enrolled in at least one in-person class for Fall 2021
plan to enroll in at least one in-person class in Spring 2022
desire to visit any campus facility for any reason during Fall 2021 or Spring 2022
Students who have eligible medical conditions or specifically defined religious beliefs may request an exemption.
Timeline - November 1
All students who meet at least one of the criteria above are required to provide proof of their fully vaccinated status by November 1, 2021. You will receive an email and text on October 1 with instructions on how to upload your vaccination documentation.
Students who do not provide proof of vaccination or an approved exemption will not be able to enroll in in-person classes for Spring 2022 and will not be eligible to receive in-person services. Unvaccinated students are encouraged to enroll exclusively in online classes and to utilize online support services.
Important: Please note that an individual is considered "fully vaccinated" two weeks after completing a COVID-19 vaccine series (e.g., one dose of Johnson & Johnson's Janssen vaccine, or both doses of the Moderna or Pfizer vaccine). It can take up to six (6) weeks to become fully vaccinated, so – if you aren't vaccinated yet – begin the process now to ensure that you will be fully vaccinated by November 1.
$150 Vaccination Incentive
Each student who becomes fully vaccinated will receive a $150 check as a token of our appreciation for helping to keep the LMC community safe.
Questions?
For more information, please visit the 4CD Vaccination Requirement website and review the frequently asked questions.
Thank you for helping to keep our community safe.
Bob Kratochvil, Ed.D.
President, Los Medanos College
---
Please note: All students, employees, and visitors -- regardless of vaccination status --are required to wear masks in any indoor space at all LMC and District locations.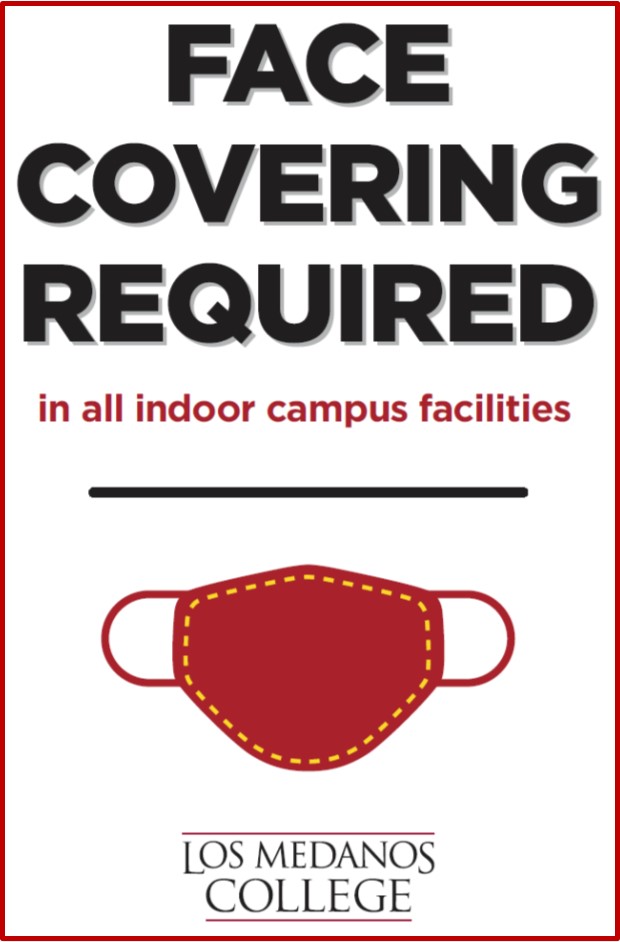 Previous Updates

Monday, August 16, 2021

A Message from the President

(excerpts from LMC Student Services eNewsletter sent to students)

Dear LMC Students,

Welcome to the Fall 2021 semester at Los Medanos College (LMC)! As we move forward, I am sure you share my hope that this new academic year will be better than the last. We want you to have a positive and successful experience at LMC this semester, and our college community is here to support you every step of the way.

Fall semester begins Monday, August 23, and it will be crucial for you to stay connected and engaged with the college leading up to the date. Our LMC educators continue to work diligently to provide outstanding classes and student support in an engaging environment. Below is important information designed to keep you informed and positioned for success.

Campus Safety: COVID-19 and In-Person Instruction/Services
The health and safety of our students and employees remain top priorities for Los Medanos College. The Pittsburg Campus and Brentwood Center have re-opened for in-person services. Students visiting our physical locations must wear a face covering on campus when indoors in the presence of other people. Students are required to follow the protocols outlined in the Student Safety Checklist. Please know that LMC continues to observe many safety protocols and guidelines to protect students and employees. These measures include: face covering requirements; cleaning/disinfecting spaces; access to hand sanitizer; signage and floor markings; self-screening tools; and safety checklists.

We Are Here to Support You
Our LMC educators continue to work diligently to provide outstanding classes and student support in an engaging environment. Our college community is dedicated to providing you with an excellent education and a positive experience.

Please continue to regularly check your InSite email for information from the college regarding the start of the semester.

On behalf of the faculty, classified professionals, and management team at Los Medanos College, I wish you a safe, healthy, and successful fall semester.

Bob Kratochvil, Ed.D.
President

---

Sunday, August 1, 2021

Districtwide Safety Message -- Indoor Mask Requirement

(sent via EMERAlert to all Contra Costa Community College District students)

4CD Students,

With a new surge of COVID-19 cases across the Bay Area, 4CD will require all employees and students to wear masks in indoor spaces if they are in the presence of other people. This requirement extends to all vaccinated and unvaccinated individuals beginning August 2nd, 2021, and will remain in effect until further notice. There are no other COVID-19 protocol changes at this time. Implementation details will be forthcoming so please check your email or college website for more details.

---

Wednesday, June 30, 2021

Districtwide Message -- Preparing for Fall Semester

(sent via email to all Contra Costa Community College District students)

Dear CCC, DVC, and LMC Students,

Contra Costa Community College District – including Contra Costa College, Diablo Valley College, DVC San Ramon Campus, Los Medanos College, and LMC Brentwood Center – is excited to welcome you back to our campuses on August 2, 2021! During the next few weeks, we will be busy preparing our classrooms, facilities, and student services for your safe return to the fall semester that begins on Monday, August 23. While there are currently some summer programs underway for which students are allowed on campus, we ask that you wait until Monday, August 2, to visit the colleges, unless you receive an appointment for an in-person meeting. Until then, all instructional departments and student services continue to be available remotely to assist you and answer your questions. Please check the colleges' websites for more information and further instructions.

When you return to campus, you will be required to follow the guidance from Contra Costa Health Services (CCHS), which aligns with California's COVID-19 safety guidelines and supports the Center for Disease Control and Prevention (CDC) updated recommendations:

Unvaccinated students are required to wear a face covering indoors.
Fully vaccinated students are not required to wear face coverings, except while in the following settings (per CCHS guidance): childcare facilities at CCC, DVC, and LMC; other youth settings, such as CCC's Middle College or activities for K-12 students at the three colleges; and healthcare settings, such as DVC's Community Dental Clinic and the Nursing labs at CCC and LMC.
Fully vaccinated students may choose to continue wearing a face covering in all areas of the campus if it makes you feel comfortable and safe.
Social distancing restrictions are no longer in effect.

We expect that additional revisions to safety guidelines will be approved in the coming weeks, and we will do our best to share those updates with you as they become available. You may also review our District website for more COVID-related information: https://www.4cd.edu/covid19/index.html . On behalf of our faculty, classified professionals, and administrators, we look forward to welcoming you back to our campuses on August 2!

Bryan Reece, Ph.D., Chancellor

Bob Kratochvil, Ed.D., LMC President

Susan Lamb, DVC President

Tia Robinson-Cooper, Ed.D., CCC President

---

Monday, April 5, 2021

LMC, CCC, and DVC will continue offering predominantly online courses and student services for the Summer 2021 term. 4CD is also planning a Fall 2021 schedule with significant increases of in-person offerings that maximize student opportunities for safe learning experiences and support. Course offerings will include a balance of in-person classes, hybrid, and fully online. Work also continues on assessing and making improvements to college facilities to ensure a safe learning environment.

---

Thursday, October 12, 2020

The remainder of the 2020-21 academic year will be predominantly online due to the pandemic.

---

PRESS RELEASE

Contra Costa Community College District
500 Court Street
Martinez, CA 94553
www.4cd.edu

Friday, April 10, 2020

Contact:
Timothy Leong, Public Information Officer

District Extends Remote Operations through End of Semester

Martinez, CA– The Contra Costa Community College District (District) has extended the remote delivery of instruction and student services at its colleges – Contra Costa College, Diablo Valley College-Pleasant Hill and San Ramon Campus, Los Medanos College and Brentwood Center – for the remainder of the spring 2020 semester.

On March 31, 2020, Contra Costa Public Health (CCPH) updated its shelter-in-place order through at least May 3, 2020. The District's decision to continue remote operations through the end of the spring semester is necessary to be in alignment with the shelter-in-place extension, and provides greater clarity in meeting the higher education goals of its students.

"We are trying to do our part to minimize the spread of the Coronavirus (COVID-19) by suspending face-to-face interactions with our students," said interim chancellor Gene Huff. "This has been a challenging time for both our students and staff as we transitioned to remote operations. We want to thank our students for their perseverance and flexibility, and our staff for their tremendous effort to transition to a fully remote operation. We believe this decision balances the need to stay safe and healthy during this time, and informs students and staff on what to expect for the rest of this semester."

The CCPH shelter-in-place extension acknowledges social distancing as the most powerful weapon in slowing the spread of COVID-19. CCPH continues to encourage the following practices to stay safe and healthy during this time:

Stay home and limit essential activities where possible.

Wash hands often with soap and water.

Avoid touching your eyes, nose, and mouth.

Wear face coverings when out in public (not medical-grade masks).

Adhere closely to social distancing guidelines.

Contact your doctor or healthcare provider if you experience any symptoms such as fever, cough, or difficulty breathing.

The District will be offering a summer session of instruction and student services remotely, with a plan to offer face-to-face classes should the shelter-in-place order is lifted and deemed safe to do so. Summer course registration will begin on Monday, April 20, 2020.

To view what classes may be offered at each college, or to understand operational changes made as a result of COVID-19, visit the college website of your choice or the District website at www.4cd.edu for more information.

---

Update: April 2, 2020

All LMC classes and student support services continue to be delivered remotely. College facilities remain closed to students until further notice.

In keeping with the "shelter-at-home" order extended on March 31 by Contra Costa and neighboring counties, Los Medanos College facilities – the Pittsburg Campus and Brentwood Center – remain closed to students, the public, and most employees to minimize the risk of COVID-19 exposure. All face-to-face instruction and face-to-face support services have been suspended. Aside from a limited number of personnel related to certain on-campus operations, employees are working remotely to deliver ALL classes and support services via online format to students. This will remain in effect until the County order is extended, rescinded, superseded, or amended.

Information for Students:

Please check your College email account often for any updates, and stay in touch with your professor via Canvas.
To reach one of our support services, please call (925) 473-7434 for assistance.

There have been zero confirmed cases of students or employees with the coronavirus (COVID-19) at Los Medanos College or within the Contra Costa Community College District.

We will continue to provide regular updates, including frequently asked questions, on the District Coronavirus (COVID-19) Updates website.

Update: March 18, 2020

As of March 18, 2020, all LMC classes and student support services will be delivered remotely. College facilities remain closed to students until further notice.

In keeping with the "shelter-at-home" order issued on March 16 by Contra Costa and neighboring counties, Los Medanos College facilities – the Pittsburg Campus and Brentwood Center – will be closed to students, the public, and most employees to minimize the risk of COVID-19 exposure. All face-to-face instruction and face-to-face support services have been suspended. Aside from a limited number of personnel related to certain on-campus operations, employees will be working remotely to deliver ALL classes and support services via online format to students. This will remain in effect from March 18 through April 7, or until the County order is extended, rescinded, superseded, or amended.

Information for Students:

If your professors haven't done so already, they will be reaching out to you via email and/or Canvas to provide further guidance.

Please be sure to check your College email account often for any updates, and contact your professor right away via Canvas if you have not been contacted yet.
To reach one of our support services, please call (925) 473-7434 for assistance.

There have been zero confirmed cases of students or employees with the coronavirus (COVID-19) at Los Medanos College or within the Contra Costa Community College District.

We will continue to provide regular updates, including frequently asked questions, on the District Coronavirus (COVID-19) Updates website.

March 15, 2020

All Face-to-Face Classes and Support Services Suspended for March 16 & 17

Dear Los Medanos College Students,

In response to the emergency declarations from the State of California and Contra Costa County, the Contra Costa Community College District (District) and its colleges – Contra Costa College, Diablo Valley College-Pleasant Hill and San Ramon Campus, and Los Medanos College Pittsburg Campus and Brentwood Center – have suspended all face-to-face classes and face-to-face student interactions beginning Monday, March 16, 2020. All campus locations will be closed to students to minimize the spread of the coronavirus until further notice.

These actions will allow administrators, faculty, and staff to develop and implement transition plans for a remote format delivery of classes and student support services. Beginning Wednesday, March 18, 2020, the colleges will start the process to deliver classes and student support services remotely.

Your professors will be reaching out to you in the next few days via your Insite email and/or Canvas to provide further guidance. Please be sure to check your college email account often for any updates, and contact your professor if you do not hear anything by Tuesday, March 17, 5:00 p.m.. If you have questions related to student services (i.e. Financial Aid, Admissions, and/or DSS/DSPS), please email the appropriate office. Contact information can be found on your college website.

As of today, March 15, 2020, we continue to have zero confirmed cases of students or employees with the coronavirus (COVID-19) in the Contra Costa Community College District. However, the rapidly changing community dynamics, particularly over the past 24 hours, and the lack of adequate testing to verify our communities' health status, have made it clear that we must take proactive steps to ensure the health of students and employees.

We will continue to provide regular updates, including updated frequently asked questions, on the District Coronavirus (COVID-19) Updates website.

---

March 12, 2020

All Lecture-Based Classes Moving to Remote Instruction Effective Monday, March 16, 2020

Dear Los Medanos College Students,

Your health and safety is of utmost importance to us. As we continuously monitor the situation and assess the impact of the novel coronavirus (COVID-19) in our community, we strive to balance health and safety concerns with our students' goals to complete courses in their educational pathway. In doing so, we follow the expert guidance from the California Department of Public Health and our county health agency. Utilizing the guidelines provided for social distancing from Contra Costa Health Services, and to mitigate risk of exposure, we are moving forward with the following measures:

Beginning March 16, 2020, all lecture-based classes will be moving to remote instruction. Your professors will be reaching out to you in the next few days via email and/or Canvas to provide further guidance. Please be sure to check your college email account often for any updates, and contact your professor right away if you do not hear anything. Lab, activity, and performance classes that require specialized spaces and equipment will meet on site, as regularly scheduled, unless your professor instructs you otherwise.

All colleges and centers within the Contra Costa Community College District are and will remain open, and instruction and support operations continue with these temporary modifications. As of today, March 13, 2020, we continue to have zero confirmed cases of students or employees with COVID-19.

---

March 11, 2020

PRESS RELEASE -- CONTRA COSTA COMMUNITY COLLEGE DISTRICT

FOR IMMEDIATE RELEASE

Contra Costa Community College District Update on Coronavirus: Related Actions

Martinez, CA – As more cases of the Novel Coronavirus (COVID-19) are identified in California, the Contra Costa Community College District (CCCCD) has provided additional guidance to its three colleges, two centers and District Office in an effort to protect students, faculty, employees and visitors. To date, there are no confirmed cases of the Coronavirus at any CCCCD location.

Consistent with guidance provided by the California Department of Public Health and Contra Costa Health Services, CCCCD confirmed that all colleges and centers will remain open, and instruction and operations will continue, with modifications, as listed below.

Effective immediately, and through April 30, 2020, unless otherwise noted, CCCCD is taking action in the following areas:

Travel

CCCCD is curtailing all non-essential travel for students, faculty and employees.

Events

CCCCD locations will cancel or postpone gatherings of 50 or more people, especially events attended by older adults and people of all ages with compromised immune systems.

Employee Leave

CCCCD is encouraging students, faculty and employees to stay home if they are sick and adhere to any quarantine guidance provided by a physician in consultation with county health services.

Instruction

CCCCD, in consultation with the Academic Senate and United Faculty leadership, is reviewing remote instruction options for lecture-based classes targeted for March 16, 2020, with evaluations and adjustments made accordingly thereafter.

Student Services

Student Services will continue on-site at campuses, and CCCCD is reviewing technologies and tools to provide remote access as necessary.

"We are monitoring the situation closely and will continue to provide updates to our campus communities when any new relevant information warrants a change in our response to this issue," said Eugene Huff, Interim Chancellor. Additionally, a centralized District Coronavirus web page is now available at www.4cd.edu/covid19 and will be updated regularly to reflect the latest public health guidance."

---

March 5, 2020

Contra Costa Community College District COVID-19 (Coronavirus) Update

The Contra Costa Community College District continues to monitor developments related to the outbreak of a respiratory illness caused by the 2019 Novel Coronavirus (COVID-19) that was first detected in Wuhan City, Hubei Province, China. There are currently no known positive cases of the virus at any of our colleges, centers, or at the District Office.

New information about COVID-19 is being released daily and we will provide updates as needed. The health and safety of our District and college community are of the utmost importance, and the Chancellor's Cabinet continues to prepare for decisions and actions to minimize the spread of this virus, keep everyone healthy, and reduce the impact COVID-19 may have on our programs and services. To that end, some examples of current actions include:

The decision was made, in collaboration with our consortium partners, to return all of the District's study abroad students and faculty from Italy now.

Academic Senate and Chancellor's Cabinet leadership will be meeting on March 13 to further discussions of and plans for continuation of instruction, should we have a major disruption.

District Police Services and Risk Management, in consultation with Public Relations and Instructional leaders, continue to update and add specificity to our existing heath emergency response action plans and checklists, and will brief Chancellor's Cabinet on March 10.

Since there is currently no vaccine to prevent COVID-19, the best way to prevent illness is to avoid being exposed to this virus. The Centers for Disease Control and Prevention (CDC) recommends taking preventative actions similar to those you should take during cold and flu season, including:

Wash your hands often with soap and water for at least 20 seconds. If soap and water are not available, use an alcohol-based hand sanitizer.
Avoid touching your eyes, nose, and mouth with unwashed hands.
Avoid close contact with people who are sick.
Stay home when you are sick.
Cover your mouth or sneeze with a tissue, then throw the tissue in the trash.
Clean and disinfect frequently-touched objects and surfaces.

The symptoms of COVID-19 include fever, cough and difficulty breathing, and could appear in as few as 2 days or as long as 14 days after exposure. If you have these symptoms, it would be prudent to seek medical care right away. Call ahead before going to see a doctor or emergency room, or call Contra Costa Public Health at (925) 313-6740 for instructions about where to go if you do not have a healthcare provider.

Below are links to agencies providing up-to-date information on COVID-19:

Information Resources
Additional information related to COVID-19