Parking Permit Process for Spring 2023
Parking for the Spring semester 2023 will require a physical semester permit or daily permit. Semester permits must be displayed in plain view with all numbers and markings clearly visible. Both semester and daily permits can be obtained through Insite or MyCampusPermit.com. Failure to obtain a valid parking permit will result in a citation. For help with your permit, call 1-800-700-4417 or visit MyCampusPermit.com. Students, staff and faculty will need to provide their vehicle License Plate Number, Make, Model, and Color of the vehicle. If you will be driving a different vehicle during the FALL TERM, you will need to update your vehicle information HERE
or call 1-800-700-4417 BEFORE parking on campus.
Alternative Forms of Transportation
Buses
LMC is served by frequent Tri Delta Transit buses to Pittsburg/Bay Point BART and local communities. Buses numbered 380, 381, 387,388 and 391 all serve LMC Monday-Friday. Schedules are available at the Student Life Office.
Route 381 is the quickest ride between the Pittsburg campus as downtown Pittsburg.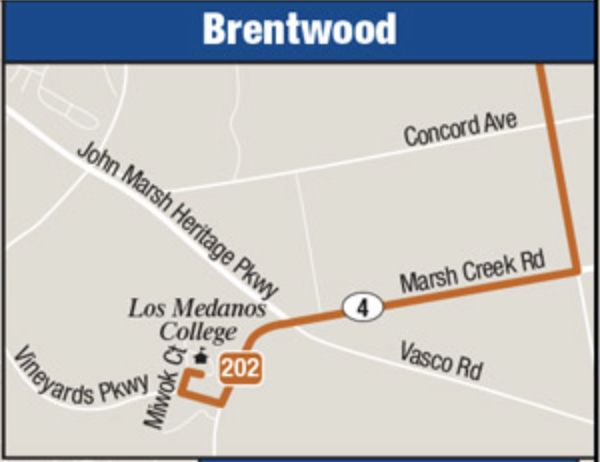 To get to the LMC Brentwood Center the weekday Route 202 will get you there.
The Tri Delta Transit web site also offers a "Trip Planner" link where you can enter origin and destination and the web site will provide you with transit options and times. For more information on this, routes, fees, and other information, please visit: www.trideltatransit.com . Or call Tri Delta Transit at: (925) 754-6622.
BART
Tri Delta Transit Buses connect LMC to BART, which services Pittsburg, Concord, Pleasant Hill, Walnut Creek and other cities throughout the Bay Area. For specific Tri Delta Transit buses that service Los Medanos College, please see "Buses", or call Tri Delta Transit at: (925) 754-6622
Carpooling
Carpooling to school is a healthier and faster commute option with 9 miles of High Occupancy Vehicle lanes on Highway 4, between Port Chicago Highway and Railroad Avenue.
Bicycle
Secure bike racks are available at various locations on campus. Bikes can be transported by BART or bus as well. See the above numbers for more information.
The De Anza bike trail intersects the South end of the Los Medanos College campus. The bike trail can be accessed from the West of LMC at Leland, Crestview Drive Railroad Avenue, Harbor Street, Loveridge Road. The bike trail can be accessed from the East of LMC at Somersville Road, Delta Fair Blvd and GentryTown Drive and James Donlon Boulevard. Free trail maps can be obtained by visiting 511 Contra Costa at http://www.511contracosta.org or by calling (925) 969-0841.
511 Contra Costa
511 Contra Costa provides commuter services and programs to eligible college students traveling to, through, or from Contra Costa County. Programs are available to students who are willing to carpool or ride transit instead of driving alone to campus. Visit www.511contracosta.org for more information or by calling (925) 969-0841.
511 Contra Costa commute programs are provided free of charge to residents, college commuters, and employers in Contra Costa County on a first-come, first-serve basis while funding is available. Funds for these programs are provided by the Bay Area Air Quality Management District's Transportation Fund for Clean Air and the Contra Costa Transportation Authority.