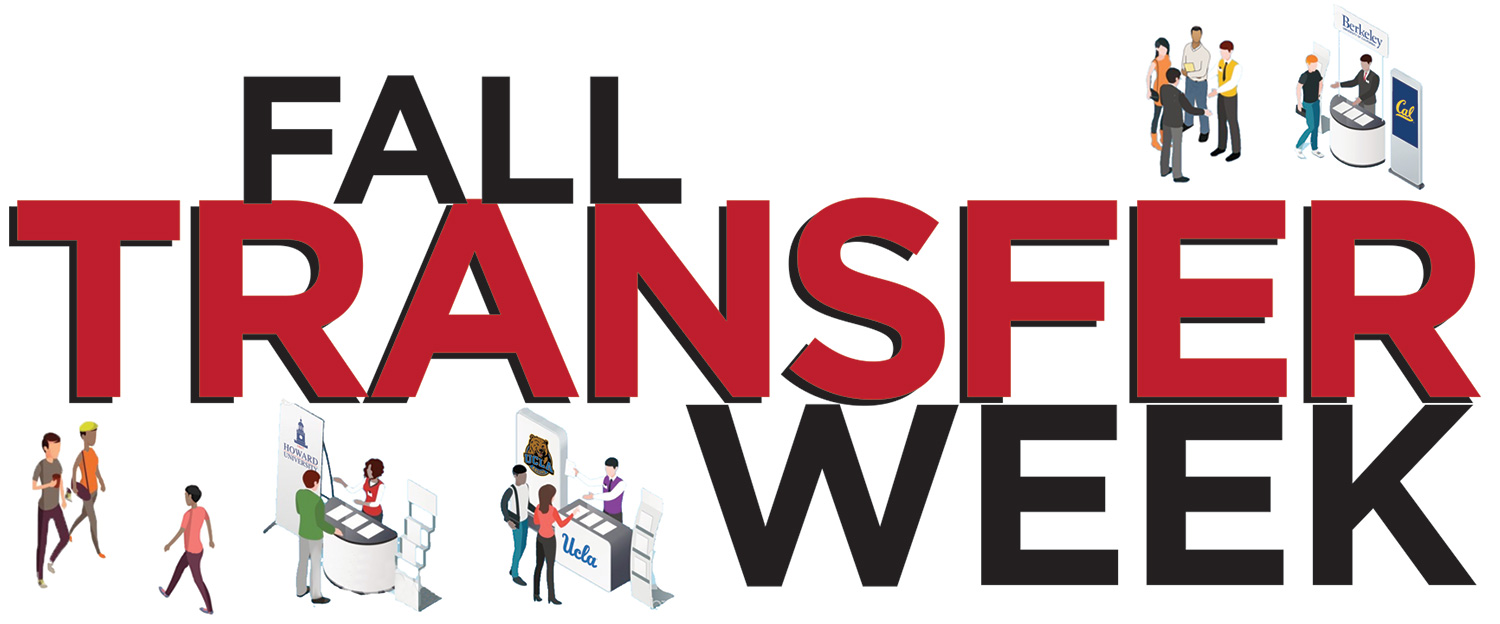 Transfer Day: 10/22 from 11am - 2pm
Transfer Day is located in the Indoor Quad
List of Universities at Transfer Day »
---
We need your help! Come and join us as a volunteer for Transfer Day (and pre-event set up) and be a part of one of LMC's biggest annual events.
---
Workshops: 10/21 through 10/24
Everything you didn't know that you need to know about transfer
3:00 pm - 4:00 pm
SS4-412
Am I ready? How do I know?
Have you thought about transferring, but aren't sure where to start? This workshop covers the resources available and the steps to take in preparing to transfer. Find out what you need to do, and when you need to do it!
---
Design You Life: Life Planning for career & transfer
4:00pm - 5:00pm
SS4-412
Design Thinking
Can you apply design thinking to your career to improve outcomes and gain clarity? Absolutely! Come understand how to apply design thinking principles to ensure your career feels like a good fit. This workshop will empower you with a framework to make confident decisions in your career, including changing jobs, and finding the right position.
What's the difference? CSU vs UC vs Private vs HBCU Transfer Panel
9:30am - 11:00am
Recital Hall
You have questions...we have answers!
An informative and interactive morning with representatives from UC, CSU, private & HBCU schools all in one room!. Not to be missed!
---
Transfer Day College Fair
11:00 am - 2:00pm
Indoor Quad
Reps, reps & more reps
We will be welcoming more than 55 schools to our campus including UCs, CSUs, California private, and out-of-state schools. This is the biggest event of the year and your chance to talk to all of your transfer schools on one day in one place.
---
Stanford Medical School - Everything you ever wanted to know about medical school
2:00pm - 3:00pm
MESA Center
Medical school is IMPOSSIBLE
A representative from Standford Medical School will be presenting this engaging and informative workshop about how to get admitted to medial school and the ins-and-outs of becoming a doctor.
---
UCLA Honors Workshop
2:30pm - 3:30pm
SS4-412
LMC to UCLA
The UCLA Transfer Alliance Program (TAP) gives you the opportunity to enhance your ability to transfer to UCLA at the junior level from LMC. Students are certified after completing the honors/scholars program and given priority consideration for admission to UCLA. A UCLA rep will be on-campus to share more about this amazing program.
Register Now!
Internship Research & Prep Workshop
3:00pm - 4:00pm
SS4-412
How to Compete for an Internship... Prepare and Explore!
Learn how internships can be an effective way of gaining valuable experience from most industries. We will identify key steps and resources to help students navigate internship opportunities both locally and nationally.
Register Now!
---
Preparing for your future in Kinesiology
4:00pm - 5:00pm
SS4-412
Move, Train, Play!
Application of Kinesiology concepts for returning young athletes to their sport with Pediatric Physical Therapy. Attend this workshop to learn more about this exciting field and how to set the transfer path in motion.
Register Now!
Application Help
11:00am - 2:00pm
Assessment Center
I'm stuck! Help!
Need help starting or finishing your UC or CSU application? We will be available to answer questions, clarify requirements, and get you to the end!
Register Now!
---
Nursing: How to get ready for transfer
2:00pm - 3:30pm
CC3-361
Cal State East Bay Nursing - Pre-Licensure and Post-Licensure Nursing Programs
How to be a competitive candidate, how to qualify and how to apply. Attend this workshop to learn the ins and outs of applying to this coveted nursing program.
Register Now!
---
PIQ Workshop
3:00 pm - 4:0pm
SS4-412
Tell them your story
If you are applying to a UC then you know that one top of the application you must also answer some Personal Insight Questions. This workshop will help you figure out where to start, what to share, and what the UCs are looking for.
Register Now!