- We are here for you!
Summer Hours of Operation:
Tuesdays & Thursdays: 11:00 AM- 2:00 PM
Wednesdays: 2:00 PM- 5:00 PM
If you need immediate assistance, please use this link to identify resources of support in your area Food bank of Contra Costa & Solano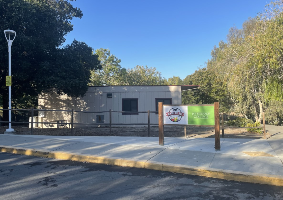 LOCATION: LMC Marketplace Portable
(next to Child Study Center & across from campus bus stop)
In order to support all LMC students, the LMC Marketplace provides on-going distribution of groceries and personal care items on the Pittsburg Campus.

We are here for you! Check this page regularly as these dates and times may be subject to change.
The LMC Food Pantry was established in the spring of 2017 with a mission of providing free food and resources to students . Whether you forgot to make your lunch, are waiting for your financial aid award, or are saving money for other expenses, we can help you.
If you would like to try delicious recipes to make with food from the LMC Pantry, you can visit the CalFresh Healthy Living Website