Opportunities for Students!
FREE LEGAL SUPPORT SERVICES APPOINTMENTS
---
UNDOCU-WISDOM SERIES
Each month, an immigration attorney will provide updates and information on topics that are top-of-mind for undocumented students, immigrant communities, and their allies. Please bring your questions as there will be time at the end to answer them!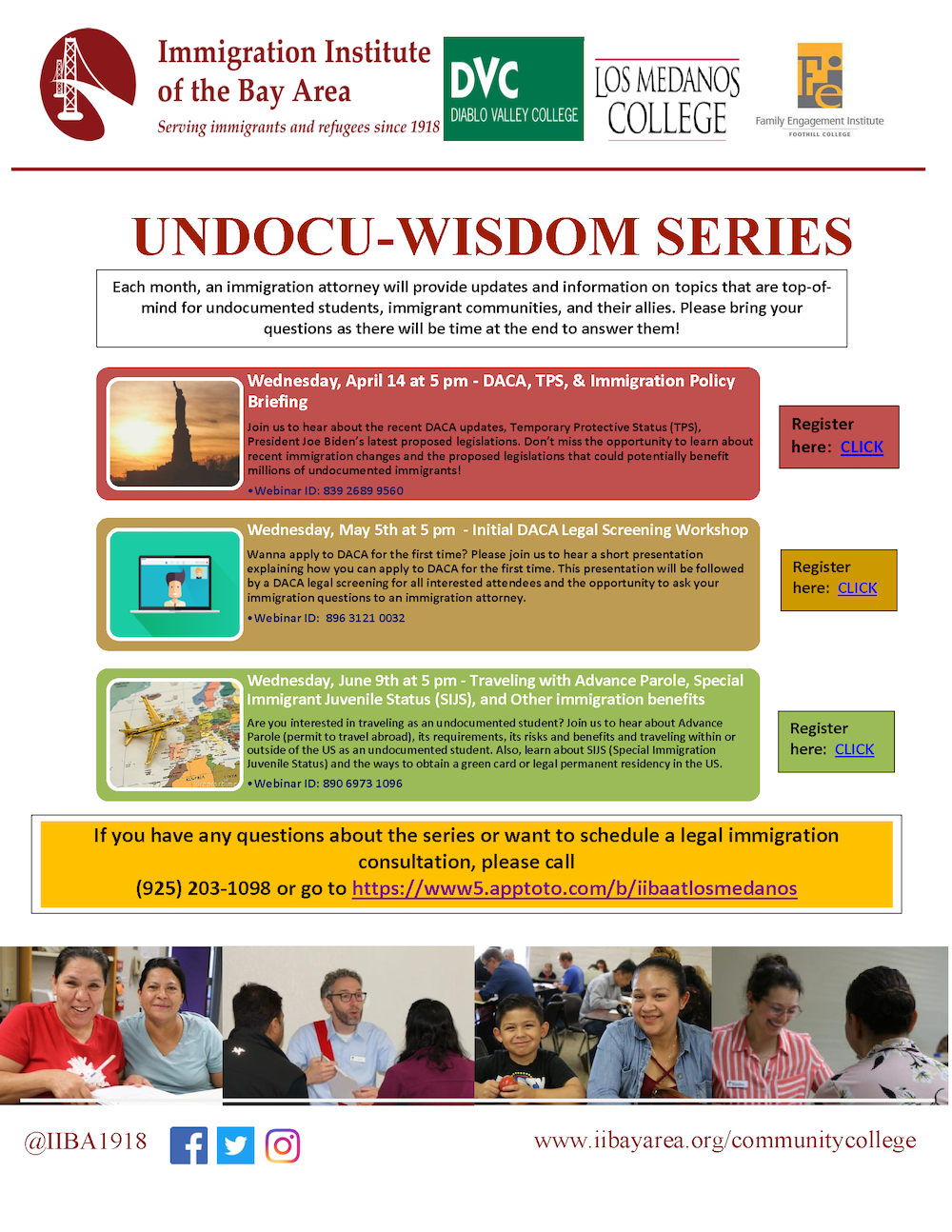 Initial DACA Legal Screening Workshop
Wednesday, May 5th, at 5 PM
Wanna apply to DACA for the first time? Please join us to hear a short presentation explaining how you can apply to DACA for the first time. This presentation will be followed by a DACA legal screening for all interested attendees and the opportunity to ask your immigration questions to an immigration attorney.
•Webinar ID: 896 3121 0032
---
Traveling with Advance Parole, Special Immigrant Juvenile Status (SIJS), and Other Immigration Benefits
Wednesday, June 9th, at 5 PM
Are you interested in traveling as an undocumented student? Join us to hear about Advance Parole (permit to travel abroad), its requirements, its risks and benefits and traveling within or outside of the US as an undocumented student. Also, learn about SIJS (Special Immigration Juvenile Status) and the ways to obtain a green card or legal permanent residency in the US.
•Webinar ID: 890 6973 1096
---
---

DREAMers Alliance & DREAMers Ally Network
Los Medanos College (LMC) will be joining California Community Colleges and the Community College League of California in advocacy and activities to support and build awareness about undocumented students throughout the state.
Learn to be a DACA ally from the International Institute of the Bay Area (IIBA).
What you need to know about the repeal of DACA
In solidarity as a district, we will continue to offer CA Dreamers access to education and have put policies in place to keep both you and your personal information protected. District Resolution 1-S and the California Community Colleges Chancellor's Office continues to offer support to our CA Dreamer Act.
In light of the recent political climate we are committed to providing information for you and your family. Below you will find news, policies, and information on where to get assistance.
Information
Outside Organizations for Information and Legal Advice

PAST LMC DREAMERS EVENTS