Equity Plan
SEP 2022-2025 Plan
The Student Equity Plan (SEP) is a strategic planning report that is submitted to the California Community Colleges Chancellor's Office (CCCCO) every three years on behalf of LMC. The SEP integrates a reflection of past diversity, equity, and inclusion (DEI) efforts from the previous 2019-2022 Student Equity Plan and incorporates the strategic directions of the current 2022-2025 Student Equity Plan by highlighting initiatives, projects, programs and services designed to move the needle on closing equity gaps with LMC's most disproportionately impacted student populations. The Executive Summary ​outlines LMC's shared governance process for collective participation and feedback along with the prioritized student equity goals for the 2022-2025 cycle.
SEA 2019-22 Plan
The Student Equity and Achievement program (SEA) is the integration of BSI, SSSP, and SEP programs. The following SEA report was submitted and approved by the Governing Board in June 2019.
This 2019-22 Student Equity Plan is the second iteration building upon the SEP 2016-19 plan below. In the 20-21 year, the SEP will undergo comprehensive project evaluation to better understand our progress addressing DI populations and reducing equity gaps.
SEP 2016-19
The goal of the LMC Student Equity Plan (SEP) is institutional equity for all students. This focus has been integrated into the LMC culture for several years now and it is embedded in many campus initiatives and practices. LMC's Student Equity Plan reflects a comprehensive effort by faculty, staff, and management to consider the needs of the campus holistically including infrastructure, staffing, special student populations, professional resources and the development of guidelines, goals and milestones to facilitate the college's full implementation of equity standards. The SEP details programs and activities for the 2016-17 program year, but it is a five-year plan, by which we will " move the needle" on student equity within an expanding academic and student support environment.
A core value of the LMC Student Equity Plan, as agreed upon by the Student Equity Plan Advisory Committee, is moving the institution away from traditional student deficits models (i.e. focusing on what students are lacking and what additional support they need based on this deficiency), to the principle of institutional responsibility that looks at specific student populations the institution has historically been unsuccessful in fully serving. Specific programs and activities are designed to ensure the success of all students with an emphasis on targeted populations.
District Data Table for 2018
Interactive Tableau Information as part of plan evaluation.
Note: Please select the college "LMC" on each tab for data specific to Los Medanos College. Then hover over the number in the table or chart to find the data definition and explanation of the data point, the academic year it applies to, and overall population.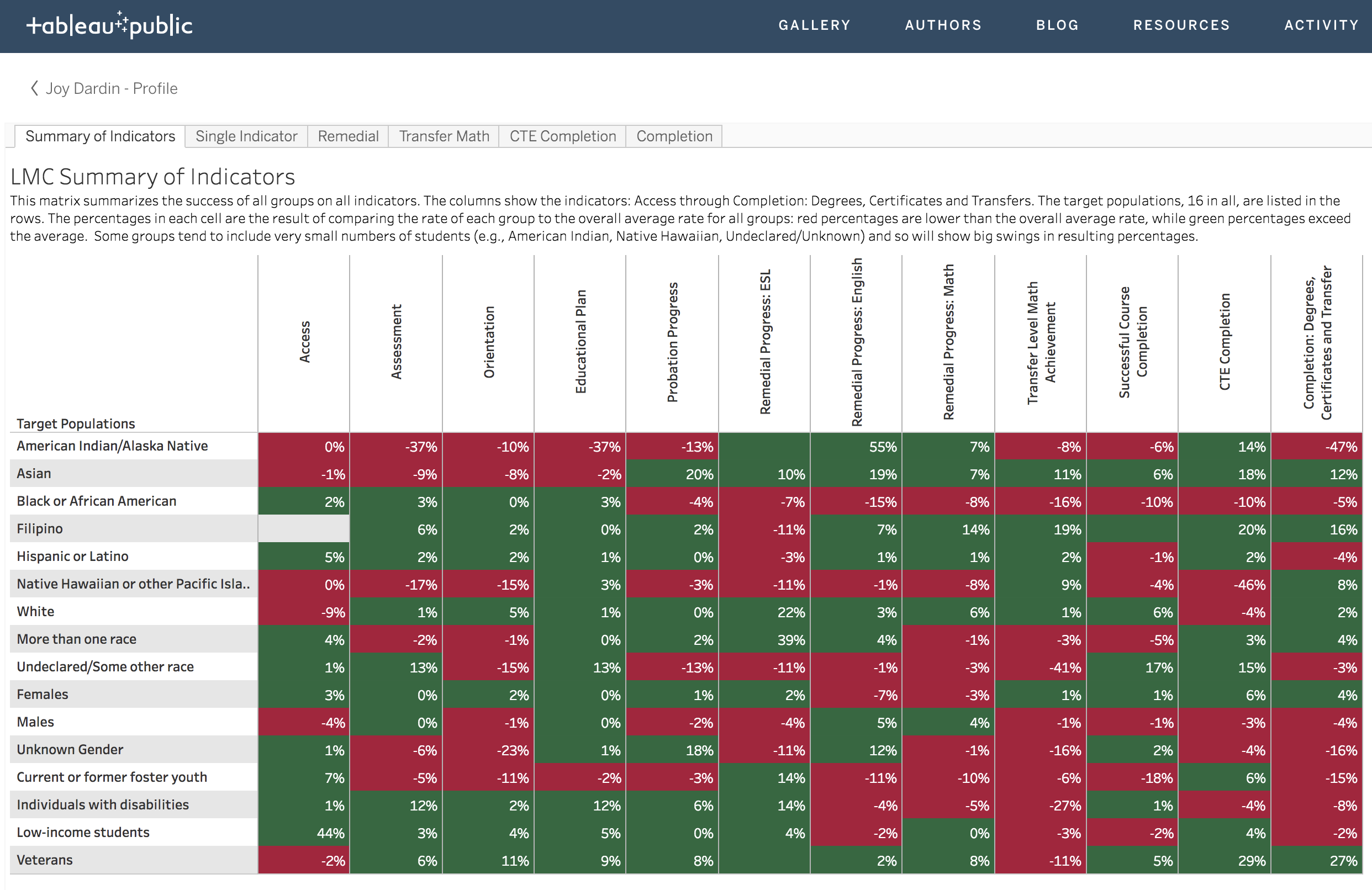 PAST SEP ADVISORY COMMITTEE MEMBERS

| | | |
| --- | --- | --- |
| Jeffery Benford | Manager | Dean of Counseling and Student Support |
| Dave Belman | Manager | Dean of Student Success; IDEA |
| Kevin Horan | Manager | Vice President |
| Bob Kratochvil | Manager | President |
| Ryan Pederson | Manager | Dean of Math and Science; IDEA |
| Gail Newman | Manager | Senior Dean of Student Services |
| Nancy Ybarra | Manager | Dean of Liberal Arts |
| Theodora Adkins | Faculty | Business; IDEA |
| Morgan Lynn | Faculty | English; Acceleration; Multiple Measures |
| Janice Townsend | Faculty | Child Development; Equity PLF |
| Paula Gunder | Faculty | ESL |
| Erlinda Jones | Faculty | Child Development; IDEA |
| Nina Ghiselli | Faculty, Brentwood | Counselor; DSPS |
| Laura Subia | Faculty | Counselor |
| Nicole Trager | Faculty | MESA |
| Sylvia Benzler | Classified | DSPS |
| Tamara Green | Classified | A&R; Veterans; IDEA |
| Alicia Bracy-Cruz | Classified | MESA |
| Tara Dale-Sanders | Classified | Workforce Development |
| Jamila Stewart | Classified | Umoja; IDEA |
| John Nguyen | Classified | Student Life |