Why STEM?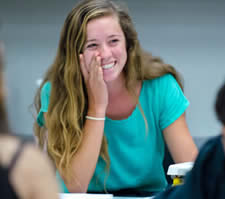 Are you interested in an exciting career of discovery and exploration? Do you like problem solving, working in diverse teams, and innovating ways to make positive impacts on the world? Come join the STEM (Science, Technology, Engineering, Math) Program at Los Medanos College!
Innovate!
STEM fields allow you to utilize your creativity while solving problems and thinking critically about challenging issues. You may build the next super bridge, research cures for a biological disease, or develop new ways for communities to become more energy efficient during your STEM career. There are diverse opportunities in STEM that capture everyone's interests!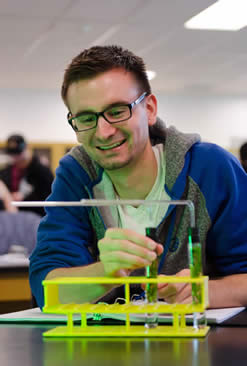 Prepare for Exciting Careers!
Studying a STEM discipline at Los Medanos College will prepare you for a fascinating career in some of the fastest growing fields, such as biomedical engineering and information technology. Many students enter the workforce after earning Associates Degrees or certificates at Los Medanos College, and many continue their studies to earn Bachelors and Advanced Degrees at colleges and universities across the country. STEM fields have some of the highest projected job growth through the next decade, which makes studying these disciplines an incredible choice for a robust future career.
Our College is located within one of the largest tech hubs in the world, and our students have incredible opportunities to be part of this exciting, innovative environment. Many of our students gain experience at world-renowned companies and major research centers while studying at Los Medanos College. We encourage our students to build valuable professional networks and seek opportunities to learn from local industry leaders. Studying STEM is your gateway to these exciting careers!
Learn Like a Pro!
We are preparing the next generation of STEM leaders by providing our students the knowledge and skills to succeed in tomorrow's workforce, as well as supporting them along their journey. Our courses
are taught by talented, dedicated instructors who provide students a solid foundation in their area of study. Students gain hands-on experience working with modern equipment and develop the technical tools enabling them to succeed in their future careers. LMC was awarded a Department of Education grant (HSI STEM) that supported the expansion of STEM course sections through the opening of a new laboratory facility at the Brentwood Center and provided the opportunity to update curriculum to utilize more modern equipment.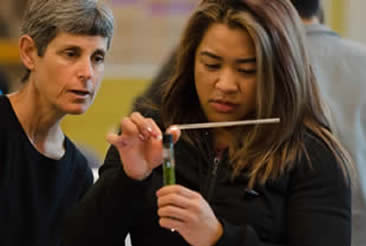 Many of our STEM courses have incorporated student-driven research projects into the curriculum. These incredibly valuable learning experiences better prepare students for future study and provide students a more realistic representation of what it means to be a professional in their field of choice. LMC is one of thirty-eight colleges nationwide who are partners in the Community College Undergraduate Research Initiative (CCURI). CCURI supports highly engaging learning experiences by providing valuable resources, such as research supplies, faculty professional development, and fully-funded opportunities for students to travel and present their research at regional conferences.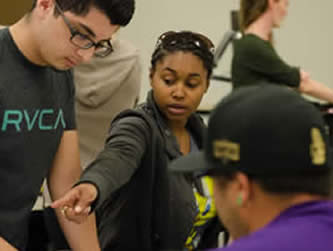 Our STEM students also have an opportunity to present their results from classroom research experiences, internships, and other research opportunities during our annual student research symposium held on campus.
Join a Supportive Team!
When you enroll as a STEM student at Los Medanos College, you join a network of supportive individuals who are here to help you achieve your goals. We have talented counselors to help students develop education plans, free tutoring for numerous STEM courses, as well as career, transfer, and financial aid centers open to all students. Los Medanos College was awarded a competitive NSF S-STEM grant which provides scholarships and other support services to STEM students, such as mentoring, college visits, and career events. Our incredible Math Engineering Science Achievement (MESA) Program provides ongoing support services for our STEM students.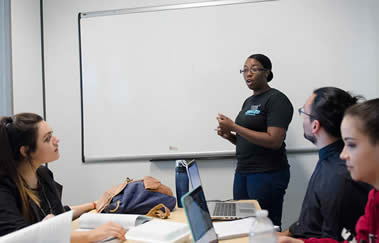 The MESA Center provides a welcoming, collaborative environment for students to study, work on computers, receive tutoring, meet with faculty, and network with industry professionals during the invited speaker series. Our MESA Director coordinates all aspects of this program and informs all our STEM students about campus events and services as well as exciting career opportunities and internships.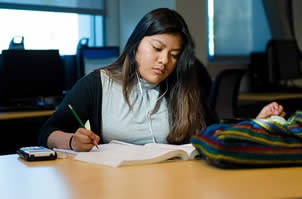 Start building your pathway toward future STEM success!

Consider which STEM majors or programs are most interesting to you
Complete an online application and online orientation
Complete all necessary placement exams
Utilize the online roadmaps and meet with a counselor to develop an educational plan to pursue your STEM major
Enroll in your courses and work hard toward earning that STEM certificate or degree
Apply for scholarships and financial aid
Get involved in student clubs, apply for internships, utilize student support services like MESA, the Center for Academic Support, and

Disabled Students Programs & Services (DSPS)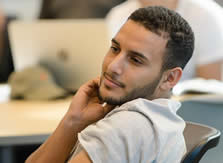 More Information
Stem Program Roadmap for Seniors