Opportunities
Outreach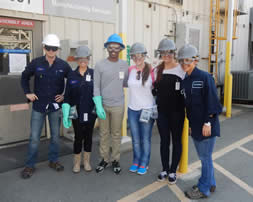 LMC's STEM Outreach offers opportunities to expand the reach of science education into the high school and parent community.
Science Technology Engineering and Math transfer students have the opportunity to experience giving back to the community by becoming a STEM Ambassador.
Participating in the STEM Ambassador Program also supports the fulfillment of volunteer hours, and students can request letters of reference that are important for college admission applications as well as scholarships.
STEM Ambassadors
Los Medanos College STEM Ambassadors are highly motivated STEM and MESA transfer students. STEM Ambassadors can volunteer their time in the high school in several ways:
STEM Ambassadors volunteer in PHS STEM classes, tutoring/mentoring in math, biology, physics, chemistry and engineering classes, choosing their volunteer hours based on their personal availability.
STEM Ambassadors present STEM Student Success Panels to high school students in which they explain how Los Medanos College works as a transfer institution for STEM majors, and engage in a question and answer session about STEM at LMC, and STEM opportunities.
STEM Ambassadors perform laboratory experiments and demonstrations—with design guidance from LMC STEM faculty—for students in various science classes at PHS.
STEM Ambassadors present LMC STEM information to parent groups in our high schools and community.
The LMC STEM Ambassador Program connects our STEM students to the students in Pittsburg High School. Ambassadors become mentors and role models for students. These volunteer hours can be used to support community service hours; letters of reference are also provided for STEM Ambassadors when requested.
STEM Ambassador application: Outreach STEM Ambassador Application Form