Center for Academic Support is a comfortable, relaxing place where students can find collaboration and community
Reading and Writing Consultants
PLEASE CALL THE CENTER FOR ACADEMIC SUPPORT - 925-473-7590 FOR SCHEDULE INFORMATION.
Our reading and writing consultants provide quality support to all LMC students as they pursue their particular educational goals.
Consultants working at the Center for Academic Support at both Pittsburg and Brentwood (room 13) offer students one-on-one assistance with reading and writing assignments, in person and online. Appointments are recommended, but drop-in consultations are accepted on a space-available basis. Please call the Center to make an appointment.
Center for Academic Support
Closed for Winter Break December 15th, 2018 through January 28th, 2019. We wish you all a wonderful and successful New Year!
Tutor Training is scheduled for January 22nd and 23rd from 9:00am to 3:30pm.
---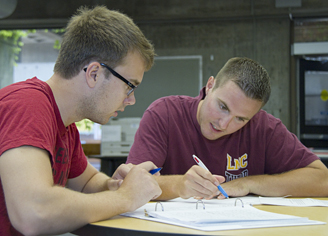 Peer Tutors
SCHEDULE PENDING. PLEASE CONTACT US AT 925-473-7590 FOR SCHEDULE INFORMATION.
Our peer tutors are also available to help students at both Pittsburg and Brentwood. Subjects tutored include, but are not limited to, art & art history, business, chemistry, computer science, EETEC, ESL, music theory, physics, political science, psychology, recording arts, and Spanish. Tutoring is conducted on a drop-in basis and does not require an appointment. Be sure to check the schedule in the center for hours and subject availability.
---
The Professor is in!
Do you need advice on tackling difficult assignments? Stumped by class concepts? Then come see a professor in a comfortable intimidation-free environment for academic assistance.
For the Professor is in! Please stop by the Center for information
Give us a call:
Center for Academic Support
College Complex, Level 3, Room CO-303