Creative Writing
Creative Writing at LMC
Does the idea of coming up with your own poems, stories and scripts sound interesting and you want to try it? Or do you already know you like creative writing? Maybe you write fan fiction or write in your journal, or write song or rap lyrics, or have taken creative writing in high school or at another school? Or maybe you've been writing for a long time already?
There are many paths to becoming a creative writer, and we want to help you build your skills so that you can better express yourself! You might even find some opportunities to publish or perform your work right here on campus, and beyond!
If you've already taken Introduction to Creative Writing (English 111 or 112), and you want to take more classes--we have good news! We've designed and added new courses!
We are now offering:
English 111: Introduction to Creative Writing (Fall 2018
English 112: Genres in Creative Writing (Spring 2019)
English 113: Creative Writing: Poetry (Spring 2019) (NEW)
English 114: Creative Writing: Introduction to Story (fiction and creative non-fiction) (Fall 2018) (NEW)
None of our creative writing courses have a prerequisite.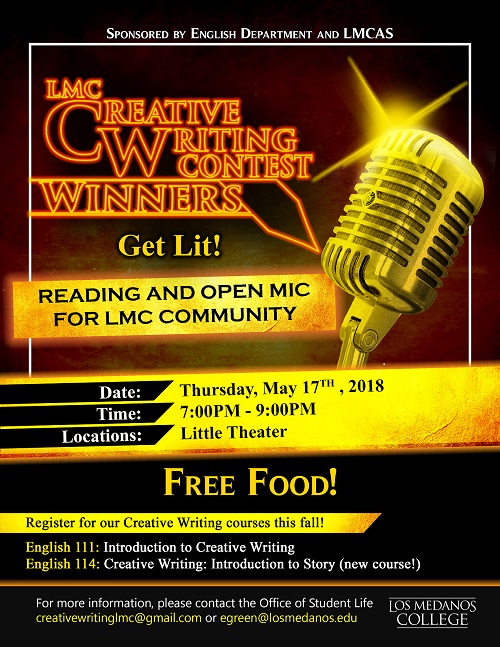 Creative Writing Contest!
Enter your poetry, prose, or scripts!
Prizes & recognition!