Create My College Plan
High School Students - Do you wonder which LMC classes to take to help you SAVE MONEY, SAVE TIME & GET AHEAD?
Contact the LMC K-12 Pathway Counselor! Make an appointment NOW to explore how YOU can get from where you are to where you want to be!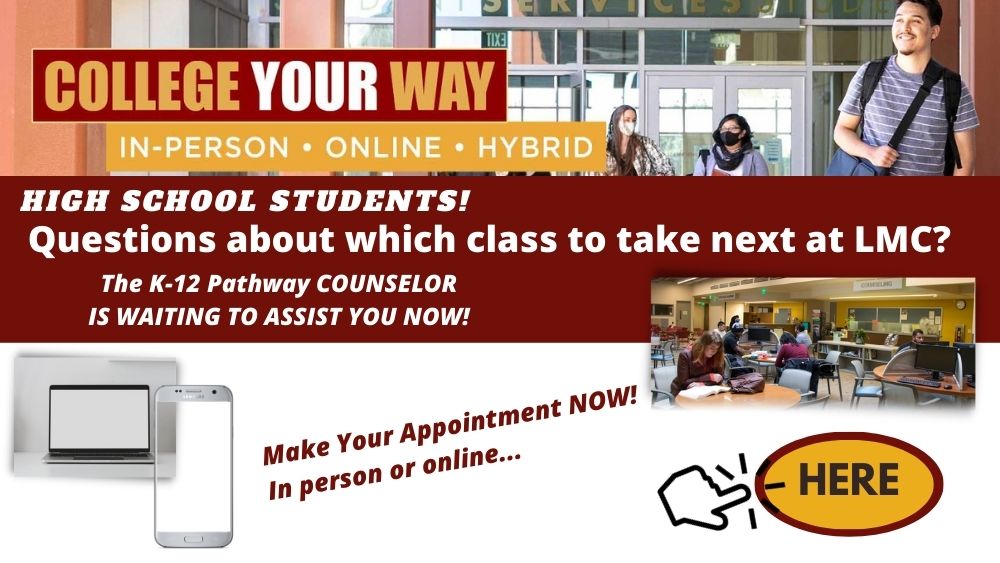 Hear from an Early College Credit Students!!!
High School Counselors:
Wondering which GE courses LMC Counselors may recommend? Here are a few!

---
ADJUS-110 Intro to Criminal Justice

ASTRO-010 Astronomy
ART-005 Visual Art
ART-006 Ancient Art History
ART-007 Medieval / Renaissance Art Hst
ART-008 Early Modern Art History
CHDEV-010 Child Growth and Development
DRAMA-015 Multicultural Perspectives in Theater
DRAMA-016 Theater Appreciation
DRAMA-030 Chicano-Mexican American Cinema
ECON-005 Economic History of U.S.
HIST-029 US History Before 1865

HIST-030 US History After 1865
MUSIC-012 Popular Music in American Culture
PSYCH-010 Individuals and Social Processes