For high school students who want to take LMC classes
Steps to Getting Started:
1. Apply to LMC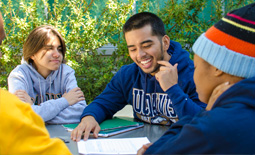 Application (Tutorial)
Within 24 hours an email will be sent to you with your new LMC Student ID#
2. From the LMC homepage, click on InSite found to the right of the LMC logo at the top of the page. Log into InSite. You will need your LMC Username (first initial, last name and the last three digits of your LMC Student ID#); and your temporary password (your 6 digit birthday). You will be prompted to immediately change your temporary password and set up security questions.
3. Once you've arrived at your Insite home page, you will see many red, green and blue tiles. Click on the LMC Student Forms tile.
4. Choose the Special Admit Enrollment Form
5. Complete the student sections on the form. Note* Students under 18 years old will enter their parent or guardian's name and email. Students 18 years or older will enter their own name and email. (Tutorial video below)
6. Be sure to select LMC courses that still have open seats available. Check here for open classes: (concurrent enrollment in DVC and/or CCC courses must follow processes at the respective campus location)
7. Once you complete and submit the student portion of the form, it will be routed to your HS principal/authorized designee for an authorized signature/class approval and then to your parent/guardian for their signature approval.
8. Once the form has these additional signatures/approvals, it will be routed back to LMC for processing. Once processed, you will be notified in your LMC email on your next steps for course registration in your InSite portal. Special Admit/Concurrent Enrollment for Summer 2021 begins on May 26th and Fall 2021 begins on June 21st.
*Note: Determine the Concurrent Student registration date, on the Academic Calendar.
Do you have questions about late registration? Prerequisites? Or more? Visit:
Need help? Have questions? Contact us or see Special Admit Enrollment FAQs