Graphic Communications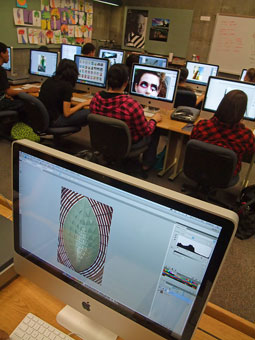 Graphic design is everywhere. Look around. How many logos can you see? Every book cover, CD cover, magazine was designed by someone. Every tee shirt with a design and web page was created by graphic designer. You may have heard the the internet killed paper products, but there are more books and magazines published than ever before. Graphic design is a career where you make art for the real world, and get paid for doing it.
Our graphics lab is filled with new large screen iMac computers, scanners, and latest Adobe software.
The LMC family of graphic design classes include:
Foundation classes that prepare you for the rest
Graphic Design
Advertising, Marketing and Publication Design
Introduction to Two-Dimensional Design

Digital Art
Software specific classes where you'll learn more than which buttons to push, you'll learn how to communicate ideas.
Designing with Adobe InDesign
Adobe Photoshop
Designing with Adobe Illustrator
Adobe Dreamweaver
Modern and classic story telling classes for future animators and game designers.
Intro to Animation
Animation and 3D Modeling
Photo 1: Survey of Digital Photography
Photo II: Developing a Personal Vision
Check the schedule of classes for current course offerings