Program Assessment Results 2016-2017 Program Assessment Results
2011-2012 Program Assessment Results (Sharepoint Documents)
Los Medanos College is accredited by the Accrediting Commission for Community and Junior Colleges, a division of the Western Association of Schools and Colleges. Accreditation demonstrates to the public that the college is of high quality and is endorsed by its peer colleges.
A component of accreditation is assessment to know how we are doing. Every instructional program is assessed at least once in five years and all the courses within the program are assessed regularly during these five years to know if changes need to be made to the teaching and learning process to continue to improve student success. Assessment Cycle 1 (2012-13 to 2016-17)
Table 1: Assessment Cycle 2 (2017-18 to 2021-22)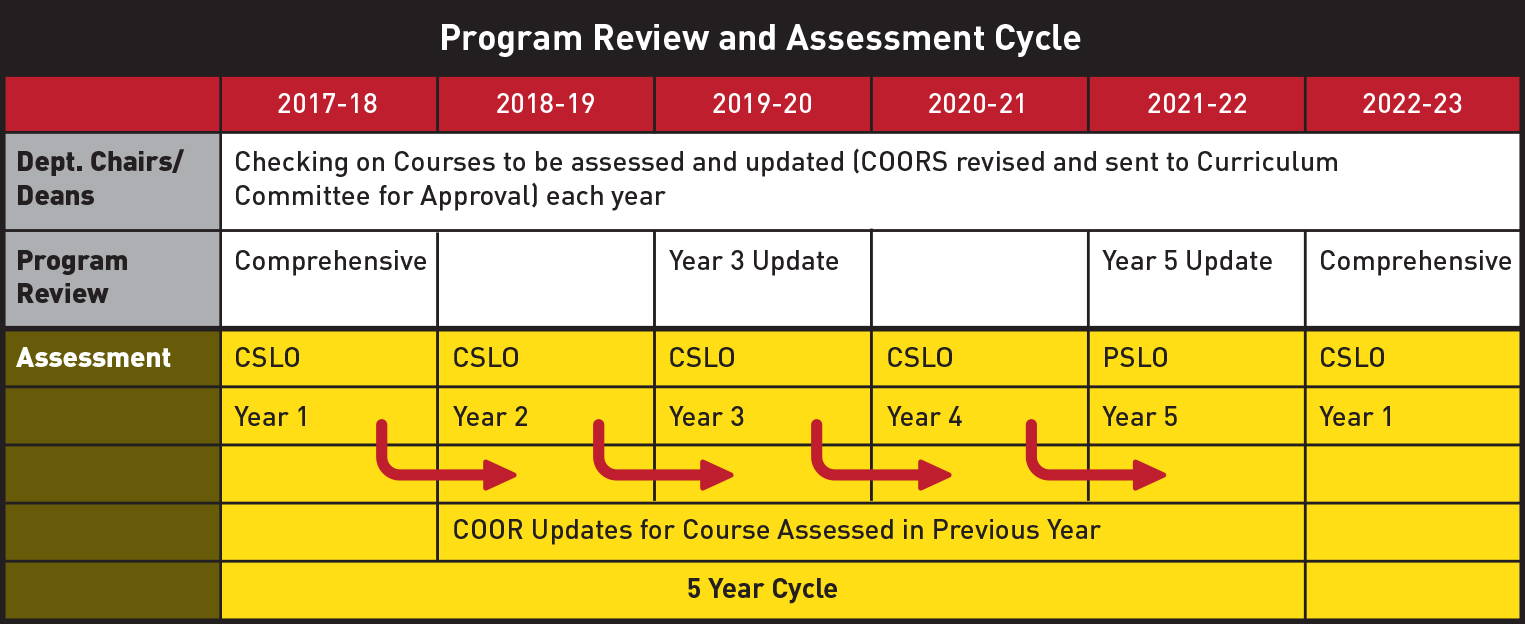 Every program and course has "Student Learning Outcomes" or SLOs which indicate to students what they should know or be able to do by the end of the course. By comparing and measuring the results of student progress against these SLOs, faculty gather information on how the program or course is doing and make adjustments to the course or the teaching environment if necessary.
This webpage shares information with you about the results of the assessment of our programs. Each summary of the results will provide the following information:
The Student Learning Outcomes (SLOs) of the Program
The assessment – what we looked at, what we found, what we are planning to work on
We strive to continuously improve our teaching and learning processes and environment so that our students can succeed in their education and career.
For more information about our programs, please visit the program web pages.
For questions and comments about Program Student Learning Outcomes, please contact:
Marci Lapriore, Chair of TLC (925) 473-6928 or ext. 66928
LD Green, CSLO/PSLO Assessment Coordinator (925) 473-7857
Join LD Green, English Professor and CSLO/PSLO Coordinator for help with your CSLOs and PSLOs.
Wednesdays, 10:00 AM-12:00 PM.
Topic: LD Green CSLO/PSLO Coordinator Drop-In Hours
Time: This is a recurring meeting Meet anytime Join Zoom Meeting https://4cd.zoom.us/j/2385650435 Meeting ID: 238 565 0435+16699006833,,2385650435# US (San Jose)+13462487799,,2385650435# US (Houston)
Cindy McGrath, GE Assessment Coordinator (925) 473-7827