Registered Nursing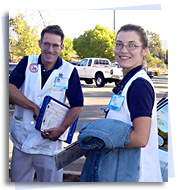 The Associate Degree Program in Nursing (or the RN Program) requires two academic years beyond completion of prerequisite courses. It is designed to prepare qualified graduates to practice nursing in entry-level positions. The focus is on learning healthcare needs of all ages in medical, surgical, obstetric, pediatric and psychiatric settings. In addition to classroom theory and skills practice in campus laboratory, clinical experience is provided in a variety of medical centers and health care agencies in the Bay Area.
Catalog Rights do not pertain to pre-requisite courses and program requirements
The program starts every Fall semester in mid August. Completion of prerequisite courses at 3.0 grade point average is required for admission to the program. Please refer to the current version of the Registered Nursing Applicant Handbook for prerequisite requirements, application submission dates and the application to the Registered Nursing Program.
More information for Registered Nursing Students: