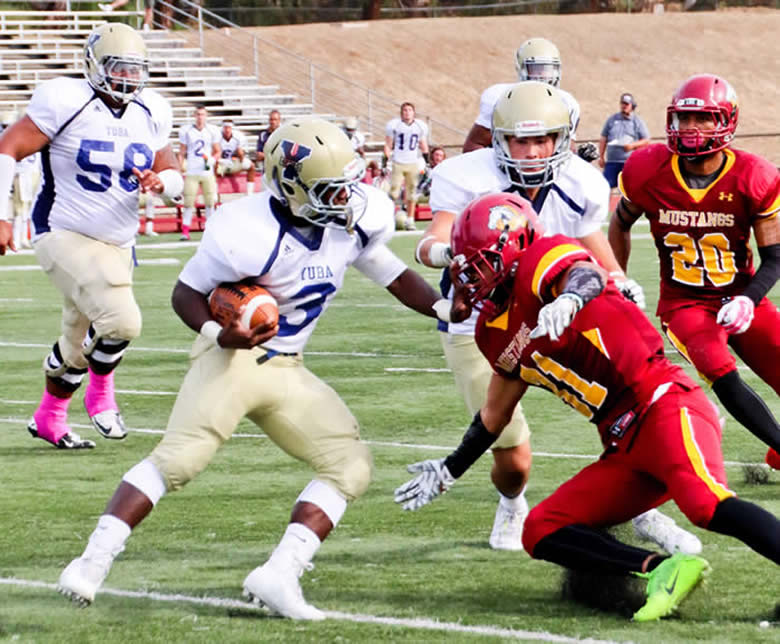 LMC Football Success Stories
Blue Devils squander chances in close loss to Los Medanos (09/08/2014)
Los Medanos running back Nic Neutall took the handoff and slammed into a wall of Blue Devils at the 1-yard line, jarring the ball loose. But the ball bounced right back to Mustangs quarterback Julius Mozee.
Los Medanos football team hopes to build on its recent success (09/02/2014)
The Mustangs, who have a new starting quarterback and a youthful look, are eager to build on the program's positive vibe. It all starts on Sept. 6 against host Merced College. (more)
Los Medanos College Mustangs win big with tie for conference lead
Coach Shipe – Bay Valley Conference Coach of the Year, and 9 All Conference players (12/02/2013)

LMC's Mustang football has certainly developed into a team to watch. Under the guidance of 3-year coach and LMC alum, Chris Shipe, the team's performance has improved dramatically in the past few years. Three years ago, the team ended it's season with a 1-4 game record. This year, they closed out with a 4 win-1 loss conference record, 7-4 overall to share the title of Bay Valley Conference (BVC) co-champions with Contra Costa College and Shasta College (in a three-way tie). (more)
Shawn Vasquez, LMC Athlete to Watch (10/10/2013)
Shawn Vasquez has always been a natural at running with a football. His high school football career was applauded. Now as a sophomore running back for the Los Medanos College football team, he has certainly been finding his groove on the field this year. (more)
Two LMC Alums Playing for Opposing Teams in Super Bowl (02/07/2012)
In a rare occurrence, there are two Los Medanos College (LMC) alums who will face each other down for Super Bowl XLVI. Dave Tollefson, defensive lineman for the New York Giants, played for LMC during 1999 and 2000, finishing his college career playing at Northwest Missouri. Sterling Moore, defensive back for the New England Patriots, played in the Fall 2007 season for LMC and then moved on to Laney College before transferring to Southern Methodist University... (more)
Dave Tollefson Helps New York Giants Win Super Bowl!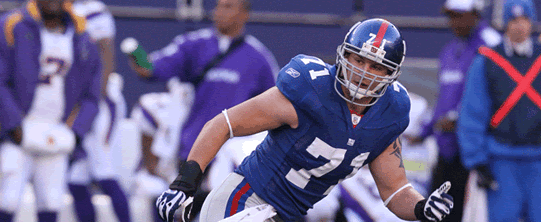 Mustang Dave Tollefson played defensive end for the New York Giants during their amazing Super Bowl run which culminated in he and the Giants becoming the 2008 Super Bowl champions.
Dave came to LMC from Ygnacio Valley High School, and following his LMC stint, went on to play at Northwest Missouri State. He was drafted by the Green Bay Packers in 2006, then spent some time with the Oakland Raiders, before ending up with the Giants.
Van Boschetti, LMC's former football coach, remembers Dave was a pleasure to coach. "He was one of those rare individuals who you knew, when he matured mentally and physically, was going to be something special. Dave always wanted to do well in whatever he did, and was passionate about football. I just knew he was destined for something great. "
Chris Shipe heads Los Medanos Football Program (09/04/2013)
PITTSBURG: Los Medanos College has hired Chris Shipe to head the football program. Coach Shipe moves from being LMC's Offensive Coordinator (Quarterbacks), a position he's held since 2002. Last year, his offense was the #2 rush offense in Northern California and also produced the #1 rusher in the state, All-American RB Thomas Hampton. ( more)
Mustangs Marlon Lobban and Steven Kala power Sioux Falls to a National Title!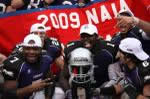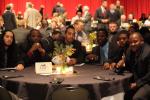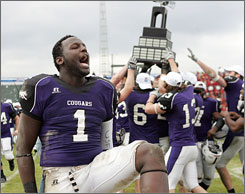 Mustangs Moving On 2009
Jaren Butler-CB: Southeast Missouri State University
Thomas Hampton-RB: West Texas A&M University
Josh Allen-WR: Southern Oregon University
Gonzalo Hernandez-OL: Culver-Stockton College
Johnnie Hines-DB: Southern Oregon University
Telvis Jones-DL: Southern Oregon University
Gerardo Magana-OL: Northern State University
Jorge Magana-OL: Montana State University-Northern
Mario Rubio-DL: Central Methodist University
Pedro White-LB: Missouri Valley College