August 4, 2010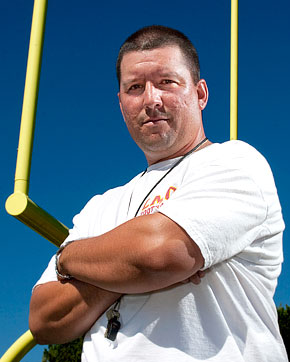 PITTSBURG: Los Medanos College has hired Chris Shipe to head the football program. Coach Shipe moves from being LMC's Offensive Coordinator (Quarterbacks), a position he's held since 2002. Last year, his offense was the #2 rush offense in Northern California and also produced the #1 rusher in the state, All-American RB Thomas Hampton.
A graduate of Pittsburg High School, Coach Shipe was the Pirate quarterback during Pittsburg's 1991 North Coast Section Championship win over De La Salle. The next two years, he played quarterback for the Mustang's at LMC and was named the team's MVP for 1993. He then went on as quarterback at Humboldt State University for two years, where he earned Conference Player of the Year and Team MVP in 1995, and stayed on to coach there as wide receiver coach for three years. He graduated with a bachelor's degree in kinesiology in 1999.
LMC President Peter Garcia expressed his enthusiasm for Shipe's appointment, "I am pleased to have Chris Shipe, one of LMC's own, leading Mustang football this year. With his East County roots and connections, I know that he will care for our student athletes with a high level of passion and commitment."
"While growing up in Pittsburg, I developed a lifelong dream to one day become a coach. I always enjoyed sports - the competition and playing. As a player, I knew my playing would come to an end, but I wanted to stay involved, to help young men become better people."
"I'm glad I decided to attend LMC following high school because it gave me a change to mature a bit more. My family is also quite close and I wanted to stay nearby. Coach Boschetti helped me out while I was at LMC and we kept in touch when I went on to Humboldt State. Working with him for the past nine years, he gave me a tremendous opportunity to learn from him – he was a great mentor and inspiration."
This year, Coach Shipe will be working with his players (45 returning, 20+ new) on team development. He wants them to work together both on and off the field. He also will focus on improving player academic awareness and success. A number of his players have part-time jobs and/or are parents, so things like time management/balance with everyday life are really important and challenging for them.
He began his duties on June 22nd, following the retirement of 28-year coach Van Boschetti.
The Mustangs have been practicing all summer in preparation for their Fall 2010 season. It kicks off with a home game against Solano College at 1:00 p.m. on Saturday, September 11 at the campus located at 2700 East Leland Road in Pittsburg.
Learn more about Coach Shipe and the LMC Mustangs at www.losmedanos.edu/football.
---