Mustang Dave Tollefson plays defensive end for the New York Giants and now has both the 2008 and 2012 Super Bowl Giants wins to add to his accomplishments.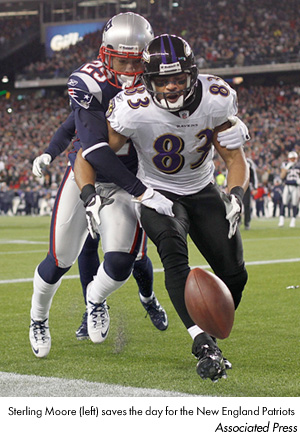 (PITTSBURG,CA) In a rare occurrence, there are two Los Medanos College (LMC) alums who will face each other down for Super Bowl XLVI. Dave Tollefson, defensive lineman for the New York Giants, played for LMC during 1999 and 2000, finishing his college career playing at Northwest Missouri. Sterling Moore, defensive back for the New England Patriots, played in the Fall 2007 season for LMC and then moved on to Laney College before transferring to Southern Methodist University.
Van Boschetti, the LMC football coach during the tenure of both players, explained, "These were young men who had great passion and took it as far as they could. Dave Tollefson was just a young kid but played really hard. Sterling played for us only one year, then his friends playing at Laney encouraged him to play there and he left us. We were so disappointed to see him leave, but he did an outstanding job for us and we knew that his potential was great."
This is Dave Tollefson's second trip to the Super Bowl; he played for the Giants when they won Super Bowl XLII in 2008. Moore began playing for the Patriots this past fall, with his first game in November. Moore was the player who stripped the Ravens receiver of the ball in the end zone with seconds left in the playoff game with Baltimore. (see photo to the right)
The LMC community is very proud and honored to be able to call these two fine athletes alumni. We look forward to following their inspiring careers.
© Copyright Los Medanos College
---