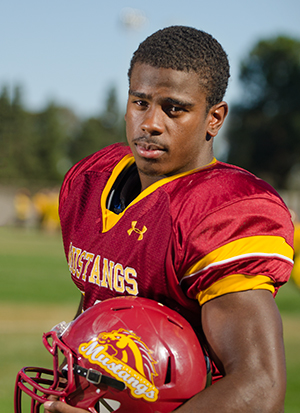 PITTSBURG: Shawn Vasquez has always been a natural at running with a football. His high school football career was applauded. Now as a sophomore running back for the Los Medanos College football team, he has certainly been finding his groove on the field this year.

The Liberty High alum is currently the #1 rusher and #2 in scoring in the Bay Valley Conference for the LMC Mustangs. He is also currently #2 in rushing yards in the State of California for the season!

Head Coach Chris Shipe recently stated in the Contra Costa Times following the Mustang win over Cabrillo College where Shawn ran for 177 yards and two touchdowns, "Shawn's a game-breaker for us. He's going to continue to make those plays throughout the season, and we're just going to keep giving him the ball."

And give Shawn the ball they have. In a recent game on September 28 against Monterey Peninsula College, he ran for 186 yards and two more touchdowns. And on October 5, he ran 146 yards, and scored another two touchdowns.

With this week's game a buy, Shawn's next chance to score will take place at Shasta College in Redding on October 19 in the first of five conference games. If you want to see him play on Mustang turf, the next game at Los Medanos College will take place on Saturday, October 26 at 1:00 pm.