Student Resources
Counseling
Make an appointment and meet with our ESL counselor, Ms. Trina Zavala, in Counseling Services (Student Services Center, Level 4, Room SS4-400) to get information about EMLS/ESL courses, other college courses appropriate for your level of English, and career and transfer options and pathways, as well as to create an educational plan. Ms. Zavala can also help you access all of the college's student services.
EMLS/ESL Lab
Come to the EMLS/ESL Lab in CC2-281 to improve your English language development. As an LMC EMLS/ESL student, you can also use the Lab to work on any of your course assignments that require the use of a computer - for example, writing assignments, Internet research, online exercise completion, or D2L course site assignments, and MyEnglishLab, MyELT, and iQonline course component assignments (for online grammar, reading, writing, vocabulary, speaking, listening, and pronunciation). If you want to print something in the Lab, you will need to follow the Pay for Print procedures. The Lab is open from 8:00-5:00, Monday through Friday, and at other times as needed - please ask your professor or Dr. Gunder if you want to use the lab or if the Lab is unintentionally locked during these times.
ESL Peer Tutoring
Take advantage of our wonderful multilingual EMLS/ESL Tutors - Ms. Junko Woods, Ms. Larissa Herrera, and Mr. Juan Duarte - they are peer tutors whom you can meet with one-on-one, in pairs, or in small groups in the ESL Lab. They also serve as in-class tutors for many of our ESL courses. Our EMLS/ESL Tutors
are successful (former and current) EMLS/ESL students who have taken the classes you are taking now
know the subject matter and the language development process
understand the challenges you may be facing
are resourceful and caring people who want to help you learn and succeed
Our ESL Tutors come from a variety of cultural and language backgrounds and can offer bilingual assistance when needed. All of the EMLS/ESL Tutors also participate in tutor training before the semester begins and throughout each semester. They want you to come see them. You are in good hands. Ask for a current semester schedule of the ESL Tutors at the Center for Academic Support, which is on the third floor in the college's central core building.
ESL Peer Advisory Leaders (PALS)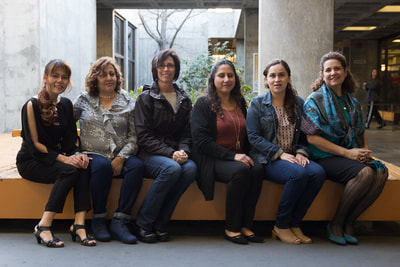 The ESL Peer Advisory Leaders (PALs) are a multilingual multicultural team of current and former ESL students who work to build a network of peer support, advocacy, and self-efficacy to advance and achieve equality and equity among and for the ESL immigrant, refugee, and international student populations at Los Medanos College and within our service area.
The PALs help ESL students get to know the U.S. college system and the many resources available at Los Medanos College. They research and give presentations about these resources and are available to meet with students who have questions and/or may want someone to go with them to ask questions or seek support from a certain student service and support area on campus. The PALs also develop and give campus tours, participate in out-reach events, and take part in student panels during ESL department welcome events and open houses. They are a fabulous resource and ALL ESL students should seek out their wisdom and support!
On March 22, 2018, the founding ESL PALs team members received well-deserved reocognition and honor for their hard work at the 2018 "Celebrating the Life of César Chávez" recognition program and awards ceremony.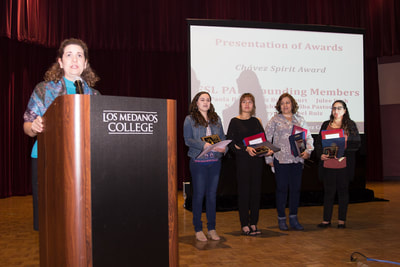 If you are interested in joining our team and becoming an ESL Peer Advisory Leader, review the job information and application packet, ask your current ESL professor for a recommendation, and then contact Dr. Paula Gunder - pgunder@losmedanos.edu.
Library
The LMC Library is a wonderful place to explore and find support for improving your English and for expanding your understanding of our community and world. The staff at the LMC Library are friendly and professional, and they want to help you, so ask them for help.
All of the textbooks used in our EMLS/ESL courses are on reserve and can be checked out overnight.
Additionally, there are seven levels of EMLS/ESL Readers on reserve as well that can be checked out for a week or more. These readers include biographies, short stories, adapted novels, multicultural folktales, and regional histories and informational texts. The readers have vocabulary help and different types of comprehension questions to aid you in understanding what you are reading. Some of the readers also have audio CDs that you can check out too and listen to the texts as you read along. Here is a general guide in helping you select the best reader:
Easy Start/Level 0 - Level 1 are for ESL Level ONE students
Reader levels 2-3 are for ESL Level TWO students
Reader levels 3-4 are for ESL Level THREE students
Reader levels 5-6 are for ESL Level FOUR student
Center for Academic Support
Visit the Center for Academic Support on the third floor in the core building (center of the college complex). In addition to the tutoring services mentioned above, this is also the place where you can make an appointment to see a Reading/Writing Consultant. These consultants specialize in helping all LMC students with different kinds of writing and reading assignments. EMLS/ESL students taking ESL-043, ESL-044, ESL-013, and ESL-014 often see consultants, and they may even be required by their instructor to do so for help writing their paragraphs and essays and completing their reading assignments. Always remember to bring the instructions for the assignment and your books with you and be prepared to ask for specific help.
Career Center
Check out the Career Center where you can learn more about which careers might suit you best, get help with job search skills (resumes and interviews), and locate employment and college and career resources.