How to access
Faculty access InSite in the same way your student accesses InSite. If you cannot access InSite, Contact the help desk for assistance.
When to access
At the beginning of the semester you should check your rosters to print them out for your class, along with your waitlisted students.
What to access
All faculty rosters will be on your InSite page. Click on the Classes tile to access your faculty menu in InSite. Here you will find the multi-purpose roster which includes class rosters, drop rosters, grade rosters and positive attendance rosters.
Many roster resources are available in the Classes tile on InSite. Here, you can select a text or video tutorial from the general menu.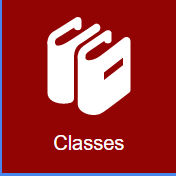 Spring 2023 All Faculty Meeting PowerPoint
4CD-Multi-Purpose Roster Overview
Text instructions: How to Add a Student (includes instructions for revoking adds)
Text instructions: How to Drop a Student
Text instructions: How to Print, Email, or Export
Text instructions: How to Email Using CSV Export (best if not work on computer)
Text instructions: How to Enter Grades
Student instructions: How Students Accept Add Authorization