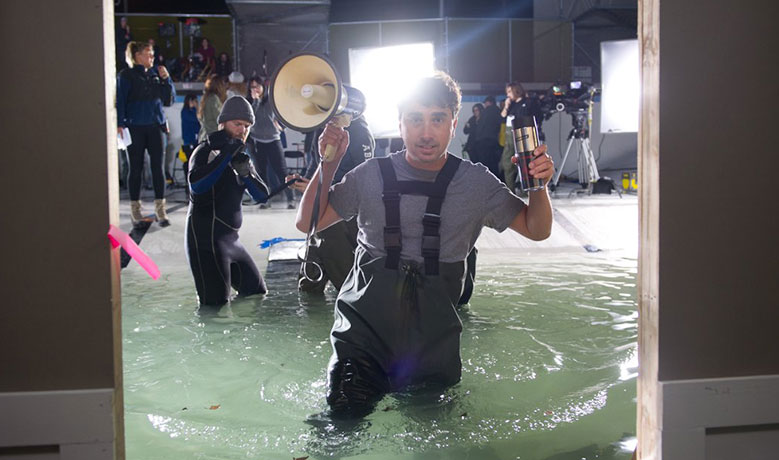 Anthony C. Ferrante on the set of Sharknado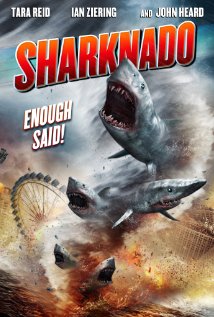 Who would have thought a kid from Antioch would end up making wild science fiction movies in Los Angeles? Who would have thought he'd get his start in film at Los Medanos College (LMC)?
Anthony C. Ferrante graduated from LMC with an Associate of Arts in Liberal Studies Degree. He went on to fulfill his lifelong dream and has been making horror movies for years. Most recently he directed the cult hit, "Sharknado", which featured flying sharks and tornadoes in Los Angeles. Some of his other movies you've probably seen on the Syfy channel, such as "Boo" and "The Headless Horseman".
One of the secrets to his success in the film industry may be that he got his start at LMC, a community college without a film department, and with minimal equipment and resources. He had to be creative and crafty and strategic, leveraging whatever he had to make his dreams come true. Now Anthony knows so many aspects of film making that he can jump into any type of work needed behind the scenes. If someone doesn't show, his diverse skills help keep tight schedules on track.
"I realized when I was 11 that I wanted to make movies. I've always loved movies. When I was at Antioch High School, I found out about a film course at LMC and with encouragement, enrolled."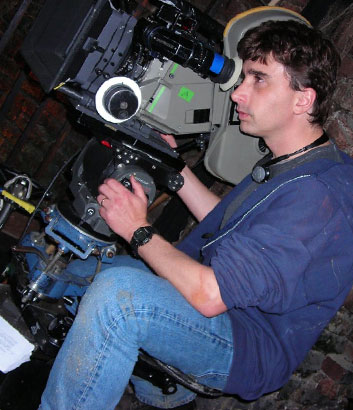 An adjunct film professor, Lorraine Weese, taught the film course. Anthony graduated from high school and continued on at LMC taking all the film courses that were offered, while making short films with editing equipment then located in the college's library. It was there that he met fellow students M. Steven and Catherine Felty, who worked with him on his short films and also work in the industry in Los Angeles.
Anthony was also quite involved with the college's student newspaper, The Experience.
"I was writing for the Antioch Ledger in high school about film while I was also working for The Experience, plus developed my own interview magazine on the side. I got a chance to interview lots of film idols. My experience in LMC's journalism program allowed me to learn how to interview people and the fine art of transcribing interviews into a story."
He continued, "I was lucky because I had access to film equipment at LMC, and everyone was so supportive and encouraging. I still have friends from my time at LMC, and they are all really good people. Some are in the film industry down here in Los Angeles, and others, like journalism chair and professor Cindy McGrath, are still good friends.
Professor McGrath remembers Anthony well. "Anthony is one of the most creative students I have had the pleasure to work with at LMC. He was full of energy and enthusiasm, and because he had written for the Antioch Ledger while in high school, he knew the importance of a deadline and always met it. Anthony served as photo editor and was the obvious choice as editor the next year because of his creativity and leadership in the newsroom. As editor, he suggested a redesign of the paper and actually carried it out - a complicated and time-consuming task."
After Anthony earned his Associate of Arts in Liberal Arts degree at LMC, he moved on to San Francisco State University (SF State). He chose SF State because it was close and had a very good film program. He went on to complete his Bachelor of Arts in Cinema while there. He continued making short films – and started writing for Fangoria Magazine, covering the film sets of horror films. Always resourceful, he learned how horror movies were made, and could go back and apply the observed techniques in his short films back in the Bay Area.
God Talk - Behind the Screen: Anthony C. Ferrante talks about the making of God Talk in Association with Midnight Productions and Jo Perry Presents (
click here to view part 2
)
A few years later, Anthony made another mark at LMC: directing the film, "God Talk". The initially small project turned quite large once the camera started rolling.
"I believe that LMC wanted to show students how to make a movie. I was working in LA at the time in film, and English professor Jo Folino contacted me about making such a movie. There was a minimal budget, thus most things were done on a shoestring."
Professor McGrath explained her thoughts about the film, "I not only saw "God Talk," I saw it being made, which was quite fun. But I'm really not objective about it because my son was one of the key actors, and I also had a bit part so obviously I thought it was great. But it did win a Telly award, so there are others who thought it was an entertaining film as well. And, of course, it was a product of LMC."
"The neat thing about Anthony," McGrath elaborated, "is that he has tried to involve his friends and acquaintances, and other LMC students and staff in his film work. English and Drama instructor Jo Folino was one of the producers of 'God Talk.' LMC student Richard Watkins, also an Experience veteran, wrote the script. A few LMC alumni who worked on 'God Talk' were also involved with his film 'Boo'."
Anthony explained, " 'God Talk' became a massive project. It started out as a 30-minute short film and grew much larger. I ended up putting some of my own money in to finish it. I'd come up, we'd shoot a bit, maybe half of it, and I edited it in LA. A friend of mine, Alan Howarth (composed music with John Carpenter) helped him learn how to deal with sound design in his studio. He showed me all that the sound, all that was required. It took me two months working in his studio to complete it. I got my favorite directors to do voice cameos including John Carpenter, Joe Dante, John Landes, while Bruce Campbell (who did the Evil Dead movies) did narration. Then they found a friend in Texas to 'online' the movie, a process used to transfer the film, allowing editing into final form. The film ended up opening at the local Brenden Theatre. LMC was very supportive of this effort. I think the comedy turned out really well."
"I was so lucky," Professor Folino explained, "that Anthony agreed to direct the film. He always knew how to treat people with respect, kindness and humility. He has a very sincere soul and heart. I knew he'd already been doing horror films, and thought he'd be a good director. He was so skilled at rallying support in the community. Fortunately he was flexible – I wanted a comedy, not a horror movie, and he was okay with that. There were financial issues that came up – the LMC mini-grant designed to support it wasn't nearly enough. And of course, there were personality conflicts. But Anthony was a master at dealing with both challenges."
It was experiences like this that helped Anthony build a wealth of knowledge in how to succeed with a low budget in filmmaking. And he enjoys combining his two interests of comedy and horror.
Professor McGrath says his humor was very campy, so she wasn't surprised that he would migrate to a movie like 'Sharknado". His humor set him apart amongst the journalism students.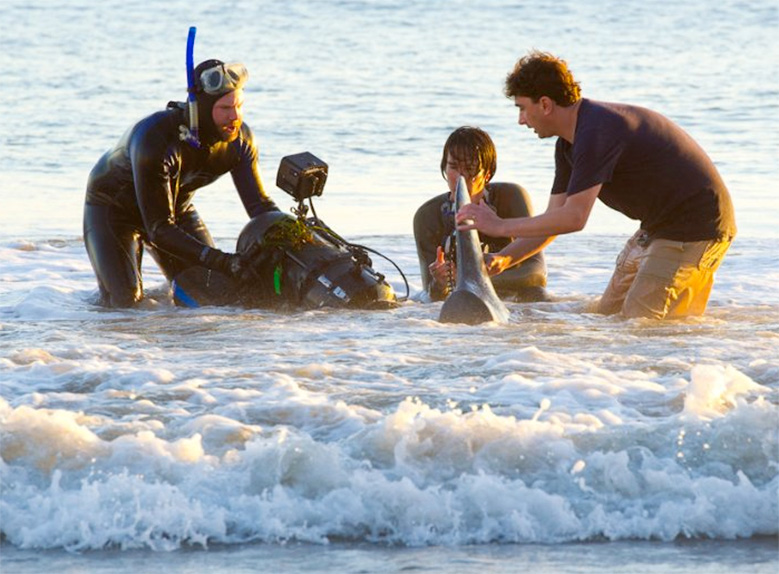 Anthony explained, "I love horror movies, however I did a lot of shorts that were comedy. I gravitated towards horror, but they often have some subtle comedy in them. I sneak things in there often. Then along came 'Sharknado' that lets me be silly and have a blast. It made people look at me differently, since I have been thought of as being someone who makes horror movies."
One of the keys to success of "Sharknado", according to Anthony, was that everyone involved embraced the concept. "We all had to accept the fact that there were sharks that could do amazing things to cars, that there were these , and not worry about anything being factual, being scientifically correct. It was fun and we had to understand that was just the way it was. The only rules that nature had were rules we created ourselves."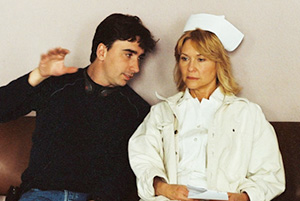 The B-movie has outperformed any expectations Anthony had for it. And he did it all very low budget, using the skills he had learned from his LMC days, making a lot happen out of little. Now he's busy with "Sharknado 2: The Second One".
When asked what type of guidance he could give to someone who is considering a career in film, Anthony responded, "Part of the piece of my puzzle of getting into movies was that I studied both journalism and film. For someone interested in going into film, I recommend they learn everything, learn as much as they can. There's no set way to break into the industry. I became a production assistant (PA) when I went to LA. One day someone asked me to supervise the monster effects in some movies. I began working in special effects and for the next six to seven years, I was doing that."
He continued, "The only difference between then and now is that one can make movies these days with much less money. Now you can make a movie with a laptop. Unfortunately film is basically gone – it's a shame, but that's the way it is. Now studios use high definition cameras. You can put videos for YouTube. The opportunities are fantastic."
But he warns, "There still needs to be the teaching/learning part of it. Take a film class, do your own short films. I didn't have the resources. I found people to help me learn. While making my short films at LMC, I was learning editing (I didn't realize it.) I ultimately had to make my own curriculum with two different colleges, film and journalism, short films and limited access. We wanted to do big things, but we had to be efficient while never having a big budget. When I do movies, even on 'Sharknado', I was involved in everything because I knew how to do it. I could jump in and make it happen. I did a makeup appliance on a day when our makeup artist didn't show. Whenever we needed help and something wasn't available, I could jump in so we could keep moving."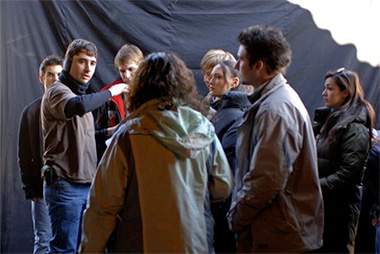 "People want to go into the film industry and they are anxious to simply get there. But," he advises, "you still need to study it, learn how to do it. Some people get in film and they don't know how to work in a variety of areas. A director might not know anything about costuming or makeup. However knowledge is power. If you know how something is done, then you can often do it with less money. It's important to learn as much as you can."
"Sometimes people may think that they want to direct, then they direct and they don't like it. I think that exploring the many aspects of filmmaking allows them to discover what they like best. I recommend they become a production assistant. They'll learn a lot of different things. If the director sees that you're good at something, they'll ask you to work in a focused area, such as when I went from being a PA to focus on special effects. When you do low budget movies, you rise to the top if you can do certain things. There was a very talented guy who was the casting assistant on my third movie, 'Hansel and Gretel'. I saw a short film he'd done with his brother and I thought it was good. Just a few months ago, he and his brother directed a movie from the same company."
In looking toward the future, Anthony explained, "All I want to do is be able to make movies. I love to make movies. I'd like to make bigger films and with more toys. I want to continue to make movies that people watch, maybe even enjoy. For all those people who hated 'Sharknado', there were all the people who loved it. All I want is for people to see my stuff."
Anthony concluded, "I grew up in Antioch – a small town with no access to the movie industry. And I went on to make a popular movie by accident. LMC was very, very important to me. It was special for me to be able to attend while in high school. There were many people at LMC who were very nice and generous. And without that, I wouldn't have learned as much as I did."
Some of Anthony C. Ferrante films:

---