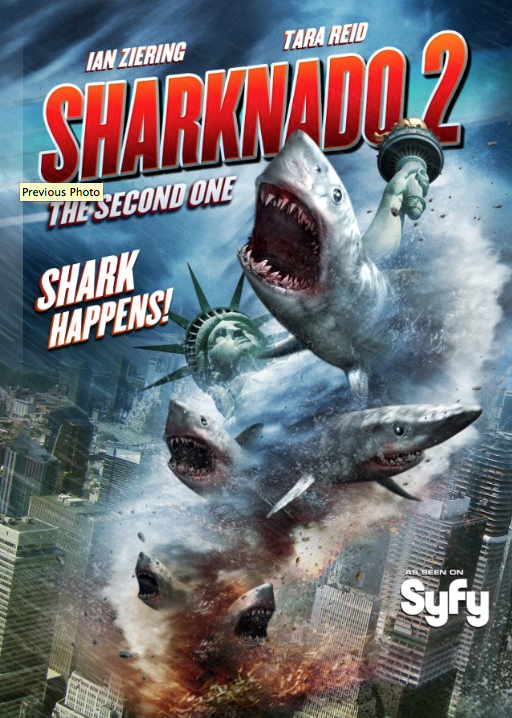 BEVERLY HILLS -- Is America ready for another "Sharknado" attack? Anthony C. Ferrante has his fins crossed.
The director was thrust onto the national stage last summer with the original "Sharknado," or what he likes to call "the little movie that could," a cheap and super-cheesy flick that caused a social media commotion when it debuted on the Syfy Channel.
Now, he's back with "Sharknado 2: The Second One" and the Antioch native promises that it's "bigger and better" than the original.
It certainly arrives with more hype. When "Sharknado 2" roars ashore Wednesday, it will do so on the strength of some bulky marketing muscle, and will feature a barrage of celebrity cameos, including Kelly Osbourne, Robert Klein, Andy Dick and "Today" show partners Matt Lauer and Al Roker. There's even a bit of product placement: Blink and you might miss the Subway Guy, Jared Fogle, among the Manhattan residents being traumatized by an epic storm that sweeps thousands of chomping sharks out of the ocean and rains them down upon the city.
Earlier this month, Syfy took the unusual step of throwing a poolside preview party for the nation's TV critics at the Beverly Hilton Hotel, where helium-filled inflatable sharks hovered in the air and guests sipped on potent drinks called "shark-tinis." The film's stars, Ian Ziering and Tara Reid, along with Ferrante, were there, basking in the attention.
This promotional hubbub stands in stark contrast to the distinct lack of hype that accompanied the original "Sharknado" to the airwaves last July. It was, after all, just one of 20 such nutty, low-budget "disaster" sagas that Syfy makes per year -- films that come and go without making a dent in the mainstream.
But for reasons no one can fully comprehend, "Sharknado" set off a social media tsunami. Viewers were riveted to the on-screen insanity -- most notably a scene that had Ziering chainsawing his way out of a shark's belly -- and then couldn't stop talking about it. At one point during the broadcast, an estimated 5,000 people were tweeting about "Sharknado," including celebrities such as Richard Dreyfuss and Mia Farrow.
Ferrante, an Antioch High grad and former Los Medanos College student who previously specialized in low-budget horror films, is still puzzled.
"We made a little movie for a tiny amount of money and suddenly we were 'Star Wars' or 'Pirates of the Caribbean' for a day," he said.
Syfy has had a long history of creating similarly catchy titles, including "Sharktopus," "Mansquito" and "Monster Ark" (about Noah's "other" ark). Ferrante has said the "Sharknado" script by Thunder Levin (who also penned "Mutant Vampire Zombies from the 'Hood!") had been kicking around for some time, but other directors had passed on it because it seemed like too wild a movie to make on a tiny Syfy budget. When production company The Asylum offered Ferrante the job, he couldn't pass it up.
"Sharknado," said Thomas Vitale, Syfy's executive vice president for original movies, built on Syfy's "legacy of creating these types of fun, escapist films."
But, he adds, "'Sharknado' premiered at a time when social media, especially Twitter, was achieving new heights. Never before have viewers been able to enjoy our movies as part of a shared experience with millions of other people across the world."
Since that fateful night in July, the film has gone on to enjoy a short run in movie theaters. "Sharknado" merchandise -- everything from action figures and T-shirts to pajamas -- found its way into stores. And yes, there already has been talk at Syfy about a "Sharknado 3."
Meanwhile, the "Sharknado" effect has provided some personal and professional validation for Ferrante, who as a dreamy-eyed kid growing up in Antioch sometimes felt like a "pariah" while making his Super 8 movies.
"It wasn't the norm," he recalled. "It was like, 'Hey, no one else is doing this. You're insane and you're a geek and you like horror movies. There's something seriously wrong with you.'"
"Sharknado" isn't the kind of movie that greatly enhances a resume, so it's not like Ferrante has been hired to do the next "Batman" movie. And he still lives with his wife and 11-year-old daughter in Valencia, which isn't exactly Malibu.
Even so, "Sharknado" has opened doors.
"Right after the film blew up, I had meetings with producers I would have never had before," he said. "Most of the time it's, 'Oh, you made that cute little horror film? That's cool. Have a nice day.'
"But now, it's, 'Oh, you did 'Sharknado'? They want to know how this movie came out of nowhere and became a big pop-culture event."
"Sharknado" also helped to bolster Ferrante's reputation as the kind of filmmaker who can do more with less -- a definite asset in Hollywood. For the sequel, shot in New York City, he worked with a budget only "slightly" larger than the first installment and he was again limited to an ultra-brief 18-day shoot. The network will not disclose the budget, but according to Business Week, the average budget for a Syfy film is about $1.5 million.
Still, Ferrante and his plucky crew begged for, and were granted, permission to shoot in Times Square, the subway system and Citi Field, home of the Mets.
"I think they just felt sorry for us," said Ferrante, who with a pal even wrote the music for both "Sharknado" films to save money on licensing fees.
The film's stars give Ferrante more credit.
"He's got tremendous foresight," Ziering said of Ferrante. "Being able to shoot a $100 million script on a budget that's 1/100th of that takes a lot of skill and imagination and creativity. He's a maestro."
But now comes the encore. Will "Sharknado 2" have the same kind of pop cultural bite? Some skeptics insist the first one was a fluke. They note that, when all was said and done, it was only watched by 1.5 million people during its initial airing, which is typical for a Syfy movie
Ferrante insists there's more to it.
"If it was just a flash in the pan, we wouldn't be talking about the sequel right now. It all would have gone away after two days," he said. "I've had kids say they want to be a Sharknado for Halloween. At Comic-Con, a 50-year-old woman told me she watched the movie five times because it made her happy.
"She needed something to watch where she can turn her brain off. We provided that."
For more about Anthony C. Ferrante and his time at LMC, click here.