Have You Ever Had The Desire To Sing?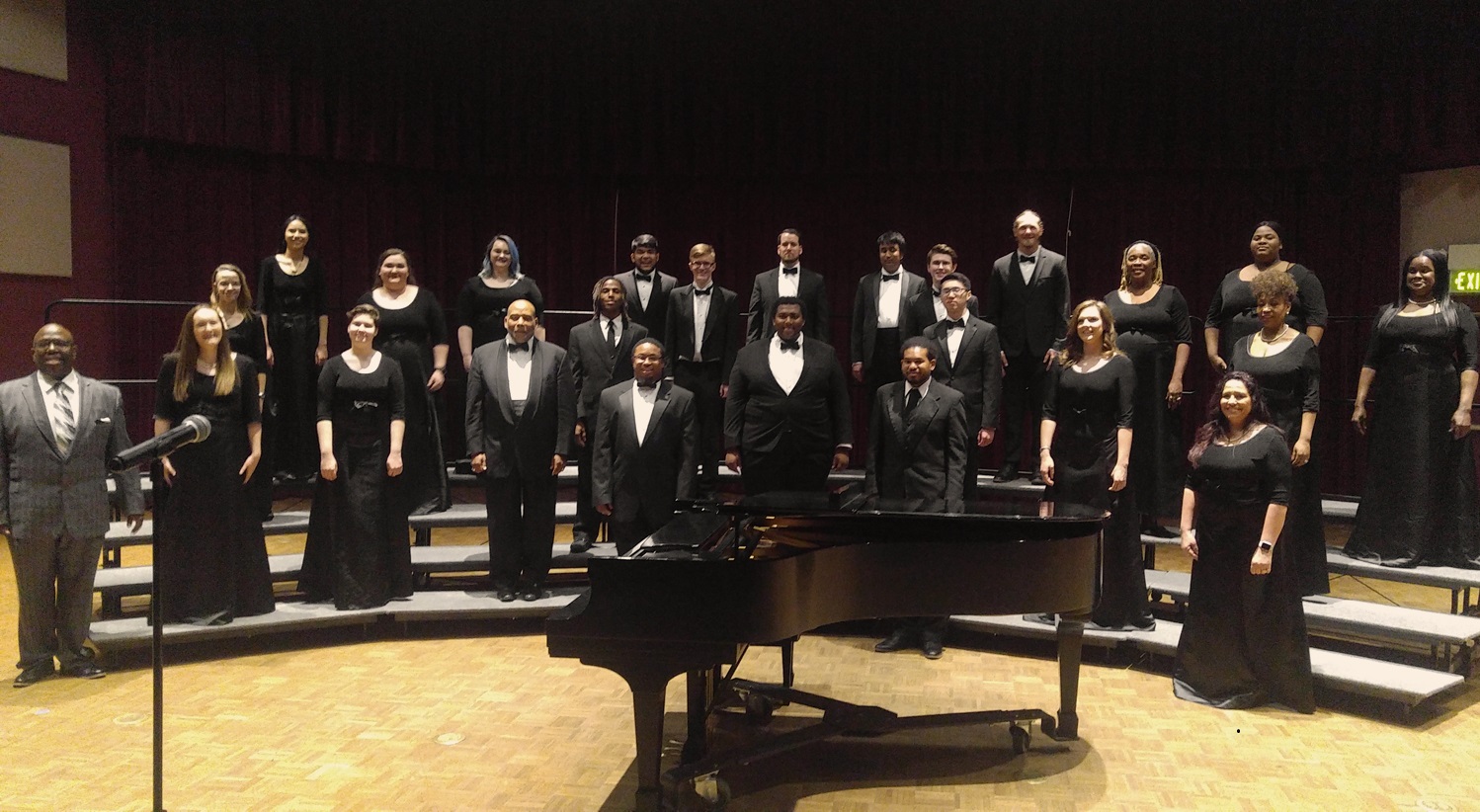 Join the Los Medanos College Chamber Chorale!
Performing choral music from the "Renaissance" to the "Contemporary Era", the Los Medanos Chamber Chorale is a highly competitive audition chorus. Honored with the East County NAACP's 2014 "Musical Excellence Award", the members of the Chamber Chorale are generally comprised of the Music Department's Vocal Music majors. Along with their conductor, Professor Silvester Carl Henderson, the LMC Chamber Chorale tours each year performing intense classical choral repertoire at some of the most reputable universities and concert halls throughout California, and the State of Nevada. Noted UCLA Choral Professor, Dr. Rebecca Lord wrote this about the Chamber Chorale:
"Last Thursday, October 25, we were privileged to host Professor Silvester Henderson and his marvelous Chamber Chorale at UCLA. The visit was well organized and very positive from beginning to end. Professor Henderson contacted me well in advance and clearly communicated the goals of his trip, to motivate and inspire his gifted students to pursue four-year degree programs. The choir arrived in concert attire looking sharp, and the students conducted themselves like true professionals—respectful, attentive, and eager to learn. The Los Medanos Chamber Chorale and several soloists performed a variety of selections for myself, our revered voice faculty member Vladimir Chernov, our undergraduate music advisor Alfred Bradley, and several UCLA student. Professor Henderson had prepared both the choir and soloists marvelously. Their stage decorum was impressive and their sound was beautiful. They performed everything from memory and they followed Prof. Henderson's conducting beautifully. It was a joy to hear them! Professor Chernov and myself had the opportunity to work with the choir and soloists in a master class setting, and they responded with intelligence and enthusiasm"
The Chamber Chorale organizes and hosts the college's "Annual Choral Festival". Their community performances for K-12 students and throughout the State of California continues to validate the importance of Music and Arts, as an integral part of the core curriculum for all schools in the United States. As creative artistic scholars, their choral performances support one of the core missions of the Community Colleges, which is to promote "Life Long Learning".
---

Join the Los Medanos College Gospel Choir!
---
Ain't A Dat Good News Chamber Chorale (25th Gospel Celebration Concert)
Los Medanos College Gospel Choir, "Rock of Ages" - 25th Year Gospel Celebration Concert
LMC Chamber Chorale Concert
LMC Gospel Choir Concert, ''We Offer Praise''
Donde Lieta by Holly Harrington
Jubilate Deo by Sonny Poorman
Battle Hymn of the Republic Part I by the LMC Chamber Chorale
Battle Hymn of the Republic Part II by the LMC Chamber Chorale
You Alone Deserve the Glory by the LMC Gospel Choir