Professional & State of The Art Musical Programs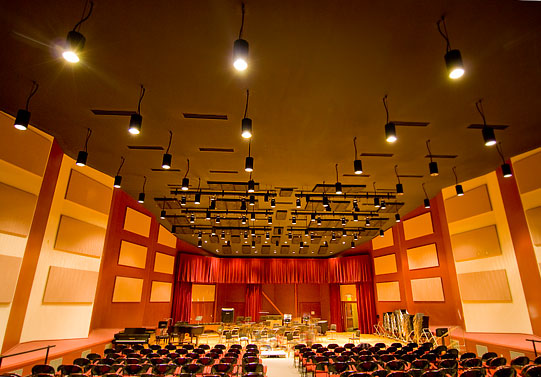 The LMC Music program offers courses leading to an Associate in Arts (AA) Degree in Music, and a Associate in Arts for Transfer (AA-T) Degree in Music. There are dozens of career possibilities related to the areas of professional musician, teaching, commercial music, radio-TV, recording industry, church-related, and other areas such as music therapy, accompanist, music librarian, piano tuner, acoustical engineer, personnel manager, and music critic.
We offer students the chance to pursue their musical interests in a professional environment with state of the art equipment and facility. Browse our website, check out the faculty biographies, and read about the performing groups and classes we offer. If you have any questions about LMC Music, please call the Music & Recording Arts Office at (925) 473-7805.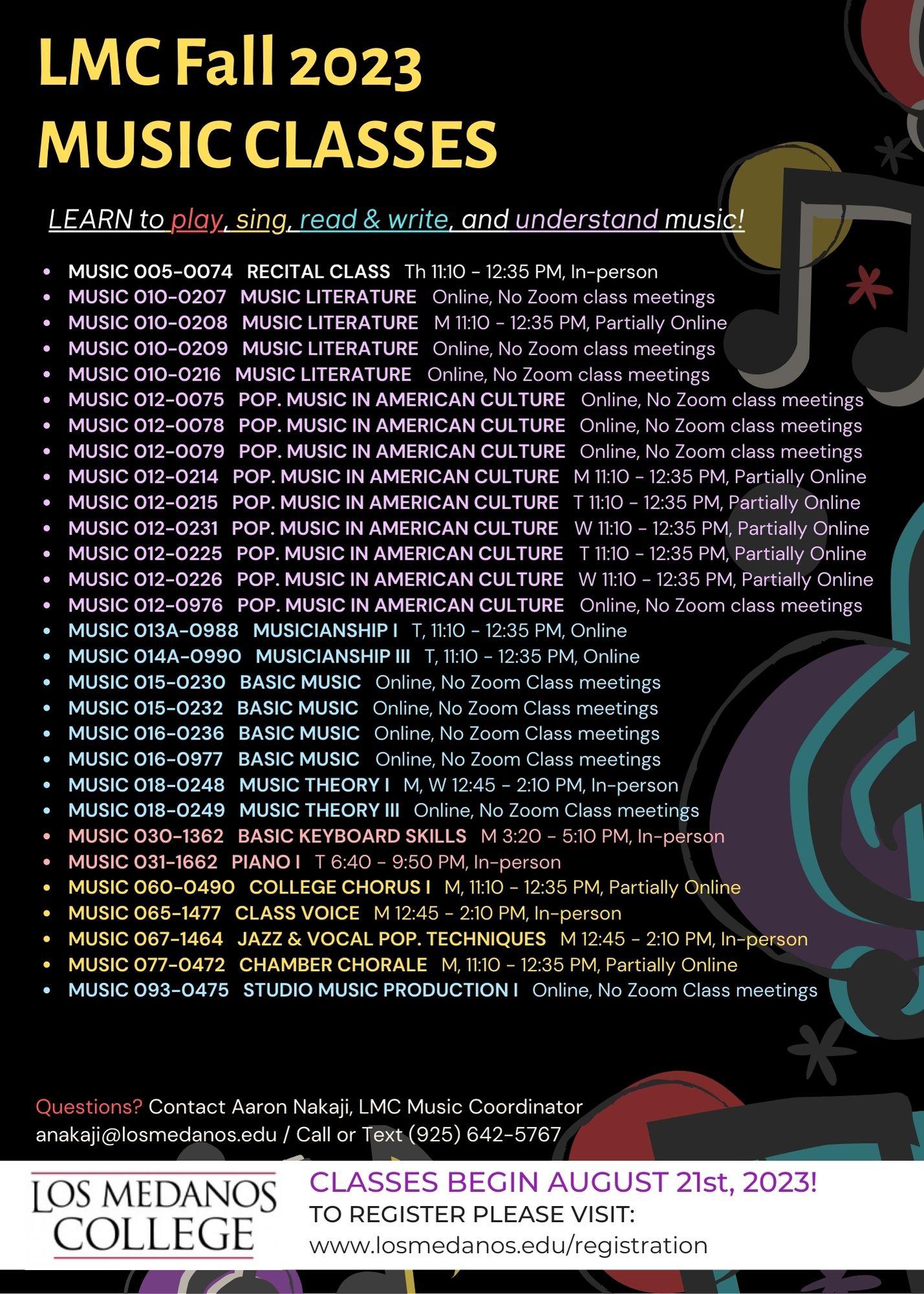 LMC Fall 2023 MUSIC CLASSES
LEARN to play, sing, read & write, and understand music!
MUSIC 005-0074 RECITAL CLASS Th 11:10 - 12:35 PM, In-person
MUSIC 010-0207 MUSIC LITERATURE Online, No Zoom class meetings
MUSIC 010-0208 MUSIC LITERATURE M 11:10 - 12:35 PM, Partially Online
MUSIC 010-0209 MUSIC LITERATURE Online, No Zoom class meetings
MUSIC 010-0216 MUSIC LITERATURE Online, No Zoom class meetings
MUSIC 012-0075 POP. MUSIC IN AMERICAN CULTURE Online, No Zoom class meetings
MUSIC 012-0078 POP. MUSIC IN AMERICAN CULTURE Online, No Zoom class meetings
MUSIC 012-0079 POP. MUSIC IN AMERICAN CULTURE Online, No Zoom class meetings
MUSIC 012-0214 POP. MUSIC IN AMERICAN CULTURE M 11:10 - 12:35 PM, Partially Online
MUSIC 012-0215 POP. MUSIC IN AMERICAN CULTURE T 11:10 - 12:35 PM, Partially Online
MUSIC 012-0231 POP. MUSIC IN AMERICAN CULTURE W 11:10 - 12:35 PM, Partially Online
MUSIC 012-0225 POP. MUSIC IN AMERICAN CULTURE T 11:10 - 12:35 PM, Partially Online
MUSIC 012-0226 POP. MUSIC IN AMERICAN CULTURE W 11:10 - 12:35 PM, Partially Online
MUSIC 012-0976 POP. MUSIC IN AMERICAN CULTURE Online, No Zoom class meetings
MUSIC 013A-0988 MUSICIANSHIP I T, 11:10 - 12:35 PM, Online
MUSIC 014A-0990 MUSICIANSHIP III T, 11:10 - 12:35 PM, Online
MUSIC 015-0230 BASIC MUSIC Online, No Zoom Class meetings
MUSIC 015-0232 BASIC MUSIC Online, No Zoom Class meetings
MUSIC 016-0236 BASIC MUSIC Online, No Zoom Class meetings
MUSIC 016-0977 BASIC MUSIC Online, No Zoom Class meetings
MUSIC 018-0248 MUSIC THEORY I M, W 12:45 - 2:10 PM, In-person
MUSIC 018-0249 MUSIC THEORY III Online, No Zoom Class meetings
MUSIC 030-1362 BASIC KEYBOARD SKILLS M 3:20 - 5:10 PM, In-person
MUSIC 031-1662 PIANO I T 6:40 - 9:50 PM, In-person
MUSIC 060-0490 COLLEGE CHORUS I M, 11:10 - 12:35 PM, Partially Online
MUSIC 065-1477 CLASS VOICE M 12:45 - 2:10 PM, In-person
MUSIC 067-1464 JAZZ & VOCAL POP. TECHNIQUES M 12:45 - 2:10 PM, In-person
MUSIC 077-0472 CHAMBER CHORALE M, 11:10 - 12:35 PM, Partially Online
MUSIC 093-0475 STUDIO MUSIC PRODUCTION I Online, No Zoom Class meetings
Questions? Contact Aaron Nakaji, LMC Music Coordinator
anakaji@losmedanos.edu / Call or Text (925) 642-5767
CLASSES BEGIN AUGUST 21st, 2023!
TO REGISTER PLEASE VISIT: www.losmedanos.edu/registration