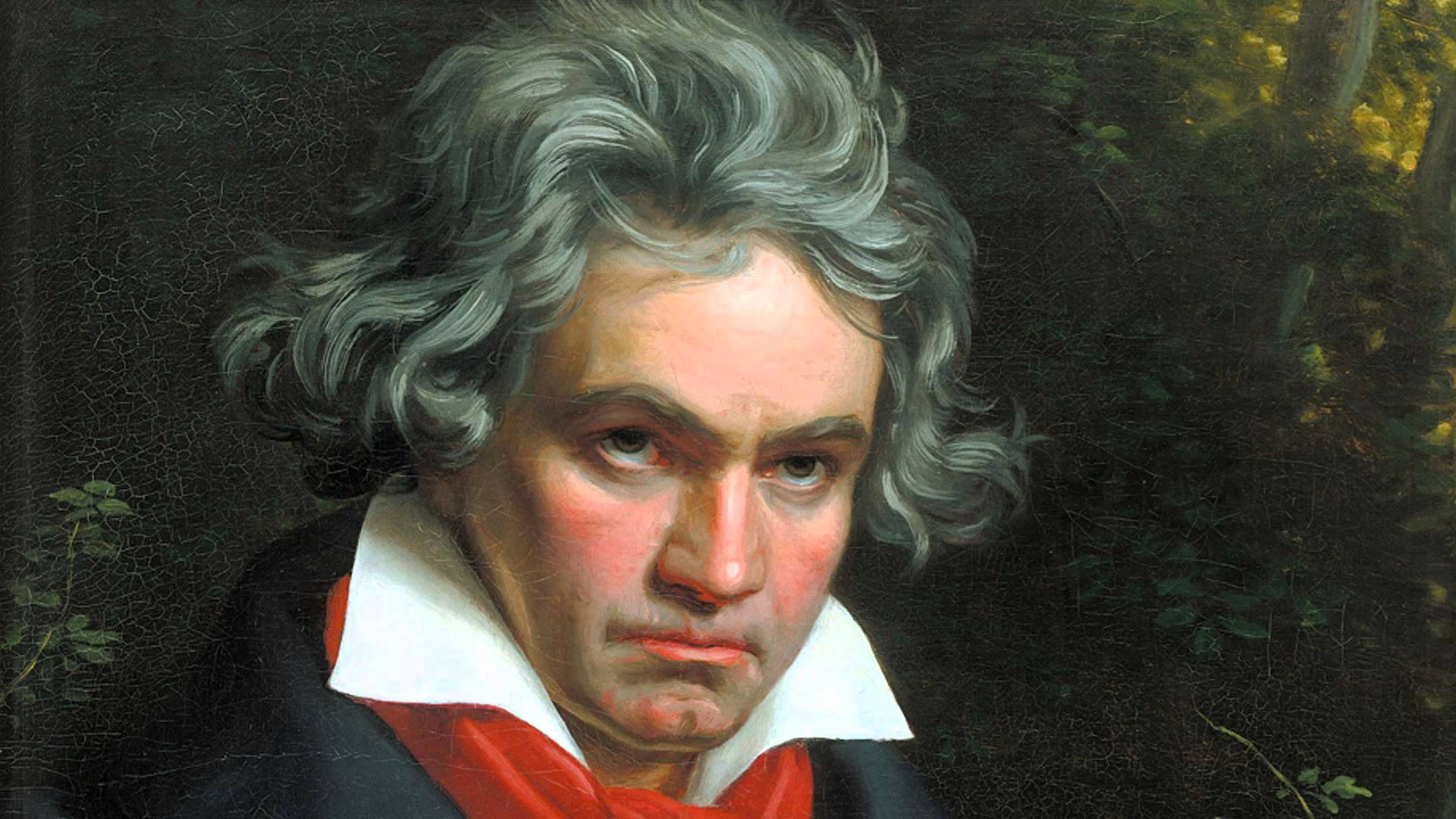 Fall 2019 Concert Season
Upcoming Event Schedule
All concerts and large presentations are held at the Los Medanos College Recital Hall (Room 720 of the Music/Recording Arts Building) unless otherwise noted. For more information, please call the Music office at (925) 473-7805.
Click the month below to navigate to its events:
OCTOBER 2019
NOVEMBER 2019
DECEMBER 2019


SPRING 2020
Spring 2020
Announcing the Celebration Vocal Artist Award
Application will be posted Early January 2020!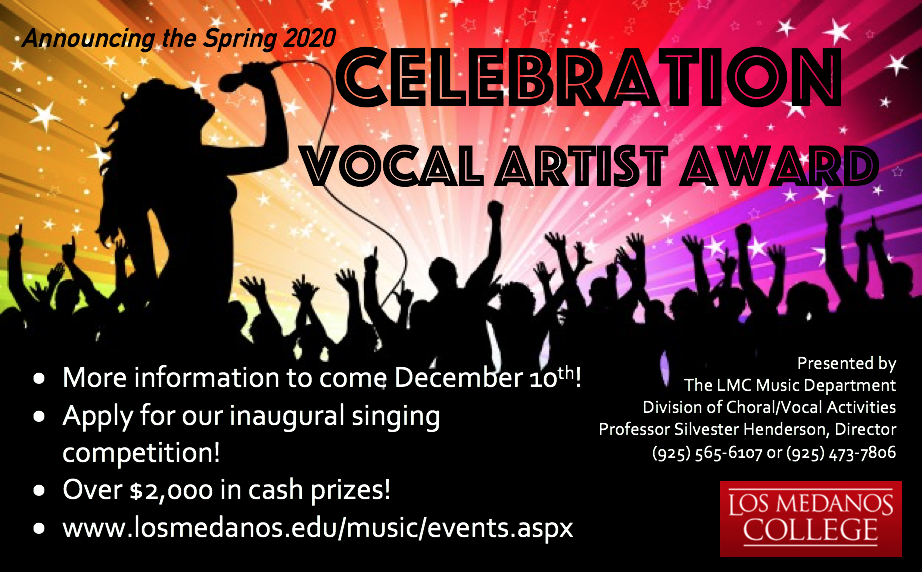 Tuesday, October 29, 2019
Fall Choral Adventure Concert
Los Medanos College of Music Choral Division
Conducted by Professor Silvester Carl Henderson
"The 'Hegelian' of Urban Performing Arts & Higher Education: The Worldwide Benefit"
Featuring:
THE LOS MEDANOS COLLEGE CHAMBER CHORALE & GOSPEL CHOIRS
Special Guest Performer:
DR. PHILLIP HARRIS
Operatic Baritone
Doctor of Musical Arts, University of Nevada, Las Vegas
Special Guest Speaker:
DAVID CHONG
LMC & Music Department Alumnus
CSU, LA Doctoral Candidate
10/29/19 @7:30 PM
Tickets: $5.00
Children Under 4: Free
For more information please call (925) 473-7805 or (925) 545-6107 or email shenderson@losmedanos.edu



Monday, December 2, 2019
Fall 2019 Joint Concert Band & Jazz Band Concert

The Los Medanos College Music Department Presents:
"From Classics to Blues"
Featuring:
The Los Medanos College Concert Band
Dr. Luis Zuñiga, Conductor
The Los Medanos College Jazz Ensemble
Steven Ernest, Conductor
General Admission $8
Students & Seniors $5
For more info: (925) 473-7805
lzuniga@losmedanos.edu

Los Medanos College Recital Hall 720
2700 E Leland Rd
Pittsburg, CA 94565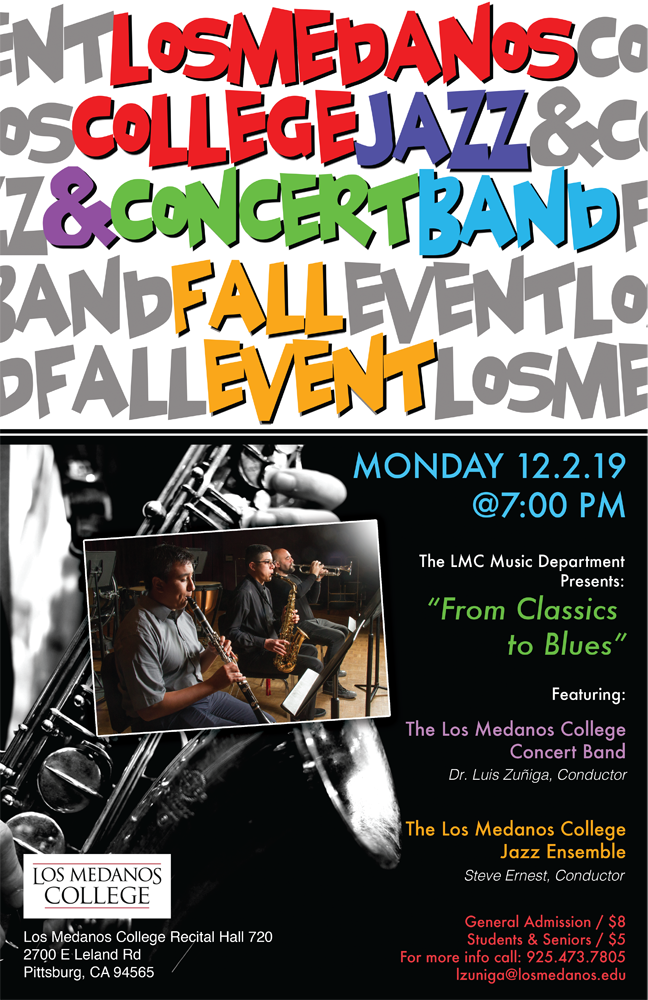 Tuesday, December 3, 2019
Fall 2019 Choral/Vocal Masterclass Recital
The Los Medanos College Department of Music Division of Choral/Vocal Activities presents:
Special Guest Performer/Clinician
Dr. Chadwick Somers
Operatic Tenor
D.M.A., Eastman School of Music
The Los Medanos College Chamber Chorale
Featuring Selected Student Soloists
Professor Silvester Henderson, Director of Choral/Vocal Activities
Announcing the LMC " Celebration" of Vocal Artistry Award!
Stay tuned for more information about our inaugural Spring singing competition & award!
Tuesday, December 3, 2019
7:30 PM, $5 Admission
Los Medanos College Recital Hall 720
For more information: (925) 565-6107 or shenderson@losmedanos.edu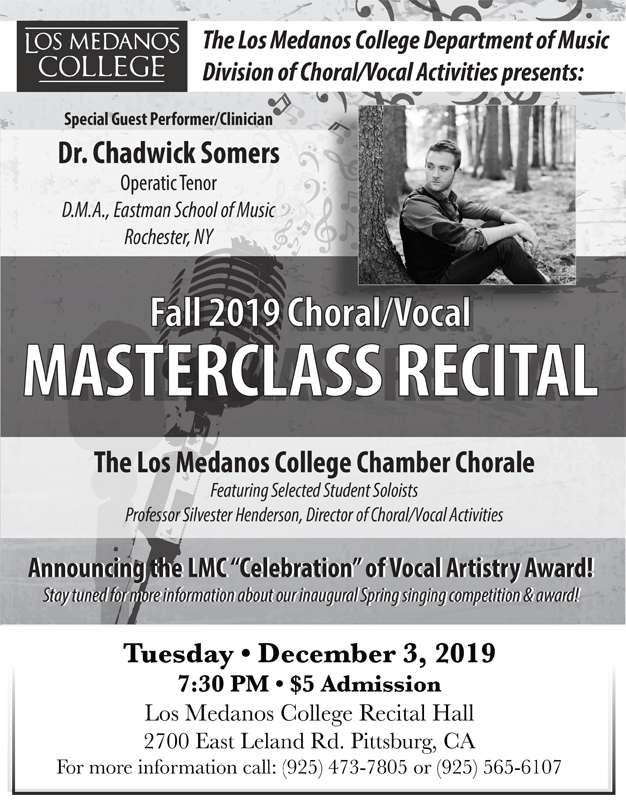 Thursday, December 12, 2019
Fall Guitar Student Recital
Presented by the Los Medanos College Music Department
Time: 7:00 PM
Location: Recital Hall 720
Admission: Free Admission
---
Los Medanos College
Music/Recording Arts Department
2700 E. Leland Road, Pittsburg, CA 94565