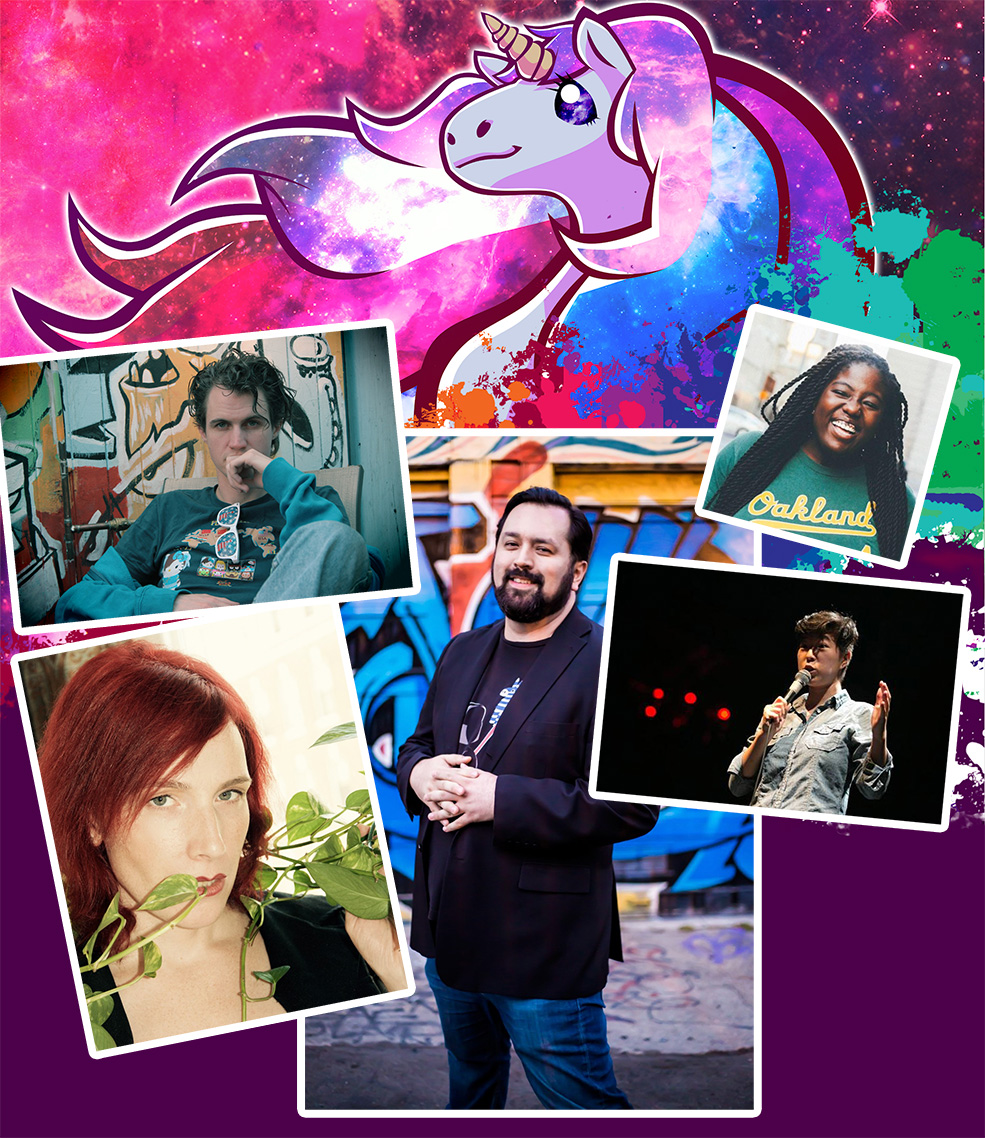 Queer Comedy Showcase!
Thursday November 9

Little Theater at Los Medanos College
6 PM—reception with free food
7 PM—Performance
8 PM—Q and A, panel discussion

"Laughter is the shortest distance between two people"--Victor Borge. Why queer comedy?
Why now? Stand-up comedy relieves tension, builds community, challenges our assumptions and helps us deal with serious issues at a surprising new angle. Difficult subjects that we are afraid to talk about can be brought into the light of day with comedy. Queer comics break down categories in life and on the stage--and busting up expectations and categories is the essence of humor! Whether you're a straight ally or member of the LGBTQQ+ (Lesbian, Gay, Bisexual, Trans, Queer, Questioning and more) community, this event for students, faculty and staff will be a fun and mind-opening night.
The seasoned, diverse array of stand-up comedians from the San Francisco Bay Area are: Baruch Porras-Hernandez (also hosting), Wonder Dave, Natasha Muse, Alexandria Love, and Irene Tu.
Baruch Porras Hernandez is a writer and stand-up comedian based in San Francisco. He's been a featured comic all over the bay area. He's won the Moth in LA, represented SF in the Moth LA Grand Championship, won Literary Death Match, won Best of Bawdy Storytelling, is featured on the RISK podcast, and is the Voice of Shipwreck SF Erotic Fan Fiction Competition and Podcast. Natasha Muse is like the C3P0 of San Francisco comedy: a bunch of small bears once mistook her for a golden god but in reality she's a bumbling robot (as well as a mom, a transsexual, and a firm agnostic). The SF Weekly once declared her a "Comedian to Watch" in 2014, and in 2016 they upgraded her to an "Artist to Watch."
Part of the Fall Equity Speaker Series

Brought to you by the LGBTQQ+ Faculty and Staff Caucus and ALLIES student group Funded by The Division of Equity and Inclusion, the Drama Department and LMCAS