Los Medanos College understands that we must address systemic inequality through deeper learning and unlearning, commitment, and action.
Read President Kratochvil's message on Fighting Systemic Racism & Inequality
Read the Contra Costa Community College District (4CD) position on racial violence and systemic racism
Resolutions from our Constituents
Read 4CD Governing Board Resolution No. 22C: Resolution to Endorse Community and Public Safety Engagement in Social Justice ReformRead LMCAS Board Resolution No. 8: Resolution for the Support of LMC's African American Students Read LMC Classified Senate Anti-Racism Resolution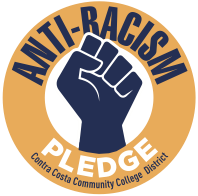 The Academic Senate for California Community College adopted Resolution *3.01 F20, "Support The Anti-Racism Pledge".
Our district Academic Senates have committed to work collaboratively toward ending institutional racism to make our campuses more welcoming and equitable for all CCCCD students, employees, and community members. We encourage you to read and commit to taking a stand supporting our Anti-Racism efforts.
Los Medanos College Will:
California Community College Equity Leadership Alliance
In June 2020, Los Medanos College joined with 60+ community colleges to participate in the USC Race and Equity Center's "California Community College Equity Leadership Alliance." Our institutional commitment is to participate in the monthly eConvenings focused on racial equity, data, and action.
Abbreviated List of eConvening Topics
Accountability and Incentives for Advancing Racial Equity
Confronting Explicit Acts of Racism and Racial Violence on Campus
Creating Equitable Pathways to Leadership Roles for Employees of Color
Disaggregating Data to Identify Racial Inequities
Eliminating Racial Disproportionality in Student Transfer Rates
Fostering and Sustaining Inclusive Classrooms for Students of Color
Hiring and Retaining Faculty of Color
Implementing AB 705 and Other Legislation in Equitable Ways
Meaningfully Integrating Race Across the Curriculum
Opposing the Erasure of Asian Americans, Pacific Islanders, and Native Americans
Productively Resolving Racial Tensions among Black and Latinx Classified Employees
Recruiting and Strategically Diversifying Staff at All Levels
Strategic Planning for Racial Equity
Using Survey Data to Improve Campus Racial Climate
Virtual Equity Resource Portal
Additionally, all employees of the College gain access to the USC Race and Equity Center beginning Fall 2020. Downloadable equity-related rubrics, readings, case studies, videos, slide decks, and conversation scripts will be included in the portal and accessible to all employees at member colleges.
GROW@4CD
We commit to a year-long series of Professional Development across the District to address racism, anti-blackness, and to develop equity and anti-racist frameworks. You can access this resource through the InSite Portal.
Three Climate Surveys
Los Medanos College will administer the National Assessment of Collegiate Campus Climates (NACCC), which has been administered to more than 500,000 students at colleges and universities in every geographic region of the United States. Beginning the 2020-21 academic year, we will administer the student survey in year one, faculty survey in year two, and staff survey in year three.
Campus Town Hall
The first 2020-21 College Assembly was a Racial Justice Town Hall jointly hosted by the LMCAS Student Senate, Classified Senate, and Academic Senate in partnership with the President's Office.
Future Racial Justice Town Halls will be held throughout the 20-21 academic year.
LMC Action
Building upon our deep commitment to values, we will act to dismantle systems and rebuild an environment in which we:
Achieve equitable success for all students
Provide a diverse and equitable academic and cultural environment for all members of the LMC campus community
Institutionalize equity throughout the College
The State Chancellor's Office has presented a "Call to Action" against systematic racial injustice and anti-blackness on community college campuses across California.