Philosophy AA-T
Interested students can major in philosophy! (wondering what careers come from studying Philosophy?)
To earn the Philosophy Associate Degree for Transfer students must:
1. Complete the CSU General Education Breadth (CSU GE Breadth) or the Intersegmental General Education Transfer Curriculum (IGETC) requirements.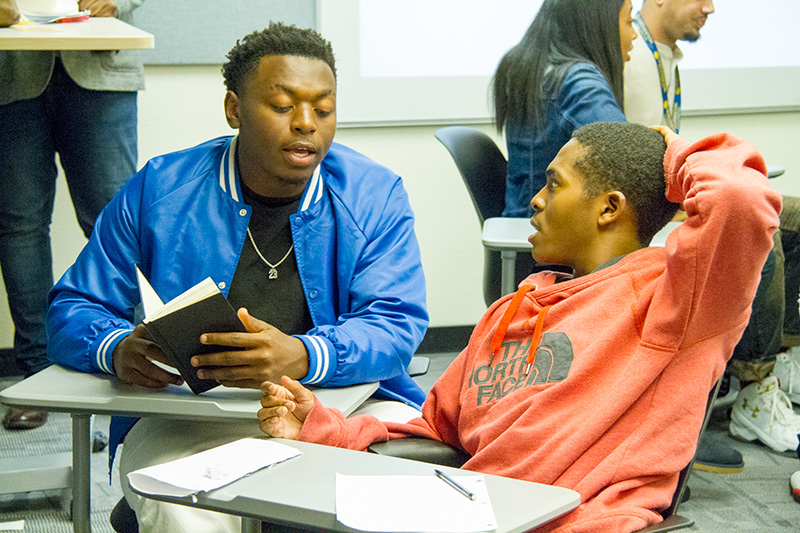 2. Complete the required major requirements listed below. All courses in the major must be completed with a grade of C or better or a "P" if the course is taken on a "pass/no-pass" basis.
3. Complete 60 CSU transferable units (including the General Education and major requirements).
Major Requirements to Complete the Philosophy AA-T
Student must complete six courses (18 units) from the lists below.
Required Courses (6 Units)
Phil 100

or

Phil 120

Introduction to Philosophy

Introduction to Ethics

3

3

Phil 210
Symbolic Logic
3
History of Philosophy (3 Units)
Phil 130

or

Phil 132

History of Ancient Philosophy

History of Modern Philosophy

3

3
Electives (9 Units)
Select three courses from the list below or any courses from Required Courses or History of Philosophy courses not already used.
Phil 122
Contemporary Ethical Issues
3
Phil 133
A History of Political Thought: The Problem of Democracy
3
Phil 140
Philosophy of Religion
3

Phil 150

or

Phil 151

*But not Both

Philosophy through Film and Literature

Philosophy of the Arts

3

3
General Education Recommendations
While the degree can be completed with any General Education courses listed in as CSU GE Breath or IGETC, the philosophy department recommends the following courses for completing General Education Requirements:
| | | | |
| --- | --- | --- | --- |
| Course | | CSU | IGETC |
| Phil 110 | Critical Thinking and Composition | A3 | 1B |
| Polsc 133/Phil 133 | Philosophy of Political Theory and Thought | D | 4H |
Course Schedule
To help facilitate course planning, below is a general course list by semester. The course list for any semester is subject to enrollment and faculty availability. We cannot guarantee the availability of any course in advance of the official LMC schedule.
Fall
Spring
Summer

Phil 100*

Phil 110

Phil 122

Phil 133

Phil 140

Phil 150

Phil 210

Phil 100

Phil 110*

Phil 120

Phil 122*

Phil 130 or Phil 132

Phil 133

Phil 151

Phil 100

Phil 110
*While offered both semester, more sections are offered in the marked semester.
For more information and a downloadable copy of the requirements see the Degree Checklist
Philosophy Program Learning Outcomes
The philosophy department offers a verity of courses to challenge students to think critically about themselves and the world around them. At Los Medanos College, the philosophy department is committed to teaching the following core values:
| | |
| --- | --- |
| | Citizenship – Developing and applying ethical responsibility and care in academics, the workplace, and global and local communities, while respecting and engaging with a diversity of beliefs, cultures, values, abilities, genders, races, ages, and sexual orientations. |
| | Critical Engagement – becoming a critical co-investigators of a pluralistic world towards the agency to apply critical thinking to themselves, their communities and their societies, imparting an ethical imperative. |
| | Philosophical Enquiry – Applying the methodologies of philosophy and critical thinking to describe and analyze philosophical and interdisciplinary problems and issues, including in historical context. |
| | Philosophical Expression – Express complex philosophical ideas and arguments in clear, coherent and cogent written and oral communication. |