The Real Cost of Textbooks
In February of 2018, the college posted a student survey about open educational resources. In the course of just one week 1122 students responded. Here is a window into what students are saying:
I would sometimes pay hundreds of dollars for a book I never opened. Other times I would spend hundreds on a book just for the access key, and never use the book.
Being a LMC student, who is also on welfare, I found it extremely challenging to get my books on time, if at all. I've been forced to choose between spending all of my money and hope to be reimbursed shortly thereafter by FinAid or go through the rigamoro of LMC CALWORKS's program ...
"I had to struggle in terms of time management just so I can borrow and "read" books at the library when I'm already working and taking 19 units at the same time. And then what? The library opens at 8 am and closes at 8:45 pm? Do LMC ever think of those working students who takes lots of units while also doing all of other obligations inside and outside of school? And as for the classes that require online access codes, come on! We struggle to afford those. And if we decided to drop the class, our money get wasted because we aren't allow to return them. Wow, what a way to help the students eh..."
Here is what we found: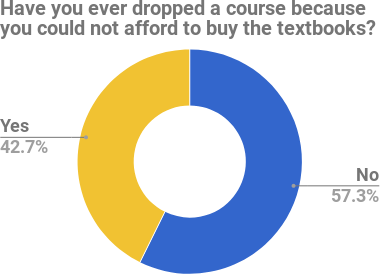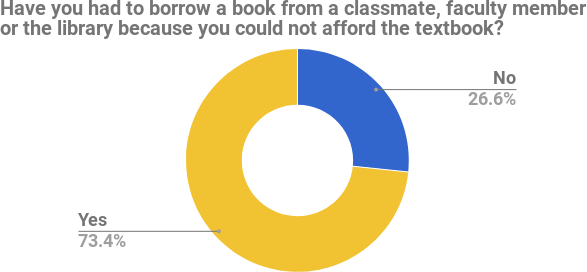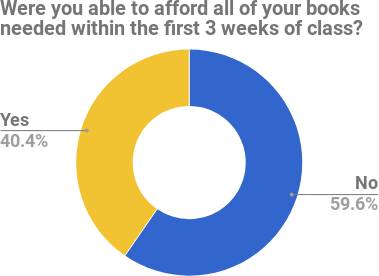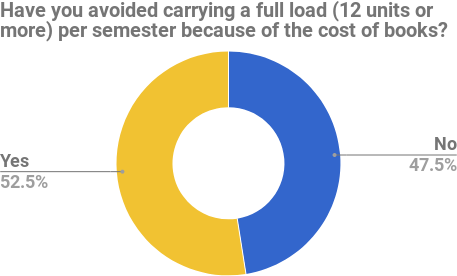 Look at the raw data yourself (CC BY 4.0): Student Survey
Open Educational Resources Board
LMC is committed to making a change. As part of our commitment, and in conjunction with the ZTC Grant, the open educational resources board was created. This transparent body will work to facilitate public dialog and promote the adoption of Open Educational Resources aross the campus. The board will be responsible for:
Developing bi-laws for the day-to-day operation of the board, such as meeting times and procedures.
Developing OER procedures and policies to be recommended to the college for adoption.
Ensure that grant funds are being used wisely, fairly and equitably, towards completion of the program objectives outlined in the Workplan.
Developing procedures and metrics for the distribution of grant funds, in an equitable manner.
Approval of the distribution of funds to faculty for the adoption and development of OERs based on the procedures and metrics developed by the board.
Approval of the grant reports and provide feedback to OER Coordinator to improve the reporting process.
Open Educational Resources Board will be comprised of the following members:
Chair – OER Coordinator
Members:
OER Coordinator – Brentwood
Dean of Student Success
Open Source/Creative Commons Advisor
Curriculum Committee Chair (or representative)
Student Services Representative
Student Representative from LMCAS
Additional members as needed
The board usually meets every second Thursday of the month. For more information please contact Edward Haven.