PRESS RELEASE: March 10, 2022
---
Los Medanos College, UMass Global initiate scholarship program with grant funding from an anonymous donor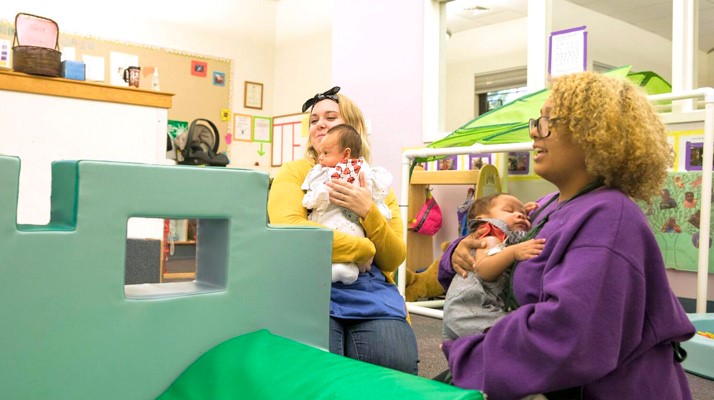 PITTSBURG, Calif. and IRVINE, Calif. (March 10, 2022) – A greater number of East Bay working parents whose young children attend preschool or other out-of-home learning activities will soon be able to do so with the assurance that more early childhood education professionals will be available to serve local families.
Los Medanos College (LMC) and the University of Massachusetts Global today announced a partnership through which LMC students holding a Certificate in Child Development will be able to receive $2,500 scholarships when they transfer to UMass Global to pursue a Bachelor of Arts in Early Childhood Education. By earning both credentials, aspiring early childhood educators will receive a wealth of knowledge and experiences preparing them to help young children learn and form friendships in kindergarten – and beyond.
"Los Medanos College is very proud of this collaboration with UMass Global. It has been incredibly impactful for our Early Childhood Education students and our community, and we thank all involved for developing such a successful program," Los Medanos College President Bob Kratochvil said. "I also want to congratulate our participating ECE students, who have worked so hard in achieving the next level of their educational goals."
An anonymous donor provided an unrestricted grant to UMass Global, which is helping to fund the program. UMass Global determined that helping early childhood educators receive bachelor's degrees is among its top priorities.
"Students who complete the Childhood Development Certificate at Los Medanos demonstrate they have the abilities and motivation to complete a bachelor's degree in early childhood education," UMass Global Chancellor Gary Brahm said. "We look forward to welcoming these well-deserving students to our university. We are also grateful to our anonymous donor for providing the financial support for this program, along with the flexibility of an unrestricted grant that enabled us to join this partnership helping East Bay families."
UMass Global's early childhood education degree program includes 60 hours of practicum experience. Clinical experience is among the best practices Learning Policy Institute researchers recommended to state governments as a necessary qualification for early childhood educators in their 2019 report, "Promising Models for Preparing a Diverse, High-Quality Early Childhood Workforce."
"We are grateful for the opportunity to partner with UMass Global. Anything that we can do to support students transferring through this partnership supports both the students and the field of early childhood education," said Janice Townsend, Child Development Professor and Department Chair at Los Medanos College.
Multiple studies affirm very young children whose teachers are equipped with bachelor's degrees receive significant advantages. A 2010 report from The PEW Center on the States, "A Matter of Degrees, Preparing Teachers for the Pre-K Classroom," points to findings from several studies identifying near- and long-term benefits for young children whose teachers have earned bachelor's degrees. Research shows degreed early childhood educators give students an edge in math, reading, and social skills. Additionally, reviews of top-performing early childhood programs have shown well-prepared educators boost young students toward high school graduation.
---
ABOUT LOS MEDANOS COLLEGE
Los Medanos College (LMC), one of three colleges in the Contra Costa Community College District, has served the east Contra Costa County community since 1974. LMC offers award-winning transfer and career education programs, high-quality support services, and diverse academic opportunities in an engaging and inclusive learning environment. With exceptional educators, innovative curricula, growing degree and certificate offerings, strong regional partnerships, and state-of-the-art facilities, the College prepares students for success at four-year institutions, in the workforce, and beyond. LMC offers classes and support services at its 120-acre Pittsburg Campus and new permanent Brentwood Center. For more information about Los Medanos College and the child development program, please visit https://www.losmedanos.edu/childdev/.
ABOUT UNIVERSITY OF MASSACHUSETTS GLOBAL
University of Massachusetts Global, formerly Brandman University, is a private, nonprofit institution accredited by the WASC Senior College and University Commission. The university offers undergraduate, graduate, credential, and certificate programs designed to be relevant to more than 90 career paths. UMass Global serves nearly 23,000 students, about 16,000 of whom are enrolled in academic credit programs, at 25 physical campuses in California and Washington, as well as online. UMass Global offers fully online courses for students anywhere in the United States and for military personnel serving abroad. For more information, visit the university's website.