Leetha Robertson takes the post May 1 after 11 years as a member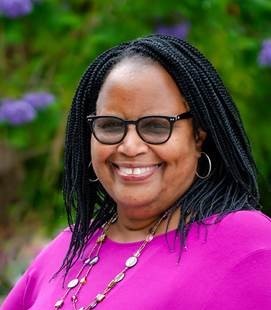 Los Medanos College Foundation is pleased to announce Leetha Roberston as interim program manager, effective May 1, 2023. Robertson takes on the role, having served on the Foundation Board for 11 years.
"Leetha has been a key strategist for advancing the foundation's mission," Interim President Pamela Ralston said. "Her experience and the relationships she has across the community strengthen the foundation's effectiveness in raising funds needed to help our students succeed."
Robertson aims to continue creating opportunities for stakeholders, community partners, and alumni to support LMC students.
"I am proud of what I've accomplished as a member of the board, and I'm eager to continue moving us forward," she said, adding that she brings a personal philosophy that reflects her mission-oriented approach. "I treat people the way I would want to be treated and always with respect. To know me is to know I am always 'outstanding.' I am responsive. I believe it and then achieve it."
Robertson is the foundation's immediate-past board secretary. She is a former treasurer of the board. She has been involved in organizing high-profile fund-raising events and celebrations, including the 2022 Gala and Annual Scholarship Awards Ceremony.
Robertson has been employed in the Contra Costa Community College District for more than 20 years. She began her career in the district at Diablo Valley College as a senior account clerk. She transferred to LMC in 2006, where she has held positions in Student Service, Business Services and most recently, as a senior administrative assistant for Instruction for the past seven years. Robertson holds a bachelor of science degree in accounting from Grambling State University.
About the LMC Foundation: Since 1997, the LMC Foundation (LMCF) has been connecting the resources of corporations, foundations, and individuals to students and programs at LMC in need of financial support. Ultimately, successful students return these investments by strengthening our workforce and improving our communities.