October 6, 2011
Media Contact: Barbara Cella, Director of Marketing (925) 473-7322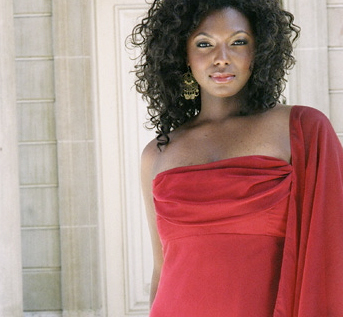 PITTSBURG: When Duana Leslie came to Los Medanos College (LMC) in the '90s from San Lorenzo High School, she didn't have opera even remotely on her radar. Now she's earned a Doctor of Musical Arts and Master of Music at UCLA, has performed on dozens of stages, won a bevy of awards, and taught music at Modesto Junior College, amongst other things.
On Tuesday, October 25, Duana Demus-Leslie, D.M.A. comes back to the Los Medanos College Recital Hall to perform in the LMC Choral Experience Concert. Joining her will be LMC's College Chorus, Chamber Choral and Gospel Choir (directed by LMC Music Department Chair Silvester Henderson), as well as the Freedom High School Choir (directed by Dr. Eli Souza).
Duana began her training at LMC by taking a vocal class with Grantham Oldham, an adjunct faculty member at the time. It was he who opened the door for Duana by offering her a chance to sing her first classical soprano solo, Mozart's Requiem. He also encouraged her to get voice lessons and sing opera, saying that she would be famous and sing at the Metropolitan Opera House one day. When professor Oldham left LMC the following year, Silvester Henderson (now the chair of LMC's Music Department) continued to nurture Duana's talents and encouraged her to be a leader and a responsible student.
The San Francisco native ended up earning an Associate Degree in Music and second in Liberal Arts at LMC before she transferred to California State University Stanislaus where she earned a Bachelor of Arts in Music. She continued on with a full scholarship and stipend at UCLA, where she earned both her masters and doctorate degrees.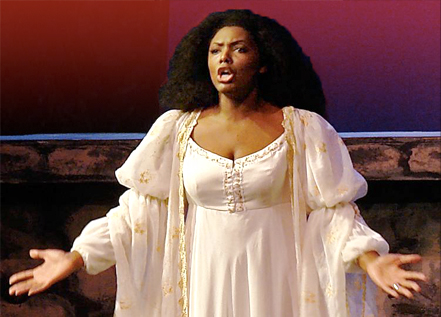 Duana has been honored to win many awards including the grand prize at the West Bay Opera Superstar competition, National Winner Saritelli-DiPanni Bel Canto Scholarship, the Fé Bland Foundation Scholarship, Loren Zachary Competition National semi-finalist, 1st place in National Association Teachers of Singing Competition, Dean Lescher Scholarship and others.
The LMC Choral Experience Concert takes place on Tuesday, October 25 at 7:30 p.m. at the LMC Recital Hall at 2700 East Leland in Pittsburg. Tickets are $5 general admission/$4 students and seniors, available at the door. Parking permits for the evening are $3 per vehicle.
For more information about LMC's Music Program, visit www.losmedanos.edu/music. For questions about the performance, call 925-439-0200.
© Copyright Los Medanos College
---