MESA Center Is Open!
MESA Center
Science Building SC2-202
Our on campus MESA Center will be open this Spring 2023!
MESA is providing Online tutoring and in person tutoring.


MESA In person and Academic Support Hours
Monday -Thursday 12-6pm

Online Tutoring hours
Tues -Thurs 6pm-8pm
Friday 3pm-5pm
Saturday 3pm-5pm
See Detailed Schedules Below
MESA Director

Office Hours

Tuesdays 1:00-2:00pm (On Campus! Science 202!)
Wednesdays 12:00pm-1:00pm (On Campus! Science 202!)
Thursday 4:00-5:00pm Zoom or In Person
Fridays appointment

MESA Counseling

The following are options:

Online Zoom Appointment (Zoom audio, video, or chat). Appointments utilizing your desktop or laptop computer are best where we can conduct computer screen sharing to discuss your questions.
Phone Appointment (Counselor calls with Google Voice #)
You are also welcome to email me with quick questions too.

Office Hours: Zoom Link

Email: ntrager@losmedanos.edu

Make an appointment: 925-473-7449

Email: mpon@losmedanos.edu
MESA Tutoring Schedule
Click on the tutor's name at the given time and you will be taken to their zoom room.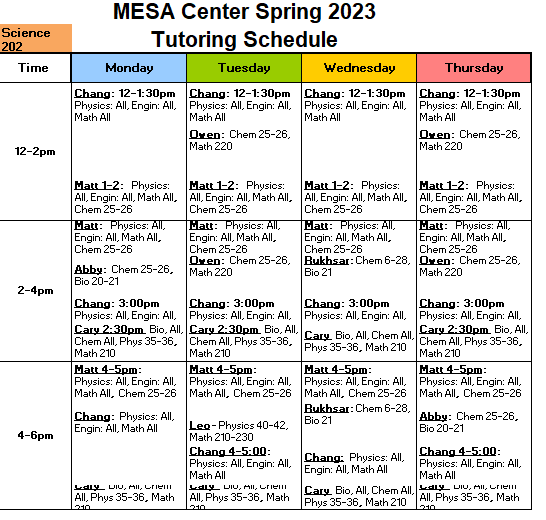 Online Tutoring Schedule Coming
| | | | | | | |
| --- | --- | --- | --- | --- | --- | --- |
| Time | Monday | Tuesday | Wednesday | Thursday | Friday | Saturday |
| 3pm-5pm | | | | | Matt: Physics: All, Engin: All, Math All, Chem 25-26 | Cary ;Bio, All, Chem All, Phys 35-36, Math 210 |
| 6pm-8pm | | Chang: Physics: All, Engin: All, Math All | Matt: Physics: All, Engin: All, Math All, Chem 25-26 | Chang: Physics: All, Engin: All, Math All | Matt: Physics: All, Engin: All, Math All, Chem 25-26 | Cary: Bio, All, Chem All, Phys 35-36, Math 210 |
| 8pm-10pm | | | | | | |