ALERT

: LMC will not be offering a Fall Fire Academy due to Covid -19 protocols.

please check at a later date for Spring Fire Academy info
Fire Academy
Prerequisites
Must have either a Valid NREMT/EMT card or a Valid State of California EMT/Paramedic card PRIOR to enrollment into the Fire Academy
EMT card
Fire 101
Fire102 AND
FIRE 106 or a valid CPAT (Candidation Physical Agility Test) card.
Students are also required to complete a Fire Academy Physician Medical release form.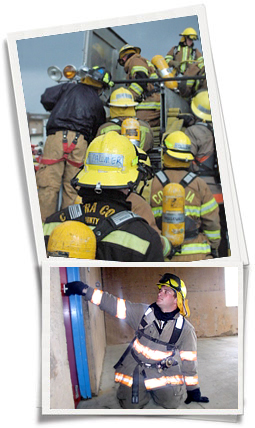 About the Fire Academy
The LMC Fire Academy is accredited by the California State Fire Marshal's Office.
The Fire Academy program is designed to introduce, update, or improve job skills for persons engaged in fire protection careers. The Firefighter I Academy program leads to a certificate of completion. A certificate may be earned by completion of competency requirements and 30 units of any combination of Fire Technology and Fire Academy courses with a cumulative grade point average of 2.0 or higher.
The Fire Fighter 1 Academy is offered in cooperation with Contra Costa County Fire Protection District Training Center.
At this time the Fire Academy is only held during our FALL semester.
** Please note** There is a MANDATORY Pre-Fire Academy orientation.
Any request for accommodations in a training program or for off-campus training should be referred to a DSPS counselor. Students should keep in mind that the individual institutions that host the College's training programs may have their own rules and regulations that must be followed, and not all accommodations requested may be feasible, permissible, or reasonable. Therefore, DSPS will work together with the students, the instructor, and the on- or off-site training program to determine the appropriate accommodations and facilitate in implementing those accommodations.
Have Questions?
See Fire Academy Frequently Asked Questions
Contact
Fire Technology
Ret. Captain Mike Grillo