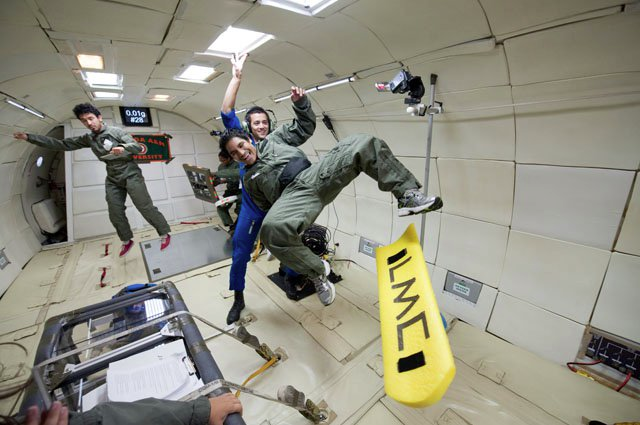 Reduced Gravity Office's Zero-G Flight. Photographer: James Blair & William Stafford
See more photos on their facebook page.
Team Bazinga is a group of Los Medanos College students selected to participate in MSI/CC Reduced Gravity Education Flight Program.
On June 15, Shaun Regacho, Brian Delgadillo, Angelique Sims, Christopher Sanchez and the student adviser Jacqueline Gesner participated in the MSI/CC Reduced Gravity Education Flight Program. They conducted an experiment on the precision and accuracy of an electromagnetic launch system in microgravity.
They will use the research and their experience to outreach to the local high schools they once attended to send the message about the importance of higher education. They wish to emphasize the importance of studying science and math. They hope to then create a program on campus for students to get hands on experience with experiments, as well as advice about college and help with homework.
Pictured to the right are LMC engineering students Shaun Regacho, Angelique Sims, Chris Sanchez and left Brian Delgadillo