Information About The Program
At Los Medanos College (LMC) students receive hands-on instruction and in-depth state-of-the-art training in the rapidly evolving field of automotive technology including including emission control, engine diagnosis, electrical and body communication, tune-up, brakes, suspension systems and hybrid.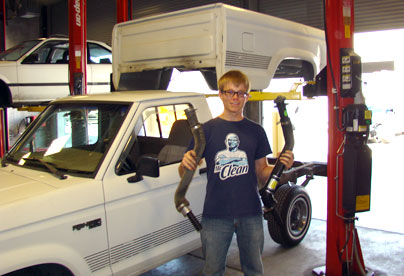 The program maintains up-to-date, technologically advanced training equipment and facilities through the continued support of industry manufacturers and local dealers.
This comprehensive training prepares students to become Automotive Service Excellence (ASE) certified Auto Service Technicians by mastering skills in areas including:
A1 Engine Repair

A2 Automatic Transmission/Transaxles

A3 Manual Drive Train & Axles

A4 Steering & Suspension Systems

A5 Advanced Brake Systems

A6 Automotive Electrical & Electronic Systems

A7 Heating & Air Conditioning

A8 Engine Performance and Computer Engine Control

L1 Advanced Engine Performance
Preparation For State Certificate Smog, Brake & Lamp Exams
In addition to becoming State and ASE certified, students enrolled in the Automotive Technology program have the option to obtain an Associate in Science Degree in Automotive by completing General Education courses as well as the automotive courses. With the completion of 18 units including courses in English, Math and Computer Competency, students can earn an Automotive Technology certificate of achievement. In addition, there are skills certificates available in specific topic areas. The program also provides training opportunities for those who are already working in the field who want to upgrade their skills.
The average graduate can expect to earn $35,000/year within a couple years after completing the program. The majority of technicians earn over $60,000 a year and it is not unusual for some to earn over $100,000.