Volleyball News
Congratulations Taylor Scriven!
Congratulations to Taylor Scriven, Los Medanos College Women's Volleyball player. Taylor will be attending Alcorn State in the fall receiving a full athletic scholarship and will continue her volleyball career as a Lady Brave.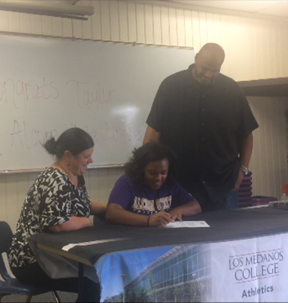 1st team all-conference player Aubree Dejesus , BVC Co-MVP Taylor Scriven and Coach Lou Panzella at the New Mecca Cafe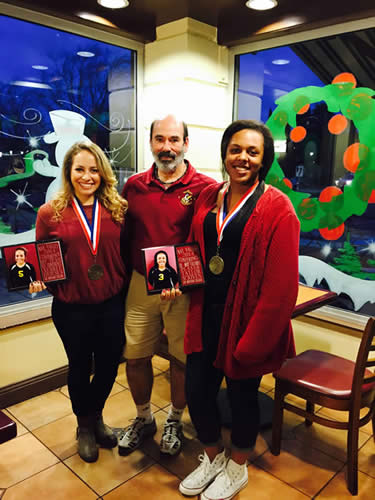 In the 2014/15 season, Taylor, a 2013 graduate of Liberty High School, led the Mustang Spikers of LMC to their first playoff appearance in ten years. Individually she was named Co-MVP of the Bay Valley Conference. Taylor was also 1st team All Conference in both seasons of competition at Los Medanos. Taylor is an excellent student, earning her AA with a GPA of 3.4.
We wish Taylor much success at Alcorn and will miss her as a player, leader and positive example of the best that Los Medanos has to offer.
Volleyball Honored with 4 All Conference Players
Taylor Scriven, sophomore volleyball player and team captain, was voted Co-MVP by conference coaches. Taylor, who was 1st team all conference in 2013, led the conference in kills, kills per set, digs and points scored. She was also 2nd in aces. Taylor was 3rd in the state for kills and points, 5th in kills per set.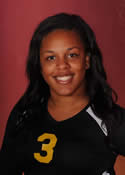 Freshman setter Aubree Dejesus also was named 1st team all conference. Aubree led the conference in assists and was 2nd in the state in total assists. Aubree was also 8th in conference in digs.
Sophomore Outside Hitter Ana Vega was named 2nd team all conference. Ana was 3rd in conference in digs and kills. Sophomore libero Taylor Morgan was named Honorable Mention All Conference. Taylor was 6th in the BVC in digs and 5th in aces.
2014 also marked the 1st time in 11 years that mustang volleyball qualified for state playoffs.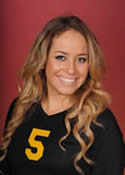 LMC Volleyball Player No. 2 in State -- and More!
From "Contra Costa College Seeks Championship Goal" by Matt Schwab, mschwab@bayareanewsgroup.com, Contra Costa Times posted: 10/29/14

01:37:47 PM PDT
NET POWER: Los Medanos volleyball player Taylor Scriven from Liberty is ranked No. 2 in the state and kills with 391. But the sophomore captain's impact runs deeper than that.
'She's got an all-around game," Los Medanos coach Lou Panzella said. "She's got a lot of physical talents and abilities, but what's best about her is her leadership and her competitive desire. She's passionate about volleyball. She always wants to be in the gym."
Scriven competed against Panzella's Deer Valley teams in the Bay Valley Athletic League, but played for him in club ball.
"The best thing I've done for our program is to get Taylor to come to our school," said Panzella, whose Mustangs are 10-10 and 7-2 in the BVC. "She just sets a tone for our team, she really does."