Nancy Ybarra's English students think she's fabulous. Comments from an anonymous online professor rating service tell the tale: "She is the most wonderful awesome teacher I've ever had! I am an international student and still learning English, and she's never got tired to explain me EVERYTHING ! AWESOME ! I wish I could take her class again!"
"She is the best English teacher I ever had. She makes class really fun and she put a lot of energy into it."
"She is a great teacher. If you don't understand, she will keep explaining it to you until you do, but she really cool about it. She also very fun - she has a sense of humor and I really enjoyed her a lot. She deserves a lot of respect."
Nancy has taught at Los Medanos College (LMC) for many years, but she found her calling at a much more impressionable age. The small five-year-old captured in a family photo already looked like an academic. Nancy spent many of her childhood days playing school with her friends on the marble steps of her Bronx, NY home. Of course, Nancy was the teacher.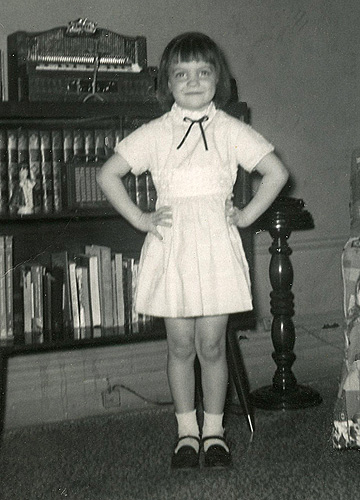 In first grade, her fledgling career began to develop as she started tutoring fellow classmates. "The school was very crowded," Nancy explained. "I knew how to read early and was way ahead of everyone else. The teacher asked me to help other students in class."
Her career continued to blossom in junior high while she was a formal tutor at the Albert Einstein College of Medicine's clinic for children (the Rose Kennedy Univ. Center for Excellence in Developmental Disabilities). She received special training so that she could help the children keep up in their studies.
Nancy persevered as the first generation and first in her family to go on to college. Her father dropped out of school in fourth grade to help his family on their farm and her mother dropped out in ninth grade to support her family. The youngest of three siblings, Nancy was the first to earn a college degree.
While earning her bachelor's degree in education with a focus on special education at Indiana University of Pennsylvania, Nancy continued to develop her skills and enthusiasm while doing outreach for the college. Set in rural Pennsylvania, the college had a program where students went into local communities to help challenged kids. "I loved learning and reading, and I loved helping the kids. I wanted them to love reading and books as much as I did, and I realized that they could!"
"My first real job was with an after school program for children in preschool, kindergarten and elementary school. While there, I earned a Master's in Education degree (focus of learning disabilities and early childhood education) at St. Mary's College of California. Not long after graduating, a friend of mine encouraged me to apply for a position at LMC. I had always thought I would work with young children, but I applied for the job anyhow and became a learning specialist for LMC's Disabled Students Program (DSPS) and haven't looked back."
When LMC's basic skills program was formalized, Nancy began working with students with all kinds of challenges. For many years, she co-led basic skills with Myra Snell, her math counterpart. She was instrumental in starting the Reading/Writing Center, now a part of the Center for Academic Support.
LMC received a Title III grant in 1999 which focused on the establishment of a comprehensive basic skills program, fully integrated into the college both within and beyond the classroom.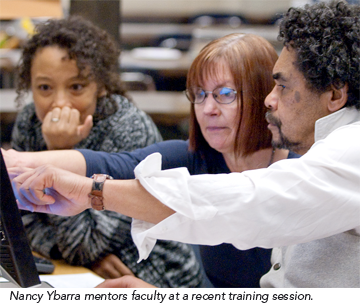 The grant was written and administrated by Barbara Austin; Nancy was the Activity Director. Colleagues in the English department, notably JoAnn Hobbs and Karen Nakaji, led the curricular innovation of integrated reading and writing courses, and with the support of many, established the Reading and Writing Center, now an integral part of the Center for Academic Support. Nancy continued to coordinate the basic skills committee with Myra Snell, math colleague, until 2009. In addition, Myra and Nancy coordinated assessment efforts college-wide through the establishment of the Teaching and Learning Project, a response to the new accreditation standards requiring the assessment of student learning outcomes at multiple levels in all colleges.
Nancy's commitment to the institution included her involvement with the college's professional development program, which she coordinated from 1988 to 1992, including coordination of the Nexus program for new faculty. She now serves on the Professional Development Advisory Committee (PDAC) and also represents LMC faculty on the District Professional Development Committee. During a recent sabbatical, she researched and proposed a Teaching Academy for Contra Costa Community College District which includes not only LMC, but also Diablo Valley College (DVC) and Contra Costa College (CCC). Now coming to fruition, the Teaching Academy offered its inaugural course, "Emerging Technology for the Digital Learner" in Fall 2011 and a course in Reading Apprenticeship in Spring 2012 at CCC.
Nancy is extremely excited about the CCCCD Teaching Academy. "We have a lot of talent in our own faculty. I'm enthusiastic to be involved with courses by us – for us." The idea of a district wide program in which faculty could take courses focused on teaching and learning has been a goal of Nancy's for many years. She finally realized that it was not going to happen without some time and effort; hence, her sabbatical project. A joint effort of the District Professional Development Committee and the Faculty Senates Coordinating Council, the CCCCD Teaching Academy is a "win-win" endeavour.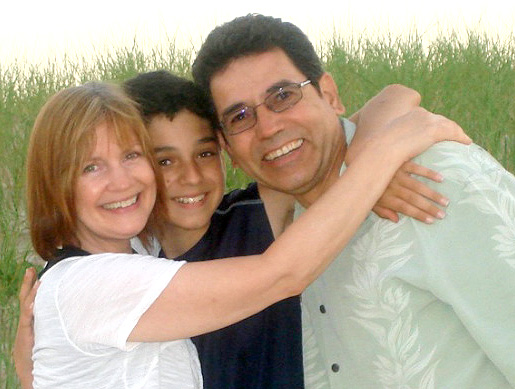 Faculty now have a forum for sharing their expertise, and can also earn units that will advance them on the salary schedule within our district. Students, of course, are the ultimate winners as they benefit from successful approaches to teaching and learning.
Now department chair of English/ESL and busy teaching, Nancy is focusing on professional development within her own department, at the college level, and statewide.. She was a founding faculty member of the Basic Skills Initiative Summer Institute, an intensive summer program to help faculty throughout the state take on the role of Basic Skills Coordinator on their own campuses. This program, funded by statewide BSI professional development funds, is now in its third year and has become part of the 3CSN – Community College Success Network.
When she's not working, Nancy relaxes by reading (of course!), cooking, dancing, and doing yoga. She and her husband, Joe, delight in their thirteen-year-old son, Luis. Nancy met Joe eighteen years ago as a result of her study of Spanish – another language to read in – and her interest in dancing. They met at a salsa club, and though most of their dancing now takes place in their kitchen, it's still a lot of fun.