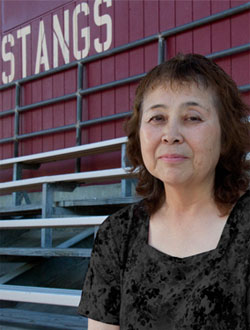 Her quiet and calm demeanor would never reveal the fact that Shirley Baskin was Los Medanos College's (LMC) athletic director for 26 years. You'd also never guess this patient academic counselor, advising student athletes and other students daily, has been the athletic commissioner for the Bay Valley Conference for the past six years.
Shirley was honored recently when she was inducted into the California Community College Athletic Directors Association (CCCADA) on June 4th at their annual conference. She was one of three 2011 inductees who were honored with, basically, a lifetime achievement award for many years of service with the organization.
Dale Murray, Athletic Director at Cabrillo College, has known Shirley for a long time and presented Shirley's award. He commented, "Shirley focuses on student success, rather than winning or losing," and attributed her focus on the students to her background in counseling.
The CCCADA was created to maintain the highest possible standards in the community college athletics of men and women. The organization promotes, encourages and directs efforts and activities that will benefit community college athletics throughout California.
Shirley earned a Bachelor's Degree in English and Master of Science Degree in Counseling at Cal State East Bay (Hayward). She was one of the initial group of LMC faculty and staff who helped open the new campus in the fall of 1974. As the college's first Director of Special Programs, she supervised student activities, Disabled Students Programs & Services (DSPS), Equal Opportunity Programs & Services (EOPS) and Financial Aid.
As Dean of Behavioral Sciences starting in 1982, Shirley became the college's athletic director because, she explained, "it came with the job. I had little background in athletics, so I made a point to learn as much as I could quickly. My father had been into baseball, so we grew up watching the sport on television with him, but that was the extent of my exposure when young."
"Athletics became the part of my job at LMC that I most enjoyed," revealed Shirley candidly. "I enjoy watching the competition. And in athletics, people have very diverse opinions, but consensus still decides what happens. Athletics is a place where people can truly develop into solid citizens. Players develop valuable skills in communication, teamwork, decision-making, organization, and many times learn to do something they didn't initially want to because of the consensus process."
As LMC's athletic director, Shirley had to make sure that the college's coaches did everything correctly including getting uniforms for their team, putting together the year's schedule, coaching, setting up transportation, dealing with athlete eligibility, attending meetings, supporting their athletes beyond the competition, and managing their budgets.
Shirley moved to a position in the college's Counseling Department in 1997, retaining the Athletic Director post. Now she have the opportunity to counsel the college's athletes regarding academic standards. Many have the goal of playing for a Division I team, so there is a lot they need to accomplish academically in just two years. There are many rules and regulations regarding their time at LMC to be prepared for a Division I school. Through the years, Shirley has helped many student athletes to plan out their goals and how to reach them. A testament to her efforts, two student athletes were honored this past year by the California Community College Athletic Association (CCCAA). Receiving the highest student achievement honor awarded annually by the CCCAA, Michele Lopez (LMC women's soccer) was selected 2010 Scholar Female Athlete. Chaz Vink (LMC men's baseball) was selected for the 2010 Scholar Athlete Men's Honor Roll.
Since 2005, Shirley has been the commissioner of the Bay Valley Conference. "Being a commissioner is one level above the Athletic Director position. The commissioner oversees athletic programs of all the colleges in their conference. The Bay Valley Conference is a small collection of 11 mid-sized community colleges in Northern California. The main job is to understand and interpret the conference's constitution and rules regarding athletics at the schools including eligibility requirements," Shirley explained. "I like dealing with the athletic directors. I see, in my peers, all the best parts of athletics."
Reflecting on her experience, Shirley noted with a twinkle in her eye, "Being chosen as one of this year's inductees, I was shocked, surprised and very honored. It's been a good experience. As we prepare for the future, I envision working to improve our conference constitution and to make other improvements to create a stronger conference, especially for the student athletes."
For information on LMC's athletic program, visit www.losmedanos.edu/athletics.