About the President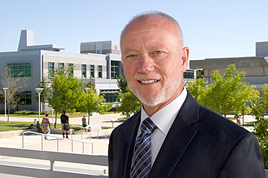 In July 2012, Bob Kratochvil joined Los Medanos College as the sixth president in its nearly 40-year history. Prior to that, he spent more than ten years within the California Community College System, working as Vice President of Administrative Services and serving as Interim President for one year at that same institution. His previous professional career in higher education also includes 20 years in finance and management positions at three locations within the California State University (CSU) system: CSU Dominguez Hills, Cal Poly Pomona, and the Chancellor's Office.

In his various roles, Bob has had extensive experience and oversight in the areas of budget development, fiscal management, facilities modernization, shared governance, enrollment management, educational and strategic planning, campus safety, community partnerships, information technology, and accreditation.
Bob earned a bachelor's degree in English and a master's degree in Public Administration from University of Southern California. He is also a graduate of the Doctoral Program in Educational Leadership (Ed.D.) at California State University, Stanislaus.