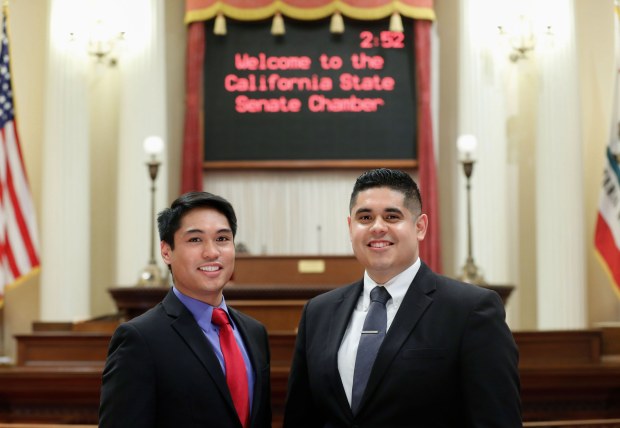 Pittsburg natives Dana Cruz, left, and Miguel Mauricio at work in the Capitol building in Sacramento Lorie Shelley, California State Senate
PITTSBURG — Dana Cruz and Miguel Mauricio both attended Pittsburg High School, going to classes among some 3,000 students during the 2008 and 2009 years. They barely knew each other then, nor at UC Berkeley, from which both recently graduated.
But now, these two sons of Pittsburg work together often, two among 18 selected for Public Policy Fellowships in the California state Senate for the 11-month 2016-2017 sessions. It's an exclusive group, chosen from among 500 or so applicants from around the state; serving as full-time staffers for Senators monitoring, researching and analyzing proposed legislation. The 18 each year also serve on the Capitol's public policy staff team, helping develop legislative proposals, responding to district constituents and writing news releases and speeches.
"We function as legislative aides, and the work is fun; it's challenging and you learn," said Mauricio, 24, a 2011 Pittsburg High graduate who went on attend Los Medanos College in Pittsburg and do an internship at the USS-POSCO steel plant in Pittsburg. At first planning on a career centered on electrical work, Mauricio later switched to something he feels is more his calling, earning a political science degree at UC Berkeley.
"I've always wanted to help people, and I saw politics as a way of doing that," said Mauricio, now on the staff of state Sen. Steve Glazer, D-Orinda.
While Mauricio describes himself as left of center politically, Cruz said he's more of a conservative. A 2009 PHS grad, he said he has more or less fallen into the early stages of a governmental career, after first considering becoming an Air Force officer and taking ROTC training at Cal. He attended UC Davis School of Law with an eye toward a life in the Judge Advocate General's Corps (JAG) with the Air Force. He also served an internship in the office of Contra Costa County Supervisor Federal Glover, himself a Pittsburg native. But an internship with the state Office of Legislative Counsel changed things for him, he said.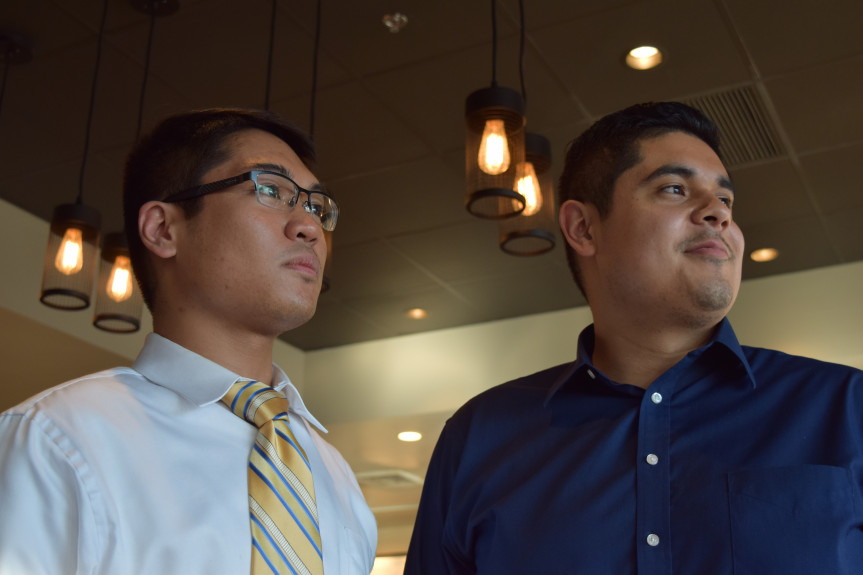 Dana Cruz, left, and Miguel Mauricio are serving in Sacramento as California Senate Fellows, two of 18 chosen from around California serving as legislative staffers for Sens. Janet Nguyen (R-Long Beach) and Steve Glaser (D-Orinda), respectively
"It reignited my interest in public policy, and I realized I might want to do that," said Cruz, 25, a self-described "political junkie" who got his bachelor's degree in political science (with a minor in public policy) from UC Berkeley in 2013, and his law degree in 2016.
It wasn't until both applied for the Public Policy Fellowships in early 2016 that the two Pirates really met. When Cruz was submitting his application for the fellowship, the person taking the paperwork told him something about someone else from Pittsburg applying.
"I asked who it was, and they said, 'Miguel Mauricio,' and I said yeah, I know him." But it was really more like "I know of him," both Cruz and Mauricio said. That changed when they became Facebook friends soon after that the news they would both be Senate fellows.
The fellowships bring joy to Ramsay Thomas, who taught both Cruz and Mauricio in advanced placement classes at Pittsburg High. Thomas, now re-retired after a 23-year career at Acalanes High in Lafayette and then four more years at Pittsburg, said both young men exuded promise, in distinctly different ways.
"Dana was very bright, well-prepared, ready to go, someone you'd think would be 'most likely to succeed,' " Thomas said. "Miguel was a different character altogether, not as disciplined, but bright and very motivated, and with a real nose for politics.
"It's wonderful that these kids were able to commit to public service, and that they're coming from an 'underserved community' is a very neat thing," Thomas said.
Both Mauricio and Cruz are conscious of coming from a working-class town, and say they see themselves as role models a little more than they otherwise would because of that. They also are proud two residents from a relatively small city of 67,000 were selected as fellows.
"I think there are people who will be inspired to do what they want to do," said Mauricio, who has a City of Pittsburg pin affixed to his Capitol access badge as small symbol of pride.
As for the post-fellowship future, neither has definitive plans, but with their fellowship work, they might have found their calling.
"You have to be kind of crazy to to make it in Sacramento," Cruz said." But we're both inspired to want to do it."
---