September 28, 2011
Media Contact: Barbara Cella, Director of Marketing (925) 473-7322
Program Contact: Elliot Siler, Softball Head Coach925-439-2181 x3140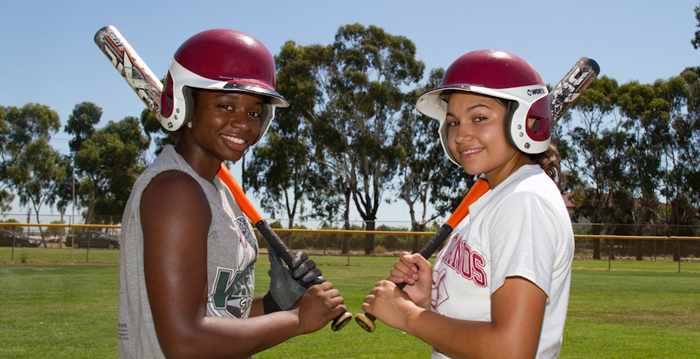 PITTSBURG: Two former members of the Los Medanos College (LMC) softball team have been recruited by William Jessup University in Rocklin, CA. Diandra Hayes and Hallide Porras were awarded full scholarships (a combination of athletic and academic scholarships) to transfer to the University and play softball.
Diandra Hayes is a two-time Bay Valley Conference 1st team player. She came to LMC from Antioch High School and played outfield. LMC Softball Head Coach Elliot Siler commented that, "Diandra thoroughly loves the game as is evident in her strong work ethic and infectious positive attitude."
"Of course, getting a scholarship feels good because it shows that my hard work and dedication paid off, and that I was not working so hard for no reason," commented Diandra. "Giving up my spring breaks to play softball feels better now!"
Halide Porras, a Deer Valley High School graduate, was voted more inspirational by her team members at the conclusion of the 2011 season, largely because of her heart, passion and hard work. Siler stated, "Halide embodies the spirit of LMC softball because she never gives up. She has worked tirelessly to improve her skills as a player and became the leader of the team for the 2011 season."
"Getting the scholarship is literally a dream come true," explained Halide. "It feels great and extremely rewarding especially because I never played in high school. My hard work definitely paid off. I love the sport so much and I am very blessed in being able to play for two more years in college."
Both players committed to WJU this past summer and have just started attending the university in late August. They are very excited about attending their new school and are getting settled in well.
Siler came to LMC from Antelope Valley College in Lancaster, CA where he was co-head coach and physical education instructor. He earned a bachelor's degree in physical education/athletic training from San Diego State University and a master's degree in physical education from Azusa Pacific University.
For more information about LMC's softball program, visit www.losmedanos.edu/softball or call 925-439-2181, ext. 3140
© Copyright Los Medanos College
---