November 23, 2011
Media Contact: Barbara Cella, Director of Marketing (925) 473-7322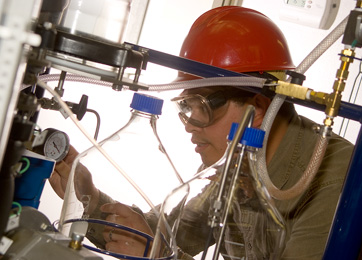 PITTSBURG: Los Medanos College (LMC) has received $10,000 from Shell Oil Company to support the college's Process Technology Program (PTEC). The monies will be used to offset severe budget cuts the program has experienced due to the state budget crisis. The donation will support three courses, safety equipment and training, and internet-based learning modules and other online learning resources.
All of the college's academic departments have been required to "downsize" their class offerings by 9% for next spring to help the college's expenditures match the support it receives from the state through apportionment. The PTEC program was to set to defer three courses that, had the budget situation been less dire, would have normally been provided next spring. Those courses include: Industrial Technology Career Skills, Industrial Technology Career Prep, and Applied Instrument Analysis.
"We are extremely appreciative of Shell's support for our PTEC program," explained PTEC Department Chair William Cruz. "This donation will allow the program to maintain course offerings at a consistent level during these challenging times. Actually, Shell Oil has been a longtime industry partner with our PTEC program. They have been graciously providing student tours of their refinery, classroom presentations, and internships for real-world learning experiences. They also give us feedback on how well we are preparing our student for jobs at Shell, and how we can work together to improve student preparedness."
Shell Oil's General Manager Paul Gabbard stated, "We are very proud of our association with PTEC and Los Medanos College. Many of our employees have been directly involved in the program, and we see it as vital to cultivating a local industrial workforce."
"This grant is indicative of the win-win partnership that we have with the local petrochemical industry," Richard Livingston, interim college president, said. "We are proud to be providing our students with high quality academic and hands-on preparation for in-demand, high-paying jobs. The Shell donation recognizes the quality of LMC's PTEC program."
Program details:
The Process Technology (PTEC) Program was developed at Los Medanos College in response to requests from local chemical and refining industries and provides students with training for high-skill, high-wage jobs needed in the manufacturing industry.
Process technicians are skilled plant operators who work for chemical, refining, oil and gas production/refining, power generation, water, waste management, food manufacturing and related manufacturing companies. The process technicians who run these plants work with state-of-the-art computer control systems, work outside taking process samples and monitoring the equipment, and solve problems in a team environment. No two days are exactly alike.
The LMC program is modeled after a curriculum that is currently taught at 43 community colleges and universities around the United States and two international colleges. LMC is the only college in Northern California to offer this program.
For more information about the PTEC program at Los Medanos College, please visit www.losmedanos.edu/ptec.
© Copyright Los Medanos College
---