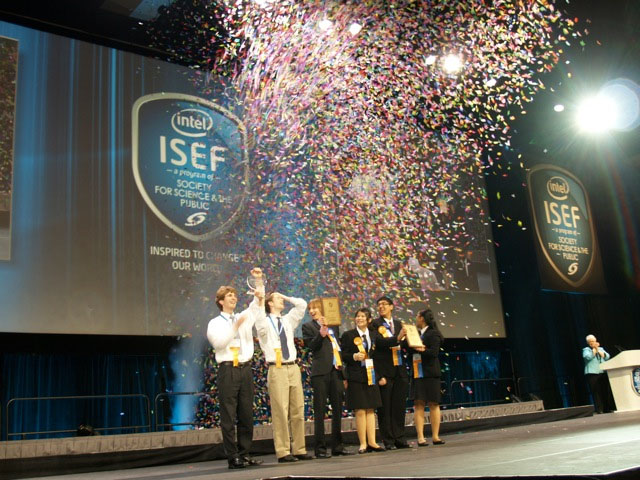 For the past two years, Los Medanos College (LMC) has hosted the Contra Costa County Science and Engineering Fair (CCCSEF). The 2011 fair winners, Blake Marggraff and Matthew Feddersen of Acalanes High School, went on to win the Intel International Science and Engineering Fair held in Los Angeles. Their project, entitled Simulated Treatment of Cancer with Photoelectric Effect-Produced Secondary Radiation, used tin in a new, potential cancer treatment. They were awarded top prize, Gordon E. Moore Award, named after Intel's co-founder, and includes $75,000 in prize money.
This was the first project Blake and Matthew had ever entered in the CCCEF and were especially thrilled to be awarded "Best in Fair". They went on to win top prize at the Intel International Science and Engineering Fair, the world's largest high school science research competition. More than 1500 young innovators/scientists were selected to complete in the final of the Intel Fair, selected from 443 affiliate fairs in 65 countries. This was the first time in 60 years that young scientists from California have been awarded top honors.
Los Medanos College Liberal Arts Dean Gil Rodriguez is the College's main liaison with CCCEF coordinators. He explained, " This historic accomplishment for these two budding scientists would not have been possible without the efforts of those who contribute to the success of the CCSEF each year. I really want to thank to all of those involved at LMC for their contributions to making this event possible each year." He went on to discuss next year's competition, "We are anticipating at least doubling the number of 2012 CCCEF entries as we will include the San Ramon Unified School District, and there will be much more interest due to this International win."
More information is available at http://www.cccsef.org/
© Copyright Los Medanos College
---
Los Medanos College (LMC) is one of three colleges in the Contra Costa Community College District. LMC prepares students to excel and succeed economically, socially and intellectually in an innovative, engaging and supportive learning environment. It provides quality programs and state-of-the-art facilities to serve the needs of a rapidly growing and changing East County while enhancing the quality of life of the diverse communities it serves. LMC is located on 120 acres between Pittsburg and Antioch, with an additional education center in Brentwood.